Oh hey, I'm just a little ghost who likes drawing and sometimes experimenting different styles of drawing. I do a lot of comics too. The dream? To become a character designer~ I love monsters and object heads~
Tumblr :
www.ironical-ghosty.tumblr.com
(talking mod blog here owo/)
www.ghosty-art.tumblr.com
(only art here)
Follow me on Tumblr, I'm mainly active on it~!
Current comic project:
Bad Bois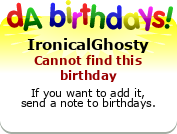 Old DA accounts :