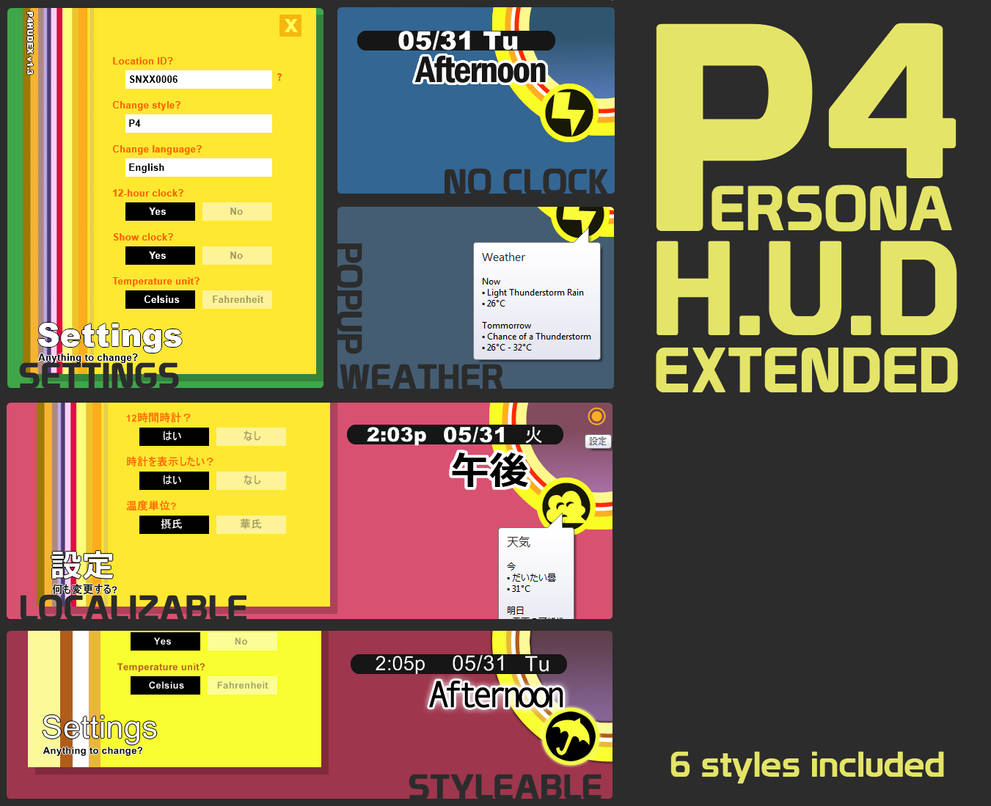 Based off the original Persona 4 HUD Rainmeter Skin
customize.org/rainmeter/skins/…
by Th3Laugh1ngMan with edited artwork by takua108
www.giantbomb.com/profile/taku…
.
Whats added on/changed in the 'Extended' version:
- added a settings dialog for easy configuration
- added a weather popup for more detailed weather info
- new options like temperature unit and 12-24hr clock
- separated design and logic to enable styling and localization
- also reworked most of the code, shorter and hopefully more optimized
This main config contains 6 styles - English, EngAlt, Japanese, Chinese, German and Turkish.
For more on the style concept, try the Style Pack!

P4HUDEX Style Pack
Game for another piece of Persona 4 for your desktop?
Check out
P4 Launcher
!--INSTALLATION---------------------------------
Execute the rmskin file to install.
If you are using a portable Rainmeter installation, you can use SkinInstaller.exe to install the rmskin file.
SkinInstaller.exe should be at "[PortableInstallDirectory]Rainmeter".
More on adding Rainmeter skins here
rainmeter.net/cms/Rainmeter101…
--NOTES---------------------------------
- The text field in the settings dialog have tooltips showing instructions
- The current weather condition for the weather popup may not localize (for Japanese and Chinese) for certain conditions, do make a post if you see it happen
- Tooltips are not fully translated for Japanese and Chinese
- The settings reset when the config is updated
- Typing in nonexistent style name in settings crashes Rainmeter, reopen Rainmeter and type in existing style name to remedy
- Weather icon will take 5 seconds to appear on first load or forced refresh, this is mainly to accomodate the sunset/sunrise data processing
--CREDITS---------------------------------
Original version
:
Th3Laugh1ngMan
Original weather code
:
maminscris, Yelleke
Original clock code (anelectricQlock)
:
anelectricmind
New artwork
:
takua108
Configuration, styles and etc
:
iron2000
Coding references
:
Enigma by Kaelri
Weather data
: WXData
(Weather.com)
German and Turkish styles
:
Khan87--CHANGELOG---------------------------------

v1.3 (26 Mar 2016)
- changed weather data to the WXData feed from Weather.com as Yahoo is restricting their API.
- changed from WOEID usage to Location ID
- changed help page URLs in settings
- default styles renamed to
P4
and
P4Alt
-
separated language from styles so update the styles too!

v1.21 (7 Apr 2013)
- changes in the code
v1.20 (7 Apr 2013)
- changed weather retrival to use WOEID straight as Yahoo's translator is now paid
v1.11 (27 Sep 2012)
- Added 2 new language styles, German and Turkish (contributed by
Khan87
)
v1.10 (9 Aug 2012)
- changed weather provider to Yahoo Weather
- changes to weather icon display code
- updated to latest rmskin version, Rainmeter 2.3.3.1522 and up required!
v1.01 (1 Jun 2011)
- moved some common code from styles to main config
- added version string in settings dialog
v1.02 (5 Jun 2011)
- moved some common code from styles to main config
- added night icons (night period defined as 7pm to 6 am)
- removed some weather icons following the weather conditions of the Weather Underground API
- color tinting and more positioning values added to Styles format
v1.03 (14 Jun 2011)
- night period defined from WU API sunset/sunrise values
- delay of 5 seconds mainly to let the day/night icon to load correctly
- ensure settings refresh the P4HUDEX config itself only
- minor cosmetic change to version number text in settings dialog