EDIT://(1/9/18)
i'm posting my interactions with provinite here, for reference.
sta.sh/222t78cikuau


I know that my decision to make this entire situation public has been controversial. but over the past couple of days, after talking with provinite, i have only felt more and more like this decision was absolutely necessary. i have been messaging back and forth with provinite, even after expressing multiple times that i was not comfortable with speaking to him, and wanted to speak to AJ, since she was the root of my concerns. i should not have been forced to go through a middleman. if AJ needed a little while to collect herself, that's fine. i even stated that if aj needed time to rest, and calm down, that is completely fine and i understand. she could have at the very least have messaged me with a short "i'll get back to you." instead, provinite continued to message me, and honestly, i have felt uncomfortable and threatened throughout this entire exchange.
at first, when i saw aj had drawn my design, I admit that i was initially a little excited. i didn't really know how to feel. my favorite artist drew something I made, and i was excited, and my judgement was clouded. this has never happened to me before, and honestly, i didn't know how to react.. if you want to hold that against me, that's fine. but aj has undeniably showed an extreme lack of concern regarding this issue.
i'd also like to point out, that had she redesigned the pillowing like she originally intended, none of this would be happening. i would have been 100% fine with the sale. however, she stole my design, a myo that was worth exactly ZERO dollars, added one piece of art, and sold it for 200x the value. this is why im upset, and i have a right to be upset.
some people have pointed out that some of my information has been wrong, and i do apologize for that. my intention has never and never will be to slander clovercoin. i am only sharing receipts and screenshots to bring attention to this issue so it doesn't get put on the backburner, only to happen again to someone else in a few months.
i logged on tonight to see a note from Provinite saying that he had "resolved" the situation, and then a post from AJ herself (not directed to me still, mind you) saying that the drama had been resolved. I NEVER agreed that this was over. their resolution was that the pillowing was traded back to AJ and retired. the pillowing was not refunded, and apparently the new buyer refused a refund. i can't help that, and though i'm still not okay with it, i'm at peace with it. throughout this entire exchange, all i have wanted was a GENUINE apology from AJ herself, and maybe even a public acknowledgement that she knows what she did wrong. because at this point, i'm not sure.
i have given aj ample time to respond and make things right, but i have still heard nothing. even dating back to the first incident, she has NEVER messaged me first.
this is not the correct way to handle a business. when one of your followers has a legitimate concern, it's your responsibility as business owner to fix it.
instead, i got a backhanded apology from Prov. a "sorry that YOU felt like you were being taken advantage of." a prime example of how NOT to apologize.
and now that they have posted publicly that "this situation has been resolved..." this is exactly what i was afraid of. I have been silenced, the situation has been swept under the rug. people are being led to believe that i'm okay with this and i am not. i have been extremely anxious over this situation, and even now, i can't calm down. i am still waiting for aj to reach out to me and apologize to me.
okay, so this situation has gone on long enough that its... a problem.
first of all, let me say please do not go to her page and harass her, because as much as you believe you are defending me or on my side, i will not be on yours.
i hope you all respect this.
this is an explanation of what happened with me and clovercoin/aj. she has gone against her own ToS in this situation to warrant this post. it's up to you if you agree with me on this or not, but facts are facts.
if you make rules, you should be expected to follow them yourself, and if you break them, you deserve the same treatment as anyone else.
so last year in february, aj held an event for free myo pillowings. i was absolutely thrilled, and a friend of mine agreed to swap them together so we would both get one.
Pillowing-Pile: Send a Friend Event! CLOSED
i made it, seen here:
and since it was a free myo, i knew i was not allowed to sell it, because it was against the rules stated here:

and here:
in her ToS, archived here, just in case.
web.archive.org/web/2018010802…
it said on my pillowing's masterlist entry that i was not allowed to sell, only trade or gift. (this has since been changed.)
i traded it to a friend (who i will not name, they don't need to be caught up in this.) and it was sold to aj for $30.
i was excited to see what she did with the design. i was a very big fan of her prior to this, and had looked up to her for quite some time. i was fully aware that she tended to redesign and sell pillowings sold to her, and honestly i was honored that she even liked it! i anticipated a redesign it and was excited for it. i was thrilled i'd get to see her spin on it.
and then it gets to where the drama first started.
clovercoin, in a journal since deleted, attempted to sell the design for $175, as is.
people started noticing, and pointing out that it was against her ToS and that it was wrong that she was selling the design for so much, when not only was it was a free myo, she was selling it for more than she bought it for.
NOT ONLY was she in the wrong for selling it for more than she bought it for, before reselling, i was not contacted, as it states in her ToS here:

so she was essentially taking my work and profiting off of it, against her
own
rules.
people noted how this was wrong, and i felt conflicted.
she also added a trait to the pillowing, bringing it WAY WAY up from common to special. (glowing markings.)
she claimed that this pillowing shouldn't have even existed, because it was clearly a "mislabeled special".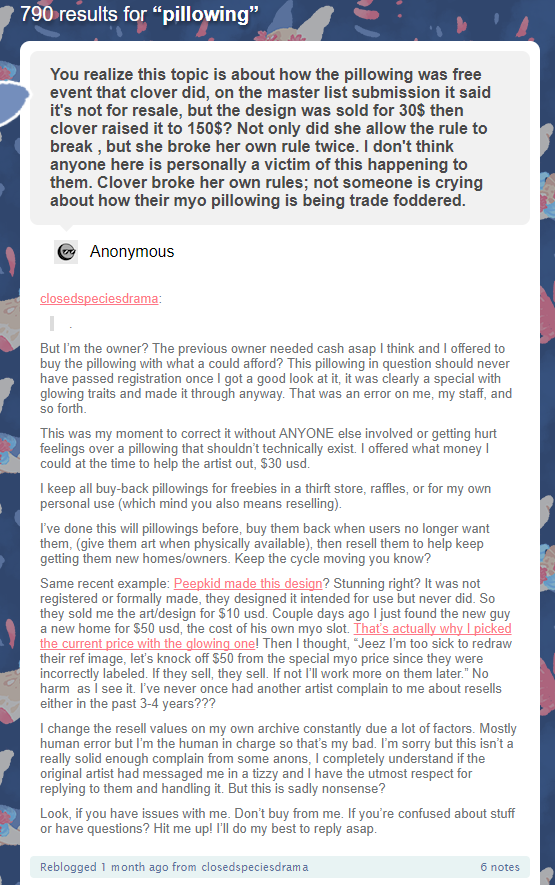 and in a way, she was right. yes, it was originally glowing markings, but when this was pointed out to me in the comments by a moderator,
comments.deviantart.com/1/6655…
i was referred to this comment as an alternative, from aj herself.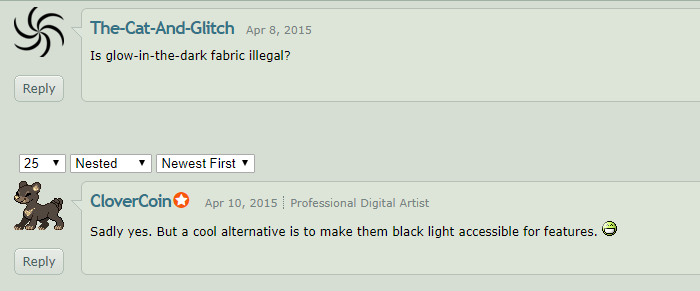 comments.deviantart.com/1/4752…
so no, this is not a case of a pillowing that should not have been approved.
she also made a pretty rude comment about it here, saying that she enjoys taking in pillowings "NO ONE WANTS", implying the design was undesirable.

popcornless.tumblr.com/post/16…
all this clearly was upsetting, so i mustered up the courage and contacted her, trying to believe her intentions were good and that it was a misunderstanding. i wanted to give her a chance. i trusted her, she was someone i looked up to.
sta.sh/2g83ivtaqp7
it all felt unnatural to me, but i was starstruck enough to want to believe that what she was saying was the truth. but she was... very much sucking up to me, and i was very much flattered and also wanted the drama surrounding me to just go away.
she promised me that before she resold the pillowing, she was going to give it a "full magical moon girl makeover with full glow". i agreed to this, and trusted her to keep true on her end of the bargain. i told everyone to please stop talking about it, because i talked it over with her, and we were okay. i mostly wanted the drama to go away because people talking about me makes me... extremely paranoid.
the drama seemed to have stopped for about a month, and things were okay.
until she did the same thing... again.
except this time she drew it. i admit, it's very cute, and i was excited at first, until i remembered she had promised me a full revamp. i agreed to that - not just her drawing it.
to make matters worse, she added a rainbow ticket to the design so the owner could revamp it because she didn't want to revamp it herself or something, added
another
trait that was.. just her calling it upgraded(glitter coat - uncommon), and sold it for a whopping $200, that i will never in my life see for any art i create. art from her + a few "upgraded" traits + a rainbow ticket = $170 more than she paid for it.
fool me once, shame on me, but you will
not
fool me twice.
she also has not commented this time around, and has replied to clearly sarcastic comments as if they were genuine.
she unwatched me a while ago, and i don't really post my art in any groups, unless it's adoptables or species-related.
i have reason to believe this is why:
aj, i understand what you're going for, but this isn't the way to go about it.
this isn't petty drama. you are in the wrong for this, you
are
breaking your own rules on this one, no matter how you go about it, and in this situation, ignoring it instead of addressing it is making things much worse.

Journal Skin by Sugary-Stardust.