Second Account:

KeiKei-Dolls
I don't really need much in life. I only ask for reeses and a 22 hour nap.
░████░████░
░█░░█░░█░░█░ Put This
░████░████░ On Your Page
░█░█░░░█░░░░ If You Role-play
░█░░█░░█░░░░
Hello there! I go by Keiki online, but you could call me pretty much anything and I'd probably respond to it if you called me that often enough.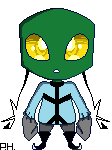 Favourite Visual Artist
Tim Burton
Favourite Movies
Nightmare Before Christmas, Coco, Lilo and Stitch, How to Train Your Dragon, 9
Favourite TV Shows
Invader Zim
Favourite Bands / Musical Artists
Muse, Voltaire, Streetlight Manifesto, Set It Off, Vitas
Favourite Games
Animal Crossing: New Leaf, Undertale, Doki Doki Literature Club!
Favourite Gaming Platform
PC
Tools of the Trade
FireAlpaca, Wacom Intuos 4
Other Interests
Pastel goth fashion, interior design, space