No April Fool's, I'm actually back. You will always see way more of me on
tumblr
, though. And all my art goes to
this art-only tumblr
, if you only want to see my art and not some ridiculous reblogs.
So, what's been up with me? A lot! Char and I rewrote The Peacock King as a novel and we're publishing it in June. You might remember The Peacock King from
all this art
. We have new art now, and it is awesome, and you can see it over here at
the Kickstarter for the novel
, where you can preorder a copy as well as get amazing swag, from bookmarks to posters to an actual fully-illustrated card deck from the story! The image below is available as a print at certain reward levels!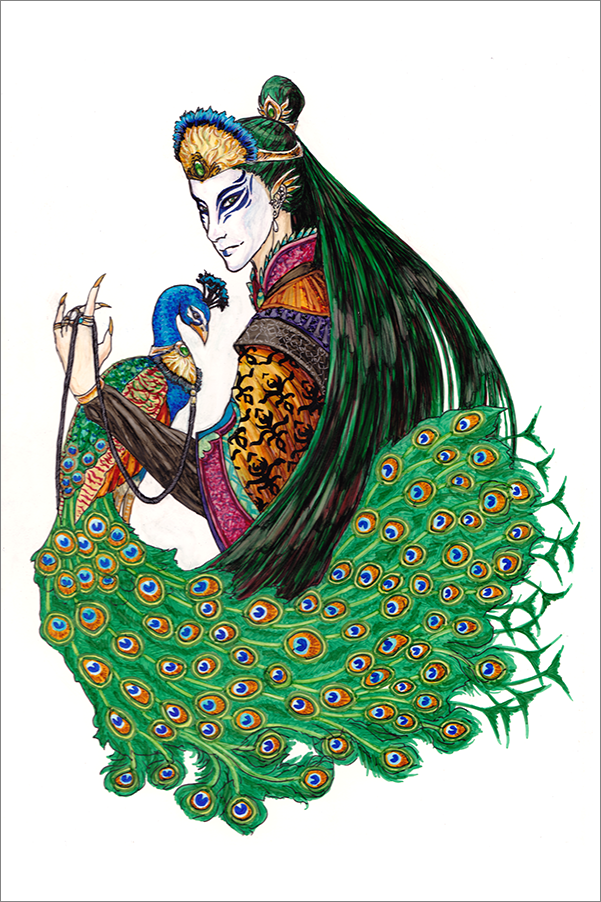 Please check it out and tell literally every person you know.
As for me being back, is that permanent? Am I going to stick around a bunch? Well... dA still has autoplay video ads, so I probably will not stick around super-regularly, but I do want to update my galleries with some new art I've been making. Today I saw someone had shared one of my really old Slayers fanarts onto tumblr, and I was like augh, i should post new stuff.
Also I really miss the people I used to hang out with here. Some of you I hang out with in other places now, but some of you I haven't intersected with again! Please follow me on
twitter
or
tumblr
if you're on either of those!