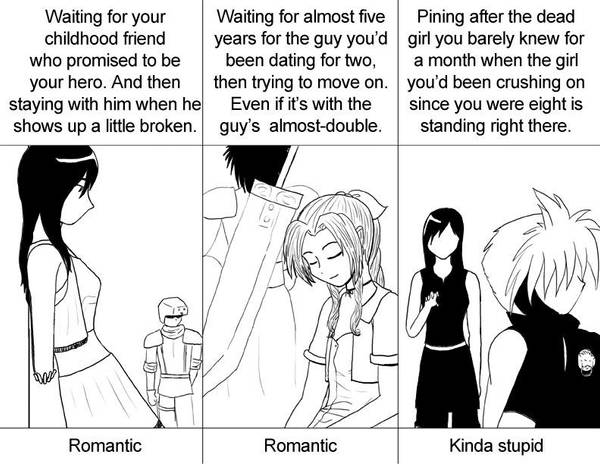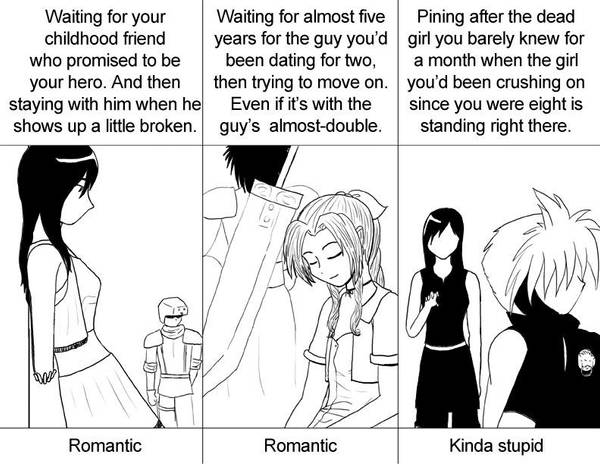 Watch
I do not understand some people's idea of 'romantic.' True-to-the-day-you-die love doesn't happen in a few short weeks. "Love at first sight" is eros, more a biological condition than anything else. Cloud's been trying to get Tifa's attention for most of his life. And he got her attention. She tended to him while he was sick. Agonized over seeing him act in out of character. Stayed with him and believed in him through everything. Cloud would have to be a callous jerk to abandon his feelings for her after all that.

Aerith admitted to initially falling for the shadow of Zack she saw in Cloud. She never got to know the real Cloud while alive and we don't know if she would have fallen for him or seen him as a dear friend. In either case, when choosing between the two I think Cloud is better off with Tifa.

One also has to wonder sometimes, since Cloud had some of Zack in him, like how he mistook Zack's memories as his own, did he have some of Zack's feelings as well. Were the feelings of attraction Cloud's, or Zack's?
Reply

Yes. Precisely. Cloud's mind was a mess the entire time he knew her. After her death all of the romantic hints in the game point toward Cloud and Tifa as a couple.
Reply

Despite what Cloti or Clerith shippers are saying, neither of them are canon. The makers of the game deliberately made it so that the player could choose either, or neither. However, I often wonder if the creators later felt that was a mistake, considering the debate that this method was intended to avoid, had the opposite effect. In case you haven't noticed, no Final Fantasy game has done it since.
Reply

So I noticed. And later Compilation entries seem to at least subtly work toward a resolution to the debate. It seems as if the creators want to put the debate to rest, but are hesitant to do so since it's one of the things that keeps people interested in the game.
Reply

I missed this, somehow. And agreed: there's "romantic," and there's "kinda stupid." Granted, my perceptions are probably well away from the 50th percentile: and I will not start talking about "Romeo and Juliette."
Reply

1. Tifa thought they were. *She* considered Cloud a friend. He wanted to be her friend (and eventually something more) but never got close enough really talk to her.

2. I've played the game several times. She never says that. She does say that she'd like to get to know the real Cloud but never got that chance.

3. Tidus's death was ambiguous with the possibility he could come back. Aerith's well and truly dead. If Aerith's allowed to move on after Zack's death, Cloud should be allowed to move on after hers.

Having a spiritual bond does not necessitate a romantic relationship. Cloud was also able to hear Zack, after all, and Sephiroth certainly didn't let a little thing like death keep him from messing with Cloud's head. I am by no means suggesting that Cloud should forget Aerith. I'm annoyed at fans who expect him to pine away for a dead girl and never move on with his life. Yuna remained in love with Tidus, but she also kept going. She learned and grew as a person. She has an entire game dedicated to her heroics after Tidus left!
Reply

The only thing I find obvious is that you're determined to see things your way. And completely ignore Crisis Core. Whatever.
Reply

Except it's not. Aerith could easily have been lying when she said that she wasn't serious about Zack. Remember, she's the one who keeps bringing him up after five years of not hearing from him. If she really was so over him, why would she do that? On my first play-through, when I barely knew the characters at all and had no pairing preference, I chuckled when Aerith said, "No. But I liked him for a while."

Yeah, sure. Keep telling yourself that, Aerith.
Reply

*sigh* (Zack does not have multiple girlfriends, Zack and Aerith date for at least a year, and Maiden of the Planet is **NOT CANON**.)
Look, it doesn't even matter what Aerith's feelings are in this case. The triangle hinges completely on who *Cloud* wants. You're probably not going to bother, but in case you want a well-thought out analysis based on game canon and creator statements, I've got a link here for you.
thelifestream.net/lifestream-p…
Reply
(1 Reply)
I kind of just look at it that he was simply upset about losing someone traumatically, as anyone would. But ignoring Tifa after that is stupid.
Reply

Yeah. That's pretty much my take on it, too. This is mostly a reaction to the Clerith shippers. (Honestly, I don't think he's *ignoring* Tifa so much as having no idea how to take the next step with her.)
Reply
I think about the same. He seems rather clueless, he doesn't seem to know how to go about it at all. Makes me feel sorry for Tifa.
Reply

Me, too. Though Tifa isn't helping any by waiting for him to make the next move when it's painfully obvious he has no experience with romantic relationships. The way it looks to me, he's waiting for her to give permission for him to act and she's waiting for him to act so she can give permission. Makes me want to hug them and hit them upside the head with a clue-by-four.
Reply
That kind of logic will make nothing happen. I've seen other stories where it happens, and it drives me up the wall.
Reply

Well, to be honest, the fact that there is no "canon" pairing in FF7 makes it more flexible for people to choose between Cloud and Aerith and Cloud and Tifa (I personally like both pairings because they each have their own benefits).
Reply

true, I suppose. Though the way the compilation is written and talked about (by Nomura particularly) Cloud and Tifa seem pretty close to official.
Reply

Hmmm, I guess so. Still, it's not straightforward like in Final Fantasy X with Tidus and Yuna.
Reply

Well, yeah. That was about as straightforward as it gets.

Reply

True. Still a cute story though.

Reply

Very cute. If there's one good thing about X-2 it's that Yuna and Tidus get their happy ending. At least I'm assuming they do. I haven't actually played it, so I'm going off of what I've heard.
Reply

I never really got that interpretation of Cloud myself either, especially after reading Case of Tifa.
Reply

No kidding. There's even some reason to believe that Cloud and Tifa were sharing a bedroom at one point. (Otherwise, wouldn't Cloud be a little surprised to find Tifa in him room in the middle of the night?)
Reply

considering they slept together under the Highwind before the game even ended it would be hard to imagine they didn't continue afterward(I'll also note the complete lack of anywhere to keep all his stuff in the office room like a chest of drawers for his clothes, a rack for his sword, a closet, etc). I've always suspected it's just the need for Cloud to be emo and emotionally distant because a surface watcher who'd only seen Advent Children would pick up those traits first and think they were the way he always was instead of the reactions of a man that's in the middle of the lowest point of his life. I blame that on poor storytelling on Nomura's part and the time limit of the movie. If you consider Cloud from the entire game and the 'Case of' stories as well as Denzel's story you realize Cloud's messed up but he's not an emo hermit crab at all.
Reply

No kidding. His office having a bed is probably so he can crash in there when he gets home late rather than wake everyone else up.

I don't think it's so much a matter of bad storytelling (after all, Cloud visibly perks up toward the end of the movie), but rather the novellas not being readily available in English. And that the scriptwriters apparently assumed that anyone watching the movie would have some familiarity with the original game.
Reply

If you ask me, I think they don't... Probably, it's more like they are living like 'family' already: too used to feel shy or unusual about such things.
Reply

That could be. Cloud's actions in Case of Tifa are still suggestive. (His blushing when he says that he'll be with Tifa was cute.)
Reply

I won't say it wasn't her fault she missed that chance!
No one forced her to take off that sexy outfit, cut her hair and begin to play busy housewife!..
In the same time his best friend asked them to look after his child and fled in an unknown direction... And then they adopted another child with uncureble illness...
Now Cloud needs to play working husband and caring daddy...
And all these 2 years poor guy reseived not even one hint for SEX! Not even one! While living with TIFA! What do you think he aimed for claiming they'll "be together"?

No wonder he'd gone crazy dreaming Aerith and leaving house! XD
Anyone would! XD

P.S. Tifa is such a typical Taurus...
Reply

Well, yeah, there's that. I get the impression that she doesn't know how to take the next step in a relationship and Cloud wasn't about to suggest anything until Tifa expressed a desire for it. Maybe they were both waiting for the other to make a move? Kinda makes you want to hit them over the head with clue bats and lock them in a closet.

Reply

That's Cloud, dude... =_=
Reply