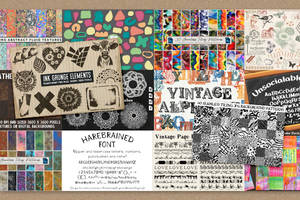 HG Designs Subscriber Area
Lots of high resolution goodies for graphic design including textures, photoshop brushes, seamless patterns and more.
---
Suggested Premium Downloads

Free Brushes for Manga Studio 5/ Clip Studio Paint
523.7K
Views
6
Collected Privately
Description
This is the current set of brushes I use. They're all either modified standard brushes or created from brush tips I've made myself.
You MAY
freely use and modify these brushes and use them for personal and professional work alike.
You MAY
share brushes you've made using my brushes as a base, as long as you share them for free and direct people back to this original post.
You MAY NOT
sell these brushes or any derivatives of them.
--
Edit 28/11/2018

Added another folder called
dw csp brushes 2018
. If you prefer, you can get just the new set
here
. Also added '2017' to the name of the previous set to avoid confusion. Haven't specifically tested these newest ones in Manga Studio, though I don't anticipate any difficulties there. If you do run into any trouble I can only apologise.
Should you find yourself overcome with gratitude, I do now have a ko-fi page, which you can find
here
.
Please don't buy me coffee if doing so will impact you in any negative way. I don't want you to be worse off because of me.

--

Edit 01/07/2017

Added another folder called
'dw csp brushes'
. These are the current brushes I use, the exact same set that's found in my more recent submission
here
. There's quite a bit of overlap between them and some of the brushes already in this set, but I felt it's clearer to keep the folders as they are.
Though I've moved on to Clip Studio Paint, I've tested my newer brushes in Manga Studio 5 so they shouldn't give you trouble either way.
--
When you download and unzip the files, you'll be left with a folder containing four sub-folders. Here's a few words on their contents:
Basic Set:
These are my basic, all-purpose brushes. Most of them I use as-is, changing the size as I go, but not much else.
Cel is based on one of my favourite Sai brushes. It's a hard, basic round brush which is very responsive to pressure sensitivity and slides smoothly from a very thin line to a nice, thick one. Good for a nice, variable line while inking, or for sketching, or for getting a thin, crisp line.
Sketch Pen works well for sketching out lineart.
Digi Brush 4 handles wonderfully for creating painterly colours. Play around with it, blend colours with it. It's without a doubt one of my favourites.
Simple Round is a great tool for filling in large areas or blocking out your basic colours. Since it uses the basic round brush tip it resist lag even at large sizes.
All the brushes labelled as 'block and blend' are ones where I actively change the 'Mix ground color' setting off and on as I go. I tend to have it on to begin with, but since the Ink settings mix heavily, I sometimes switch it off for a few strokes to add new colour on top of existing colour, then back on again for blending.
Ink:
These are my most recent brushes, all based on real, scanned ink strokes.
All the 'Stroke' ones are ribbon brushes, so they handle well even at larger sizes.
The rest repeat their brush tip at various angles with some size variation to create interesting, organic patterns. I avoided the scatter setting (Spraying effect) with these ones, again to keep them smooth and efficient.
As a side note, when using spraying effects I recommend keeping the 'Particle size' option visible in your 'Tool property' window.
Foliage:
Simple leaf-like patterns, a bark-like pattern, and a couple of sponge-like brushes. Pretty self-explanatory.
Old:
The title says 'Unoptimised' for a reason. These are some of my earliest attempts at brushmaking. I keep them around because some of them have a good idea for a brush and I keep meaning to remake them. They have interesting effects to them even in their current state.
Mostly they have the issue of the brusheads not having been created in grayscale and thus repeating the colour black instead of your palette colour unless one enables the mixing options. Some of them also lag, or don't repeat well outside a particular resolution, so be warned.
I've included them mainly for those interested in making their own brushes. If you're just planning to use my brushes as they are, I recommend skipping this folder.
Importing multiple brushes in MS5/CSP:
www.youtube.com/watch?v=m__yCF…
The video's a bit slow but it is thorough, so good for beginners.
The instructions do work in Windows.
I haven't bought his brush set but it looked good so feel free to give it a try.
If you want to make your own brushes
, please note that if you want your brush to repeat the colour you're painting with and not the colour the brush tip was made with then the Brush Tip needs to be created on a Grayscale/Monochrome Layer!
If you are new to MS5/CSP I
highly
recommend watching this short video before you begin experimenting with brushmaking:
www.youtube.com/watch?v=hz6qVN…
I really wish I hadn't had to learn these basics the hard way. Just watch it.
The same user also has a longer video on brush settings in MS5:
www.youtube.com/watch?v=X1oZGi…
If you're making brush tips out of scanned images and want to get rid of the white background, you can change the 'Expression color' of the layer to 'Grayscale' (or Monochrome) and click the black box next to the drop-down menu to ensure only the black is visible.
You can find your 'Expression color' drop-down box in your 'Layer Properties' window or by right-clicking your layer and selecting 'Convert Layer'.
I also find the 'Select Color Gamut' (Under 'Selection') and 'Tone Curve' (Edit>Tonal Correction>Tone Curve) options particularly useful for this process.
Remember that under 'File>Command Bar Settings' you can arrange the icons on your command bar for easy access to frequently used functions.
You can move nearly all UI elements around just by dragging and dropping, so make sure to organize them in a manner that suits your workflow. (I for one have a habit of constantly moving my 'Color Wheel' and 'Color History' around as I work.)
Note that changes to UI and brushes are saved when you close the application, so if you've made extensive changes to your UI or imported/modified brushes, it may be a good idea to make sure you close the program so the changes you've made are saved and not lost in case of power failure/software malfunction.
And yes, Manga Studio and Clip Studio Paint are indeed the same application.