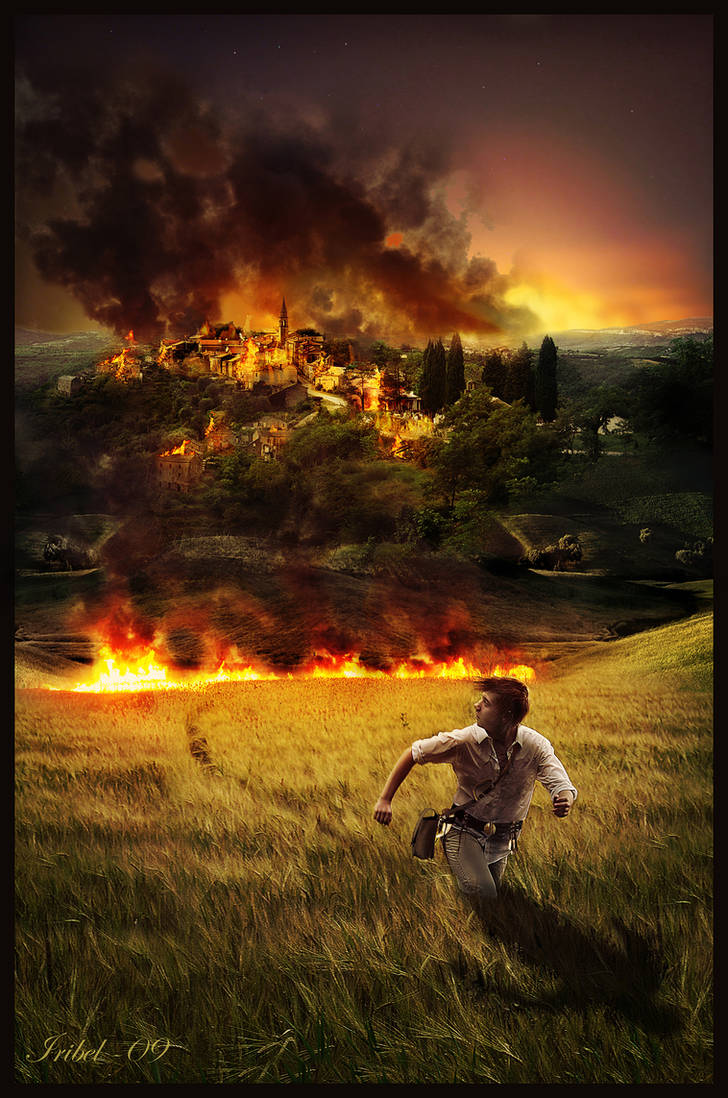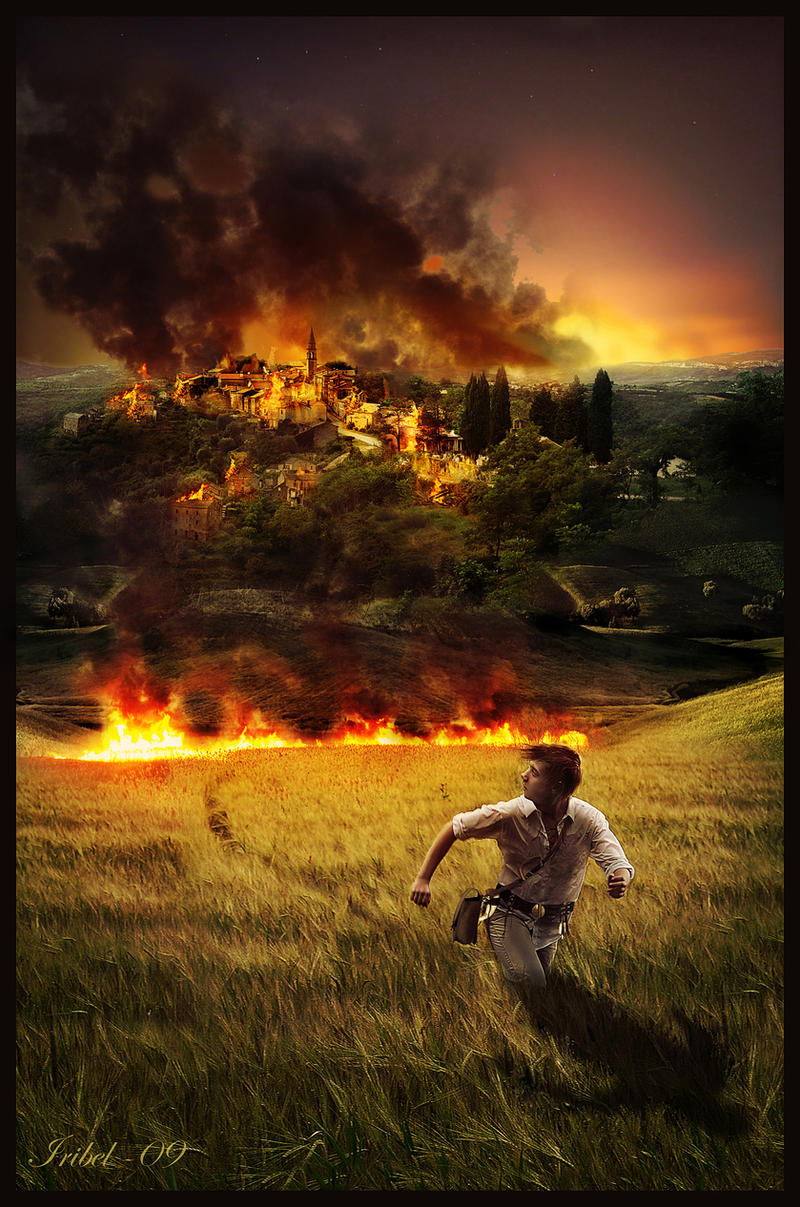 "Burn honey, burn, let the fire eat away
I never liked the look of this town
Burn it down now
I'll run, they all know what I've done
I fetch my gear and take my leave from this mountain

I never had a chance to prove I wasn't guilty,
I always seemed to get blamed for
Every little crime, I didn't even have a name for
...

It was a match made in Hell,
Now the whole mountain burns
And every man gets what no man deserves

Our beloved kin never learned to fit in
Now I pay for my name, live my life in sin
How much less can I ask from you people?
This town stays in disarray
'Til the rules are the same for us all, hey
...

Bells toll all over town, burn, burn until it's all gone
Game over, what was a bad joke is now a reality show"

Sonata Arctica - Wildfire
A little experiment on fire this time. It was quite interesting since I haven't used fire element a lot in my works - I tried to create burning buildings in
Center Of The Universe
but it didn't work out as I planned. So, here's another try and I think it turned out pretty nicely.
This piece is once again inspired by oh-so-awesome Sonata Arctica.
Wildfire
is a kick-ass song and I wanted to create something that would represent its atmosphere. Something fiery, dynamic, intimidating... I'm not quite sure - in my opinion this piece might be a little bit too neat for that. I don't know, I've stared at it for so many hours I can't see it clearly anymore.

If you come up with something I've missed, just let me know.
Anyway, I really hope you enjoy my work. This piece makes me want to listen to
Wildfire
over and over again.
See the close-up of the burning town.
EDIT
: Wow, thank you very much for the DD!

I didn't see that coming. Also thanks for all the

's, comments and critiques. I already fixed a flaw thanks to some of you - I didn't even realise the contradiction of the track before you pointed it out.

It might look a bit more realistic now. Thanks a lot for the support!

Credits:

[link]

[link]

[link]

[link]

[link]
and
[link]

[link]

[link]
and
[link]

[link]

[link]

[link]
and
[link]

[link]

[link]
Huge thanks to amazing stock artists!




© Iribel 2006-2009
All rights are reserved to *Iribel aka Linda Kindt.
Any material in my deviantART gallery may not be used in any manner without my written permission.
First off, I'll say that this is a very high impact and attention grabbing image - it was the first of the DDs that I clicked on!

The lighting is successful, the image of the running man is well sourced for the lighting on his back (though perhaps the lighting could have a slightly more yellowy glow to it, since it is cast by fire).
I have one or two criticisms - firstly, I am perturbed by the tracks through the long grass left by the running man. It appears to me as if he was running with his legs wide apart, as he has left two very distinct tracks - they look about the right width apart for a quadbike, to me.

I think that it would be more likely that he would just leave one single track of flattened grass.
Secondly, whilst you've done a very good job making most of the man fit into the image, there is a little bit of a snag around the area of his knees, where his legs disappear into the grass - I think that it would really help if you included blades of grass that are being pushed aside by his legs, and perhaps a few more blades of grass in front of his legs to reduce the feeling of a 'flat' join between legs and grass.
There's only one other part of the image that bothers me - in the smoke, there is a sort of hole with a bright orange that doesn't look like it quite matches the shade of orange in the sky behind it.

I hope that all seems reasonable to you. Congrats for the DD!
The Artist thought this was FAIR
49 out of 52 deviants thought this was fair.