I just accessed on DA after a while, and I saw I had a DD for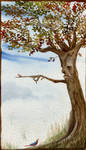 !
Thank you very much to

for suggesting it and for every fav and comment to my pictures, they mean a lot for me!
Hugs to everyone!

*-*-*-*-*-*-*-*-*-*-*-*-*-*-*-*-*-*-*-*-*-*-*-*-*-*-*
If you feel like, take a tour in my traditional paintings gallery:

My clubs:



I'm also a very proud member of the

group, whose members are all listed in the DApage of the precious

.