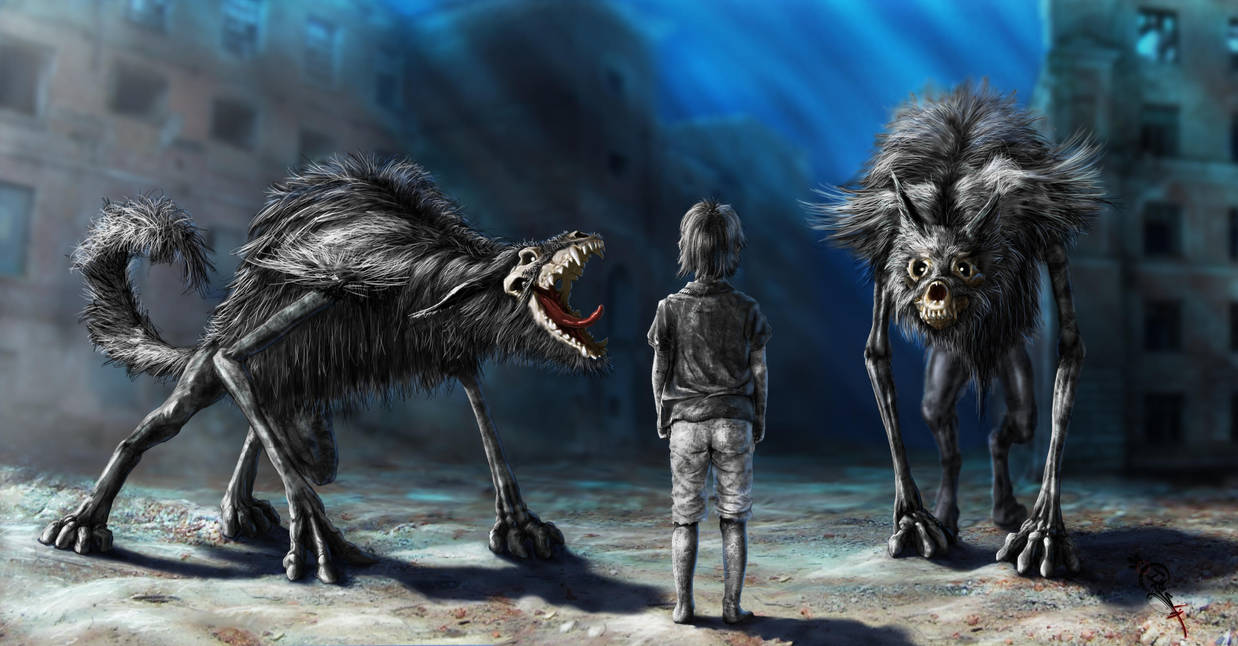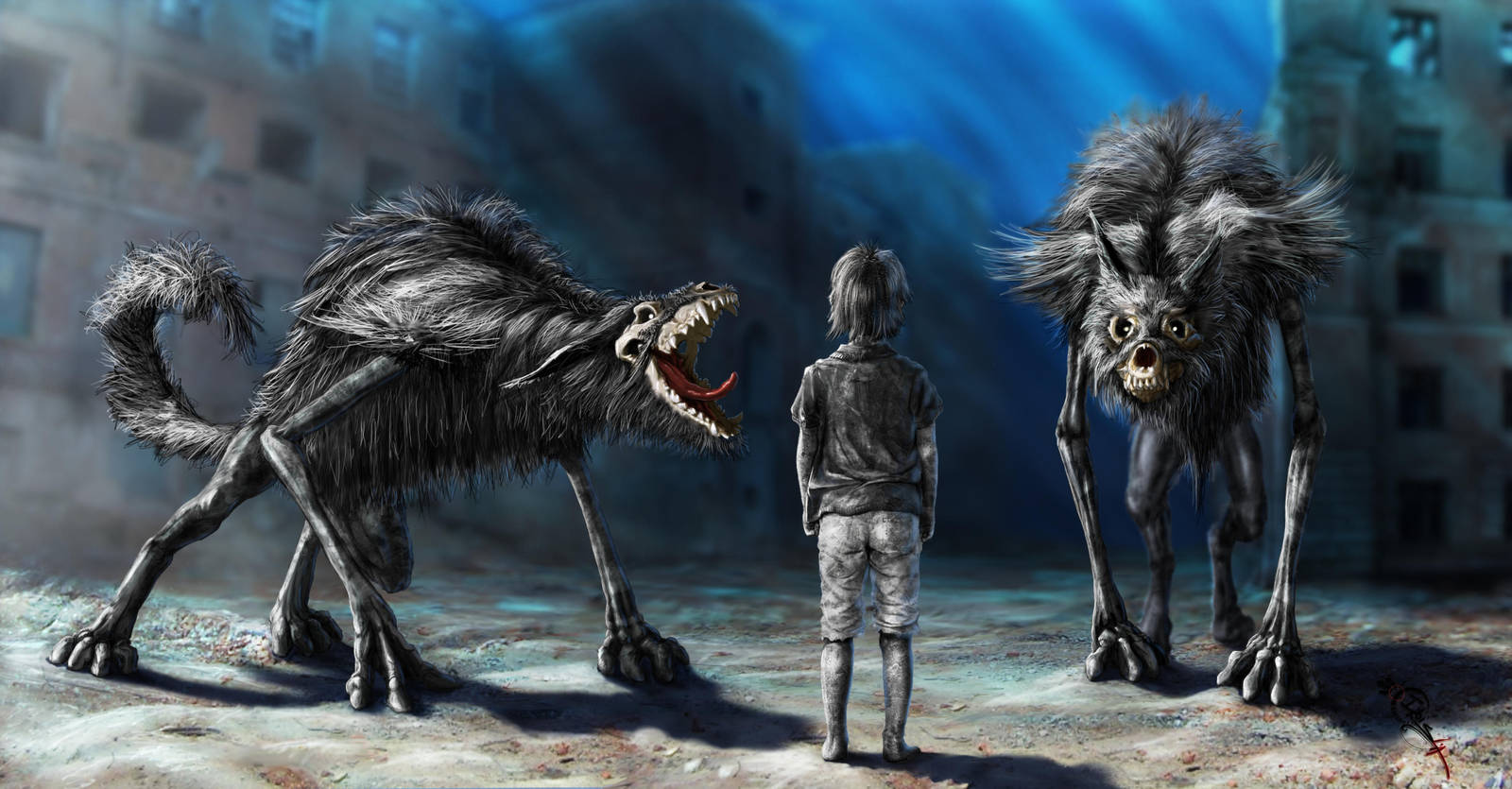 Watch
In that dream even the boy was dark... And those two beast were scared to come closer or harm him. Hm. A strange dream.
----------------------------------
UPDATE

Ok, I found some time to tell you a little bit more about this dream.
The dream took place in my hometown. However, the air of that place was quite odd… As you can see on the drawing, it looked like under the water. And buildings looked rather abandoned long time ago. I can say that the whole place was dead; there, surely, were many and many creatures around, but they were all dark.
I can't recall the beginning anymore since I had this dream a couple of months ago. I just couldn't finish it in time or write down details, so, yeah… Took so long to finally show it. What I remember was this boy.
I knew that the place was dangerous and that I had to be maximum cautious out there. At some point, I saw this boy just sitting in the middle of the street either playing with something or just staring at the ground… I couldn't understand. My initial instinct was to grab him as fast as possible and find a safe place because I could feel the presence of some hunting creatures just nearby. Any moment they would show up.
… But when I approached him… His skin, hair, and clothes were all covered in ash (or was he made from it?) He looked indifferently at me and ask me something like "why are you not running away?" I told him that it wasn't safe to be there and that I was going to take him with me. He looked surprised for a moment and then smile. He told me that the only person in danger was me.
Meanwhile, I saw how two massive werewolves (or whoever were those monsters) appeared between buildings, noticed us, and run toward us.
It was late to run now and not so much point. I thought that I would stay to the end and try to fight them or something… I wanted to protect that kid. But to my surprise, the kid stood up and made a few steps toward the werewolves, which stopped as fast as they almost reached him. They started growling and walking in half circles, but never coming close. They looked confused and indecisive… and scared. I thought that they were trying to provoke that kid to do something, but he was just standing like a statue. In a few moments later, both werewolves run away.
I knew that they would return for sure. Now I finally grabbed that kid and hid in one of the buildings nearby. The kid asked me why I was trying to take care of him. And he said that I couldn't actually hide anywhere there. He looked still passive and indifferent like a puppet. I told him "because you're a small kid" and he said "Nobody was taking care of me for centuries. I don't need it. You have to be from a different place." He became very curious and he touched my hair and then my hand.
But what the hell was this boy? At this point, I realized that this kid was way worth than those other two creatures, yet not aggressive. He was cold as ice and his eyes were pitch black. He was dark himself. He pointed out that my hand felt warm to a touch and that it was odd for him. "I've never seen a bright so close". And he said that he couldn't understand my concern and sudden attachment, but it was something new and entertaining. And for that reason he was fine not to harm me.
Then he explained where the safe path to an exit from this place was.
I left him in peace and took the path he had mentioned. I found myself in a different dream.