Based on one of the several sketches I did when I was designing the album art for Wargaz's "Skiamachy":
Wargaz - Skiamachy
I was about to put another title to this painting, but all its symbolism refers to the concept behind the album's title.
The sun is painted with golden oil paint. It's been digitally edited to look as it is when light reflects on it (scanner doesn't show golden paint very well). When it doesn't reflect light it looks like an eclipse. More or less like this: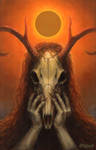 Oil on board, 26,5 x 40 cm.
Image details
Image size
727x1135px 892.57 KB