You see, there's bit of a problem when struggling in binds while using a mini skirt, and it's that they aren't done for such activities.

While Tifa I am sure she wouldn't mind her skirt lifting up in her escape attempts, well... you can imagine it can become a troublesome sight if a certain captor came into the room.
Now while she tried to pull down her skirt with her bound hands her captor stared down at her, probably gears were turning inside that brain of his.

Previous: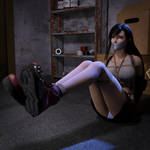 Next: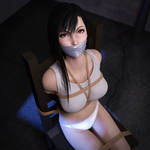 ~~~~~~~~~~~~~~~~~~~~~~~~~
Tifa belongs to Squaresoft and the model to Team Ninja
Image details
Image size
1400x1400px 3.02 MB