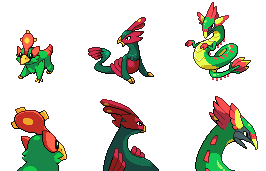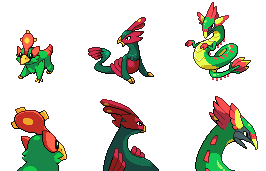 Watch
Chicoatl - [grass] - The Green Chick Pokemon
Quetzoral - [grass/flying] - The Canopy Pokemon
Coatlith [grass/dragon] - The Forest Guardian Pokemon

New line of fakemon for Uranium (actually based on some old designs), you will be able to find these guys in Baykal forest in the next demo. Coatlith are so rare and powerful that natives in the rainforest worship them as gods.

(i included the backsprites too because i've been doing lots of those as well and they aren't something you usually get to see but they are there. every pokemon in the new demo will have a backsprite.)

These fakemon are (c) myself, JV, and Pokemon Uranium. You may not use them, so please don't ask.