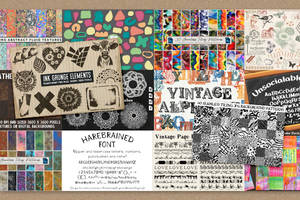 HG Designs Subscriber Area
Lots of high resolution goodies for graphic design including textures, photoshop brushes, seamless patterns and more.
---

Description
40 PS7 Hair Wigs brushes set-3 of 7
The preview image shown above is the actual brush guide chart for this brush set, use it to view the brushes and note the number of the brush you want to use for ease of locating it in the brushes window.
Great for on the fly hair replacement, those not so good hair cutouts or just to drop an instant hair doo on your subject.
Hair is shown as black but you can make it any color and size you want.
Stock Credits:
Source images:
Purchased resources
Model in preview image:
[link]
RULES FOR USE:
Credit and note me with a link to your work.
Links to the rest of my hair wig brush sets:
Hair Wigs set-1:
[link]
Hair Wigs set-2:
[link]
Hair Wigs set-4:
[link]
Hair Wigs set-5:
[link]
Hair Wigs set-6:
[link]
Hair Wigs set-7:
[link]