Hello everyone! So today is "Día de Muertos" (Day of the Dead) in mi country, Mexico. This is the most representative tradition of the Mexican culture. The celebration takes place in two days: November 1st is dedicated to the souls of children and November 2 to adults.
The origin of the Day of the Dead has a history associated with miscegenation. Includes indigenous and Spanish cultural traits that mixed and led to all the rites and ceremonies that take place around the holiday.
Here the main five aspects of this days:

The popular belief is that the souls of loved ones who left, return from the grave during the Day of the Dead. For this reason, they are greeted with an offering where you put their favorite food and drink, fruit, candy skulls and, if applicable, toys for children. No shortage of photographs of the deceased and colorful marigolds or how are called in Mexico "Flores de Cempasúchil".

An important part of this tradition involves visiting the cemeteries. Whether during the day or evening, families come and place candles on the graves as a way to illuminate the path of the souls in their way back home. Many spend the night in the cemeteries that are open 24 hours for those dates. Still others hire bands who play the favorite songs of the deceased at the foot of his grave.

In Mexico death is perceived in a very peculiar way. The Mexicans use satire to mock her. One example is the popular "Catrina": a female skull wearing different clothing as a sign of the presence of death in all the everyday.

Something that can not miss in every dinner and offering is the delicious "pan de muerto" or dead's bread. They come in different styles and shapes. The most popular is round, sugar-coated white or red, with straps that simulate bones. There are also those with forms of skeletons or animals

Fun fact: the popular "Trick-or-treat" used by American children on Halloween in Mexico changed "¿Me da mi calaverita?" or "could you give me my little skull?"

This is a beautiful tradition to remember and honor the one who have gone before us, so to do so here is a feature of some awesome art that represent this holiday! And a little animation that really hope you guys can see, it represents everything said before

Enjoy!!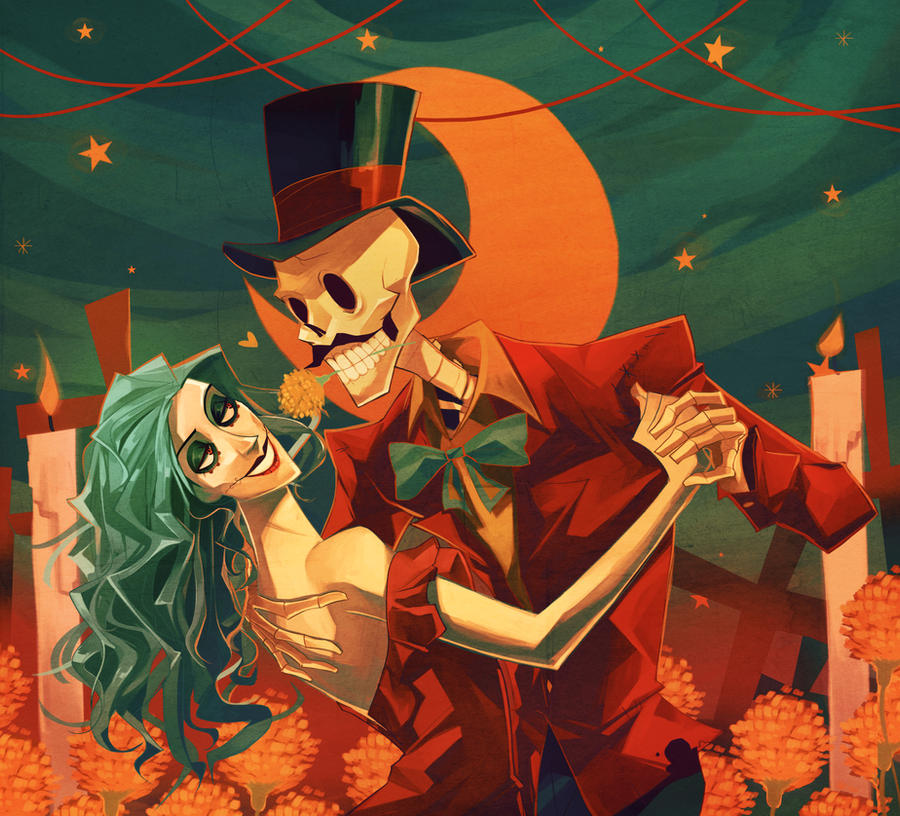 Thank you for reading!
Piccolart