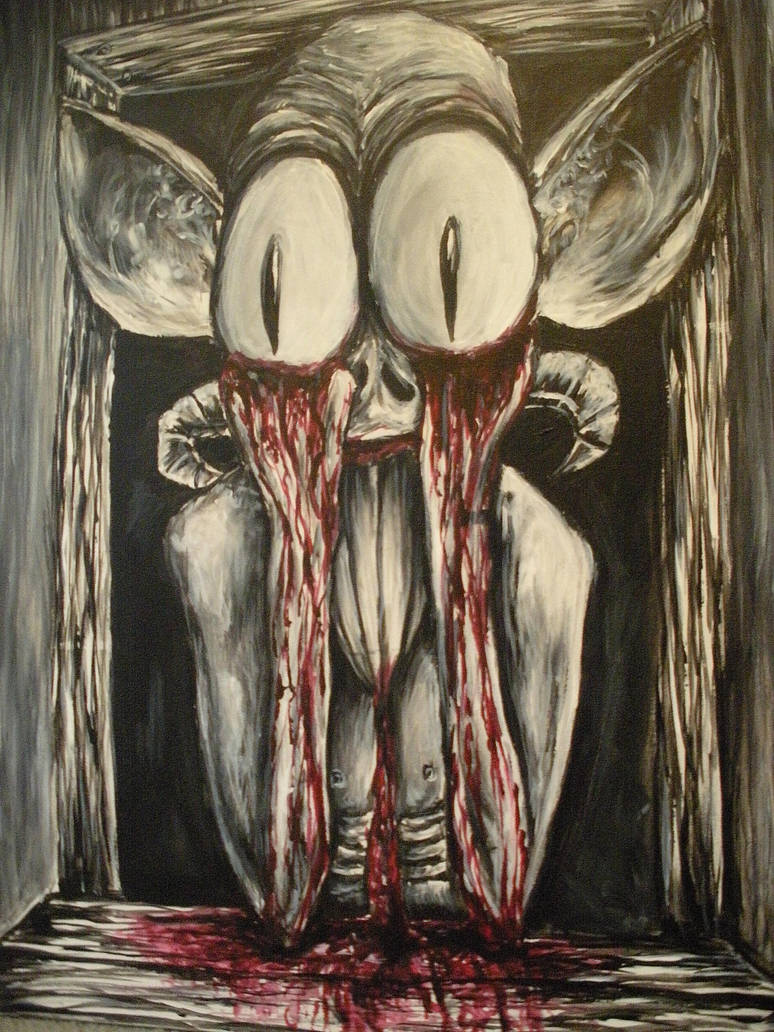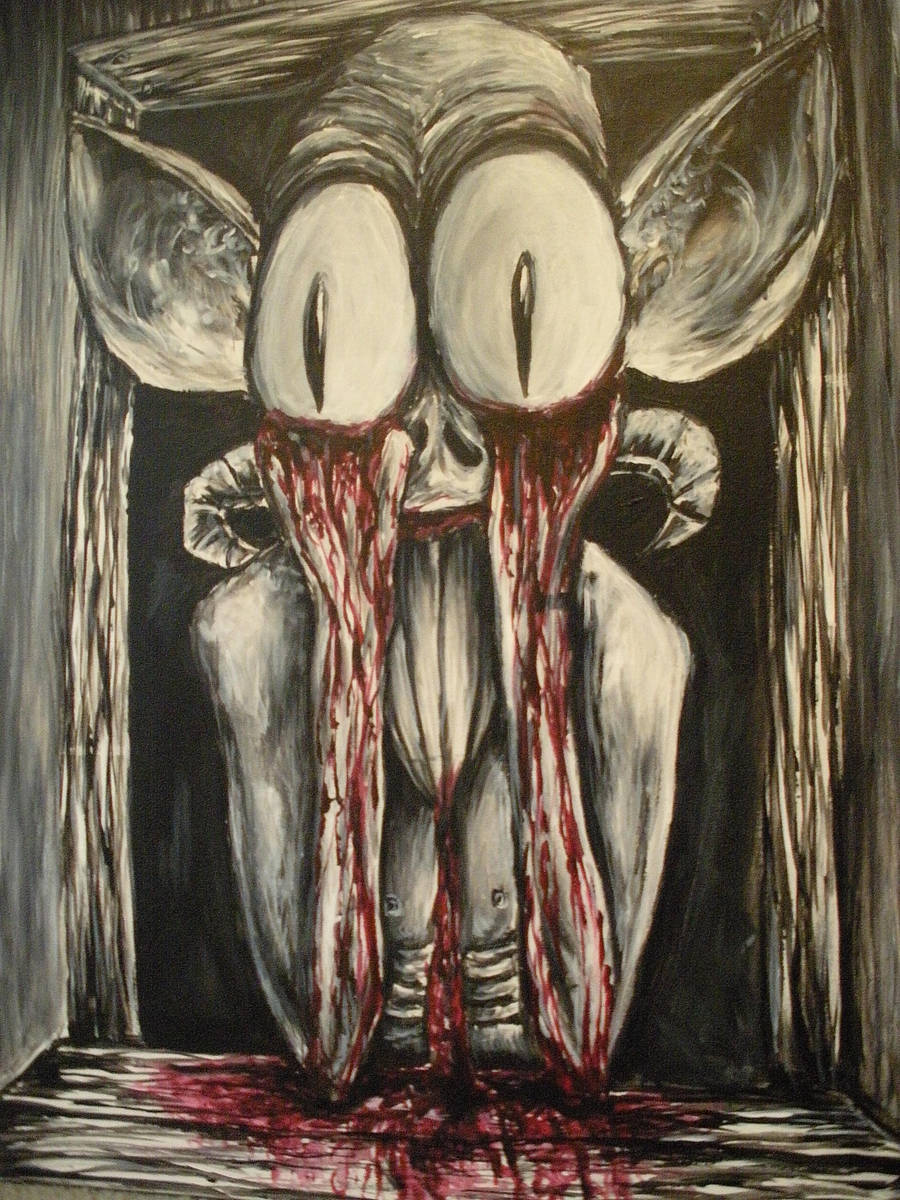 Watch
This is what happens when I'm stressed... seriously. I produced this litterally clawing my eyes out.
I was just playing around with the acrylics... XD
people keep tellin me he looks like Dobby from Harry Potter, but he just reminds me of the things in my dreams


All I have is nightmare's so I get that picture,.
Reply

Hrm, this picture is cute.
Reminds me of some old cartoon.

Reply

Adorable creature!!!


Was it a black paper again? Great style of lines and colours... Amazing

The teeth are so big, but so helpless... And the trusting, worried eyes... So open, so true

Adorable

I also read the dialog... "Grow some balls" knocked me out

Love this text! May I use it if I need it

?
Reply


thankers!

this time I used a recycled old canvas, re-gessoed it and painted with acrylics. I think the concept behind it is that it realizes it's a monster and can't deal with this sudden realization... I think that's where the eyes expression come from, but I could be wrong! I remember doing this when I was stressed out to the max, so that has a play in it too!
I think it's cute too! but sadly we're not in the majority, most people detest this painting in my class.
oh

of course you can use it! Gee, I remember that fight lasted up to the end of the school year. She never ruined one of my paintings ever again.

I didn't snap at her because she hated my paintings [I wouldn't of cared if she did anyway], it's the fact that she was nasty and rude about it, said it to all her friends and laughed behind my back about it. If she was wouldn't say it too my face.
She goes behind my back, cracks jokes about me, talks the talk... she instigates, and whenever I called her ass on it once and for all, she was dumbfounded because no one stands up to her.

it was priceless.
Reply

Was this done at school? And if so, what did Ms. Sturges say?
Reply

lolz hell yeah it was done at school! I would always put it up on the board just to piss her off. I felt kind of bad though for 5th period. They had to eat lunch with that thing staring at them, it was priceless!!! I hated it though that they would cover it with a sheet of newsprint. I mean if it disturbed them that much why didn't they just move it? Amanda wrote terrible things on my canvas, so I wrote terrible things back... I wasn't offended but if they don't like my art why don't they just say so to my face instead of being cowardly and destroying my art. I had to re-gesso and damn that shit pissed me off. Amanda had this life-size panting of a ballerina Degas-style[no suprize there] and I swear all's I wanted to do was grab my rusty pallet knifes and have a go at her magnum opus!!!! She wrote shit like "if you don't want me writing on your work you should put it in your drawer" And of course she has like 5 finished pictures up on the board, and NOONE complaines they're there...So of course I drew a picture of a hand flipping the bird with a sticky note attatched to it saying "this is for you, you know who you are love callie." and after that there was a feud, she was always writing on my canvas, but I never wrote on hers... I just left little personal messages on sticky notes, or I wrote on the back of one of my paintings. on one of them in big bold black letters EAT SHIT AND DIE. and I would always write famous quotes on the back, pedantic ones... but she didn't know how to respond becaue she didn't comprehind... it was funny. For a while people were laughing behind her back, and rooting me on. But she didn't like that very much.
I remember the last letter I wrote on the board was "If you don't like my artwork then don't be a spineless bastard tucking your tail between your legs and scraping your pussy across the floor, grow some balls and tell it to my face asshole." So then that day during 5th period lunch I walked in took my "going batty" picture off the wall and sat at the middle table. Everyone in the room was looking at me and then to Amanda... Then finally she got up and told me my pictures were disturbing, that nobody wanted to look at them and that they were not art. So then I reply "It wouldn't be art if it wasn't disturbing, at least I don't copy another famous artist's style [cough cough].... and call it art" lolz

it was amazing. After I was done I put my picture back on the board, and said that if anybody had anymore objections against me, to tell it to my face.
but hey when I got back to 6th period they didn't cover my pictures with newsprint anymores...

But Ms. Sturges told me not to come into 5th period for a while, she told me to wait until things cooled down. For 3D art I'm currently working on another muscle suit, and I'm going to hang it like a cow carcus on a hook suspended in the air... ppl are just going to deal with it.
Reply

Wow, all I got to do was call Amanda on her going through other people's purses. It was great though, and congratulations for defeating the Amanda. 1UP!
Reply

lolz when i defeated her i felt like captain yossarian from "catch-22" when he decides to live forever or die in the attempt... but when he is faced to go home and force-like colonel cathart[everything he stands against] or face court marshal for going AWOL, he can't play Catharts game... and he can't go to jail because that's crazy[he's the only one that is good] so he decides to run away...but he does so in class, he cuts off the deal and runs for it, for the good of the country.

lolz sorry about that, but i finally got time to read it after AP exams, and now its a fav book...
anyways i'd rather die on my feet than live on my knees, I damned shure ain't serving her ass. lol.

So WTF? why was she going through people's purses?
Reply

Because she's a witch. She'd be trying to find candy, lotion, etc., and one day I just said "Do you always go through people's purses like that?!" And she was just like "Uh...umm..." and with that she was pwned. And then she got sent to ISS for showing up for Stage Show drunk.
Reply


the almighty amanda gets stomped in the face of DOOOM!

ahaha i bet she didn't have anything to say to that lol but

she showed up to Stage Show drunk!!!?

when was this!!!?
Reply

My junior year, so you were a sophomore. It was March I think, and they didn't let her come back to school for the rest of the year. And she didn't have anything to say to the purse thing. She just kind of slunk off, hee hee.
Reply

Reply