Ok I forgot tag journals were a thing lol
Tagged by

————
Rules:
You have to post ALL the rules.
Answer 12 questions you have been asked and then create 12 questions for people you tagged.
Choose 12 people.
Actually tag these people.
Can't say you don't do tags.
Tag backs are allowed.
1- What is the perfect date for you ?
Hmmm... this is gonna sound super cheesy, but as long as we both have fun it's perfect. Just lying in the couch watching anime can be wonderful.
But amusement parks are a good idea too hehehheh
2- Do you read webcomics ? Like on Webtoon or Tapas ?
I don't really read any ;; I stopped reading comics or pretty much reading anything altogether a few years ago, because work left me exhausted and without much time to do other stuff besides trying to be a functional adult.
3- Favorite kind of movie ?
Now as an adult I enjoy kid's movies more than when I was little lol I also enjoy drama and sad stories
4- What's the crazyest thing you ever did ?
Maybe not the craziest, but cernainly very ridiculous: I once started rolling like this

down the street, drunk af, while singing "in the shadows" by The Rasmus
5- Show me your personal faves from your gallery !
Oh golly uvu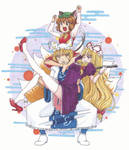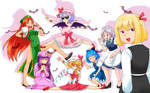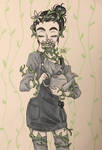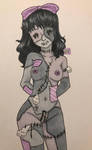 6- Do you like when people watch you draw ?
Not too much tbh, if it's irl it makes me really nervous...
7- Tea/coffee/chocolate/milkshake ?
C O F F E E E E EE E EEEE
8- Give me some of your favorite artists !
SHOWER THEM WITH LOVE AND FAVES AND WATCH THEM GOGOGO








9- Or you a cat or a dog person ?
While I think cats are super cute, I adore dogs with my whole soul!
10- Have you ever drawn for a fanzine or similar project ?
Hmmm I don't think it counts, but I had to draw a 2 pages comic when I went to a comic school many years ago... it was a Shaman King fancomic and at the time I was super proud of it
11- Or you obsessed with something ?
DOGS
TOUHOU
JJBA
FRENCH FRIES!!
12- Tell me a story. (On yourself or not, real or not, just go wild ! You can make a 3 words sentence. Like "I love Ad".)
When I was about 9 years old, I was at the park with my family and our pet dog Spike, a little pup who didn't weigh more than 3 kilos at the time. I started going up and down the slide, and at one point, while i was sliding down, Spike was at the very end of the slide. I panicked because I thought I would hurt him when I reached the end, so in the middle of the slide I jumped out of it... but landed on my right leg and broke it. My parents took me to the hospital and I ended up with my leg casted and having to use crutches, but when we got home, Spike would stay next to me 24/7. He was constantly with me until I got the cast removed. Maybe he realized I injured myself to avoid hurting him...? He was such a good boy.
————
Now I'm tagging these users:












with the following questions:
1. Besides drawing, what are your hobbies?
2. Show us the deviations from your gallery you're the most proud of!
3. When and why did you start drawing?
4. Do you want to become a professional and work as an artist?
5. Tell us something funny you did, saw (a video is ok) or that happened to you!
6. Do you have any pets? If you do: tell us about them and/or show a pic! If you don't: would you like to have one? What kind of pet would you like?
7. Tell us 5 songs you really enjoy listening to!
8. What is the most difficult thing for you to draw?
9. What is the thing you enjoy drawing the most?
10. Favorite type of food or dish?
11. What was your dream job when you were younger?
12. Why did the chicken cross the road? (Get creative!)