COMMISSIONS CLOSED******
Updating my commission prices info,
since people has been asking

So ... i will upgrade this information later,
for now on just leaving some guidelines about detailed illustrations,
for something more simple price can vary.
Prices for High Quality/Detailed illustrations
CGs (Detailed work)
-portrait: US$100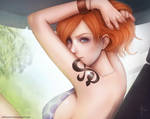 -waist up: US$150
-full body: US$180
-additional character: US$50 each
-background: US$30+ depending the level of detail.
Prices can vary depending size of the character (portrait, waist up, etc),
number of characters, background and complexity of commission.
**All prices are negotiable.
Mode of Payment:
I accept payment through Paypal only.
All prices are subject to change without prior notice. I require at least a 50% down payment before I start anything.
You will be informed via email of the progress of your commission, and will receive the final image file once full payment has been received.
You have to cover the fee costs.
If you have any doubt just let me know via mail here: el.khan.art@gmail.com
Elkhan