So apparently DeviantArt is now actively encouraging its users--of which I will point out there is a HUGE population of minors--to PUT THEIR REAL NAME ON THEIR PROFILE.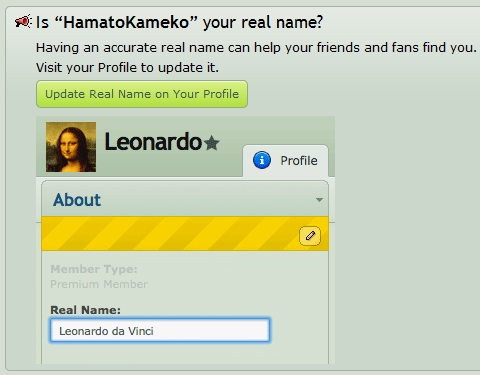 We've spent the last 20 years as a whole discouraging kids from putting their real names on the internet, or any personal information, for their own safety. And now DeviantArt is going completely counter to that.
This isn't Facebook. You can't hide your DA profile from everyone but approved contacts.
This is dangerous for kids. Not just as they can become targeted by child predators, but because attaching their real name to their primary creative outlet is a damned good way to get kids with unusual interests (unusual as compared to their school peers, who in general tend to mock interest in things like cartoons and fandom as it is) targeted by bullies, in a way they can no longer guard themselves from if people know who they really are. It's pretty hard to "block" someone in real life.
I'm 31 years old and
I
wouldn't put my real name on DA!!
#DeviantArt
, this is severely not okay. You need to rescind this prompt, immediately.