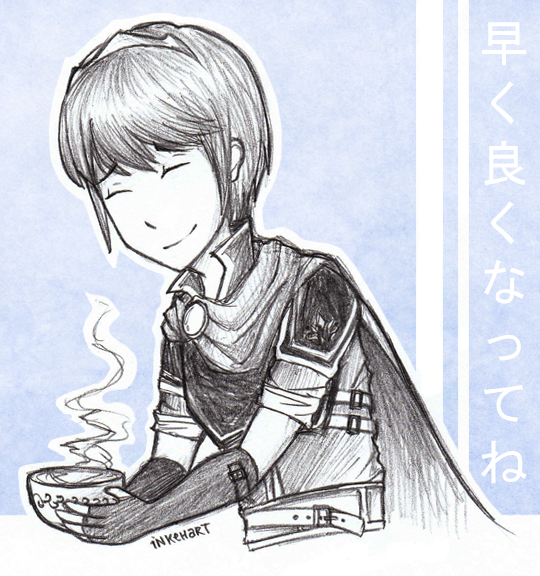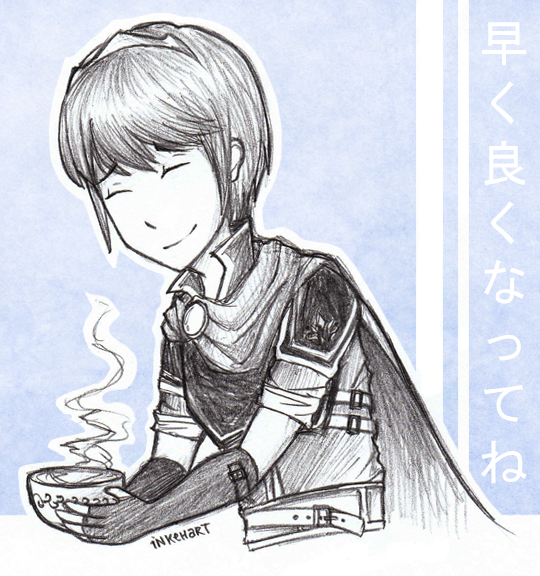 Watch
Old art from October 2015.
Something small I drew for a friend of mine when she got sick a couple months back. (´・ω・`)
I really liked this pencil drawing so I thought I'd share it here too. ; u ;
This is
Marth
from
Fire Emblem
, btw! He's one of her favourite characters, so I drew him bringing her soup to speed her recovery. c':
I think a lot of people recognize Marth from Super Smash Bros., but not a lot of people actually know what he's really like since his games were never translated into English. :c
Poor guy gets mischaracterized a lot, but I mean then again pretty much everyone does in SSB. =w=
From what I gather though, he's a genuinely kind and compassionate person, very polite and soft-spoken, and a little naive / innocent about certain situations but- a very driven and inspirational leader. An ideal prince / hero-king, I guess? |D
The characters are on the right are 'get well soon' in Japanese
( thank you Google, because I haven't learned this phrase myself haha )
I thought it was more fitting to write it in Japanese since Mar Mar only speaks Japanese. ; v ;
But anyway, yeah! I always forget some of my traditional stuff is nice enough to upload here haha. >w>
Hope you like !


MARTHHHHHHH Ah I miss playing Super Smash Bros.... ;^;
Reply

THERE HE, THE QT-
(´,,
・
ω
・
,,
`
)
It really has been a long time, hasn't it? :0
Reply

Reply