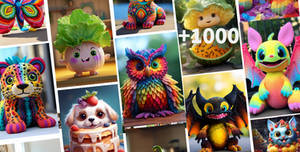 Ai Plush Art Gallery
This collection are over 1000 illustration to help you get inspired in filed of game/animation/illustration project.All images are made of AI. Support my work by contributing to my tip jar every month.
---

Description
This is Heather Tulire, a beautician-in-training who volunteered at the rescue center to use her skills to groom the animals. She's a bit of a beatnik and often waxes poetic about her life and the things she's passionate about. These tangents can last for way too long.
She's an NPC in an indie 3D platformer I am currently developing. More info here!
www.youtube.com/watch?v=PBU-18…
Image size
808x1069px 867.95 KB