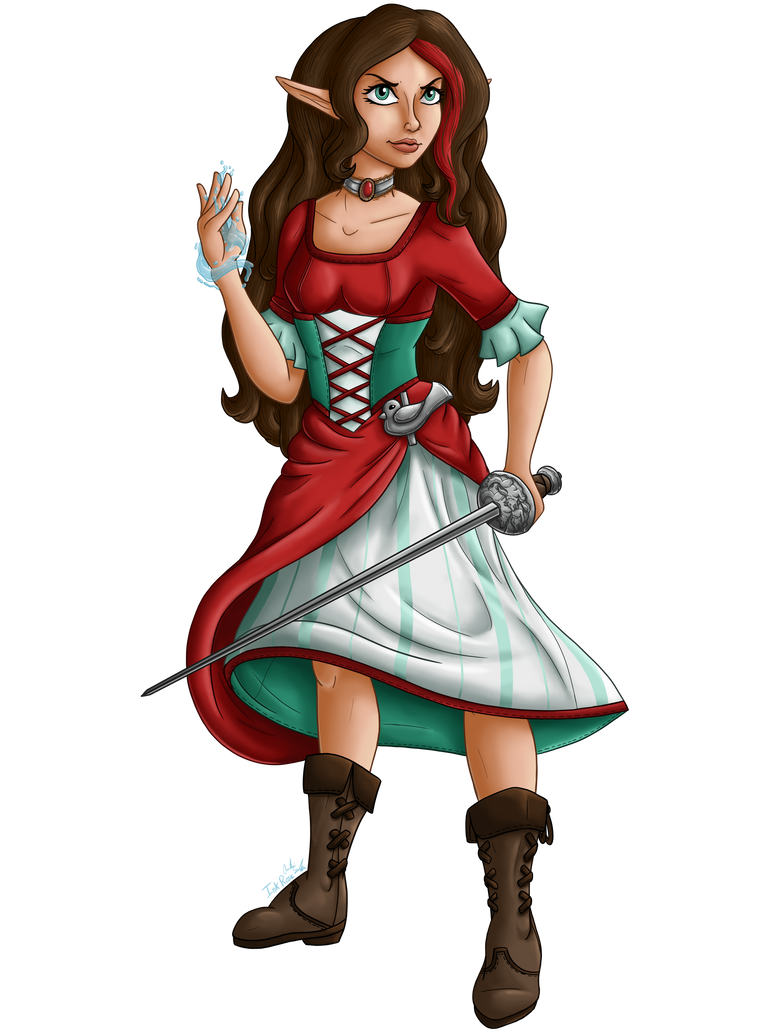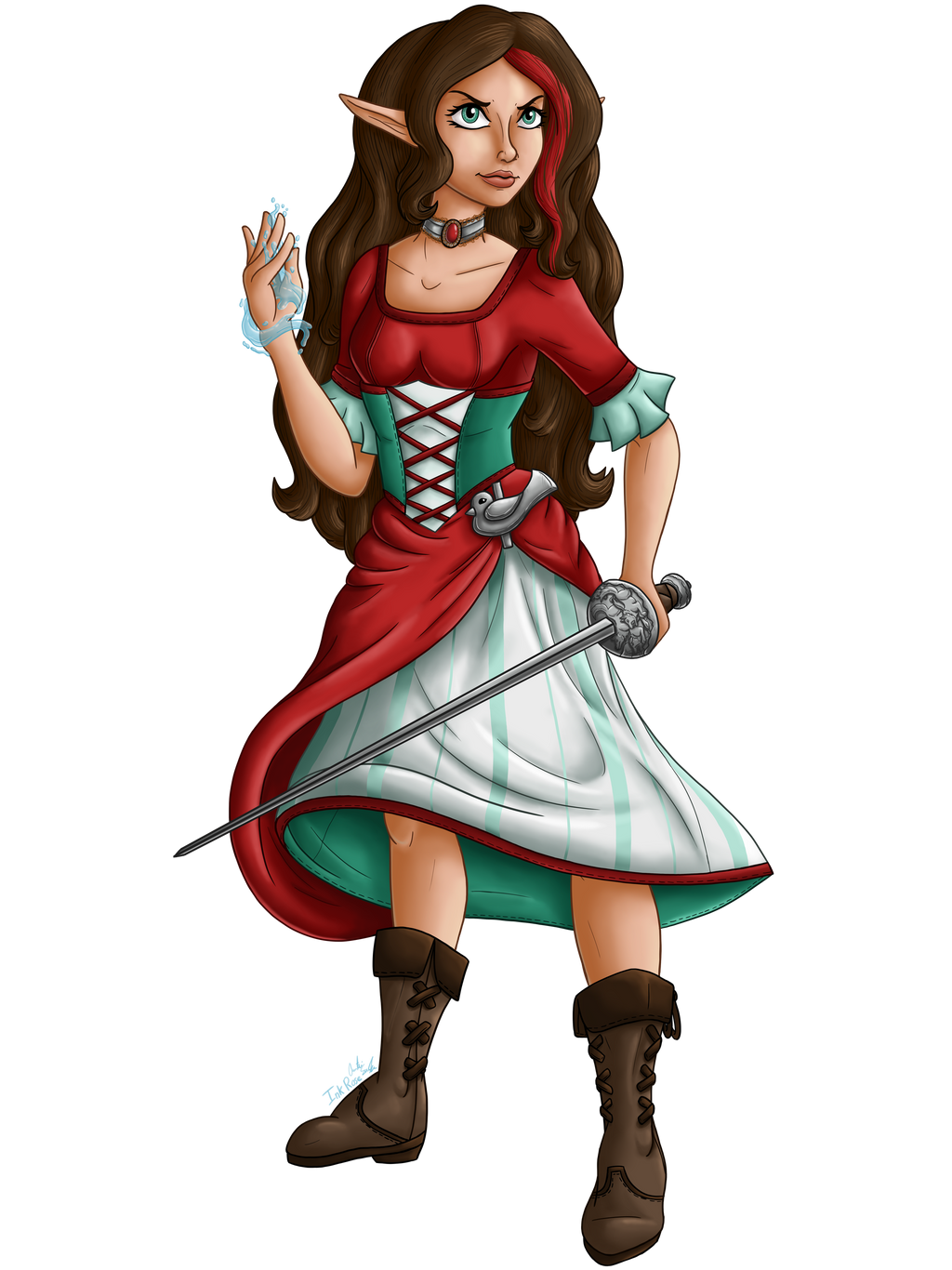 All right, Ink! Been awhile since I've given you a critique, but here we go again! So here we have Aelwen's human form? All I can say is, her overall visual aspect is even more than exactly what I had in mind when thinking of your Dragon Queen series! I love the detail on her boots, the detail on her dress, and I even have to say I admire the visual detail of her sword. The handle part of the sword with the small marks and texture overall feel very lifelike! I feel like I'm seeing an actual sword, an actual epic, solid, silver, respectable, platinum sword. Her hair is also very nice done as well. The curls, the shading, the texture, the overall presentation is top notch! Her hair with a small red highlight there does amusingly make me think of her as an Equestria Girls character. More explanation on her dress, in which I like the color schemes. Aelwen's outfit really looks as it exactly sounds in the story! The laces, ends of the coloring, and the overall compliment the red gives to the turquoise gives it that overall flare! Aside from her dress, her neckband makes me think of her as one of the Dazzlings from Rainbow Rocks, though it gives me the idea of what she's sporting as the Dragon Queen herself. The silver bird also is a nice touch and a brilliant idea as it matches the story for what it is! Her ears are als very nicely done, giving off the impression that Aelwen isn't just any normal human being, her unique powers and abilities, what she can do, her side of a Dragon is apparent! I was not exactly sure what was up with the swirling water when writing this critique, there might've been a part in the second half of the story I haven't gotten to yet, but nevertheless, the presentation of it looks incredible, something that took a long time to draw. I might not know or remember what exactly it references directly, but I know you put the effort into putting this supposed icing on the cake!

Finally, aside form her appearance, outfit, and hairstyle, the technique even feels better than before! Like previously mentioned the sword looks realistic to where it makes me come up with an artistic metaphor, but things such as her boots, her dress, and her hair, they all seem to be accompanied nicely by the shading, detail, lighting, realistic nature, visual variety, and cute color schemes. This could literally fool me as an actual photo of someone, because I kid you not, it is really that realistically good. Your overall picture here is just too much for me, I feel it goes beyond what I usually see. The art is without a doubt outstanding and respectable for everything. Absolutely everything. From the presentation, detail, vision, shading, coloring, variety, and dedication. Out of all the works I've seen from you so far, Ink, this is without a doubt one of the overall best pieces I've seen! I seriously can't believe how much talent and effort was put into this masterpiece, and I definitely see this as something that truly represents what Dragon Queen is all about. Art in it's truest form through visuals, writing, characters, plot, and originality.

Keep up the great work, Ink. I believe in you that you'll get better and better and never disappoint me with your golden, valuable, and absolutely epic art.
The Artist thought this was FAIR
18 out of 18 deviants thought this was fair.
Vision: I can clearly see your idea for not only Aelwen's appearance in general, but also the pose overall. The way you wanted the dress to move, the expression on her face, and her stance are all beautifully executed.
Originality: It is rather pirate-esque and that does take away from the originality because, well, I've seen about a thousand female pirates with the general boots, layered clothing, and stripes. However, the water she appears to be control does add an original element and so does her color scheme. Red is a common color with similar outfits, but not that sea foam/minty color. When I see outfits like these I typically see a lot of muted colors, but these aren't. They are vibrant and eye catching. The brown hair and the red streak are also not that original, alongside the sword. However, Aelwen is a unique character and the intrigue behind her in this picture really does convey this.
Technique: Your technique is gorgeous. The shading is done amazingly and the fabric flows just as it should. I especially love how detailed you got with everything. the strands of brown in her red streak, the details on the sword hilt, and the way her hair falls.
Impact: A young girl looking fierce doesn't make a huge impact. However, the more I look at the picture the more that expression on her face impacts me. On the initial impact, it falls short. However, when taking the time to really observe and take in the art, the impact is powerful.
The Artist thought this was FAIR
10 out of 10 deviants thought this was fair.