'Allo, 'allo dolls and owners! Another month has passed therefore it's time for features. As usual, lets cut right to it.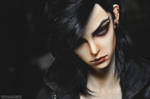 What a wonderful contrast and dynamic lighting.
I love the style of this tattoo and would love to see more of it.
There is nothing better in my eyes than seeing a dose of realism in dolls.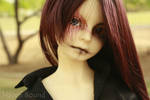 I love the colors in the scar work and have a hard type looking away. Quite striking.
Short and sweet wraps it up for this month. See you all in the next features. I can't wait to see what you have for me then!