Howdy folks~
I'm opening to more slots for this week.
I'm doing two full body sketch commissions, which means it will end up looking something like this~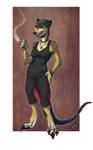 a full body coloured and shaded sketch.
it's 15 dollars for a slot, comment below if you want one.
Slot 1~ OPEN
Slot 2~ OPEN
Thanks for reading~ Ink
Blockquote Example in Footer
Etiam tortor dui, facilisis in euismod vel, hendrerit elementum velit. Integer urna est, fringilla sed fermentum vitae, dictum non massa.
</p>