★NAME: Anastasia
NICKNAME: goes by baby
AGE: 34
GENDER:female
HEIGHT: 5'10"
SPECIES: werewolf
★SEXUAL ORIENTATION: hereto
STATUS: single but hard to keep tied down due to trust issues.
OCCUPATION: mob boss
★CURRENT RESIDENCE:in a small apt
PERSONALITY:
Flirty|
I
ndependent
|
Stubborn
l
Protective
|
Intimidating
|
Confident
RELATIONSHIPS:
mother-alive,
father-alive,
brother-alive,close
brother-alive,close
Venus :
ex lovers, close friends, maybe baby daddy?? //sweats

Jin Suu
: CLOSE FRIENDS, drinking bubby
Ako
: enjoys her cooking, sweet girl.
The Bentons :drinking friend, parent friends.
Eugene:
drinking friend, parent friends.
Corvus
:drinking friends
Eddy:
drinking friend, parent friends.
★LIKES/DISLIKES:
+Drinking,drinking ,drinking
+spending time with her kids
+pizza with all da meats
+black and white movies
-her brothers
-dumb people
-not feelin clean
-being lead on
-fake people,scums
-being told what to do
★HISTORY:
★ADDITIONAL INFO:
-bitch can handle her booze like nobody drinking.
-she has two lovely kiddos, one boy and one girl. tho both are from differnt fathers; she doesn't talk about them.
-she has commit issues due to her last love //baby daddy, he was a under cover cop and they fell in love but sadly he ended up not working out and she never told him she was pregnant
-even tho she comes off mean and has a big resting bitch face she means well and cares deeply for her friends.in fact she very
-owns a shit ton of guns and not scared to use it
-comes from a family manly of sons ;so she was also treated more like a boy then a girl.
-Fear of fire
-swears alot
Fav song:
theme song:
Voice:
RP Methods:
Headcanon > Lit > Script
> Notes
ill finish it later meh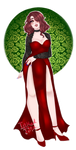 Image size
448x797px 243.79 KB