Hi all,
This is Osaka and Boss Duffy from The Inkcooler, we Illustrate and write comics and like to network with new artists
please bear with us while we get used to Deviant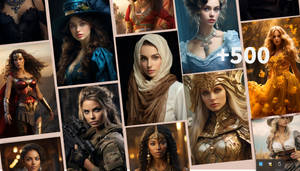 AI Female Photos Collection
This collection are over 1000 illustration to help you get inspired in filed of game/animation/illustration project. This artwork image was created using artificial intelligence and the Stable Diffusion production tool. I am delighted to share this beautiful female with you that I was able to create through this process. AI Art Cosplay and Beauties All images are made of AI . We will update regularly,welcome to subscribers!
---