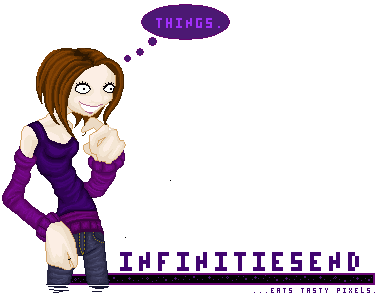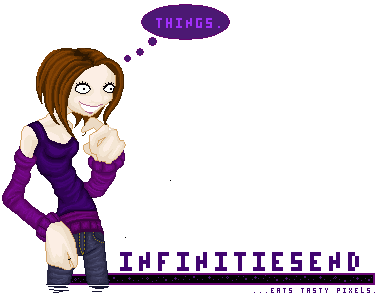 Watch
So..I have been wanting a pixel I.D. for a while now, so I decided to just make myself one. I wanted it to look funkeh.
I searched forever for a decent doll base that I liked enough to doll on, but most of the bases were too cutesy, perfectly shaped, or too small. However, I came across a site with the best bases ever and she has an assortment of oddly shaped bodied bases. I found this one and thought it would be fun.

I am quite pleased with the shading on this one. Maybe not so much on the hair, but more so on the clothing.
It looks nice on my main page.
Base:
[link]
EDIT: My laptop screen is pretty bright, so if anything appears too dark for you....sorry.

'THINGS.'

Great expression. And yes, tape worms deserve smiting.
Reply

*cracks up* You look like a stalker or crazy just going, "I think things..yes..things.."

I love it.
Reply

Wow I would thought you'd go with a greener theme. Looks awesome and fun loving.
Reply

Great job. I can see the writing good.
It's totally you, sis.

Reply

Reply

Cool stuff except I can't read the words at all.
Reply