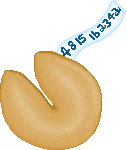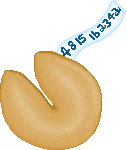 Watch
A fortune cookie I made earlier.

Some of you may be wondering what those particular numbers mean - they are the infamous numbers from LOST that show up in the show periodically.
Don't play them in the lottery. O_O
*Wonders how many people have played these numbers in the lottery*

I know the text looks like crap - it's hard to pixel numbers at a tilted angle.