It's not every month that one of our members win 10k for their web comic. This month, group member
Natasha Dancy's
webcomic
Tethered
won $10,000 USD in
Webtoons sci-fi comics contest
. That is a lot of colored pencils, right?
Congratulations to her for her hard work on an edgy book! It's great to see an
original
webcomic succeed at this level. One more Sonic fan comic and it's gonna be too much for me. Seriously, no more Sonic webcomics. Can we agree on this?
Welcome New Members
Welcome to 24 more artists since the first of the year when July's newsletter went out including:
NinjaSpidey, min-Roh, ChristopherWolf1987, monkeastman, and02626, El-Dobson, KlownyKritter, Kri25, Fox-On-Fire, igvisblajevuss123, space-daze, ronnycomics, Laitma, Cornejor, OgawaBurukku, colorbloks, Candralar, ElisetheEvil, faderillaz, alejandrodraws, the-winter-girl, NeonStreaksNS, Es-House and pocketm0use.
New Indie Comic And Book News
Kickstarter is full of books. A few rise up to a high level of art and story. We want to point out two really interesting ones. First,
Shiver Bureau
is a fantasy horror comic with great art and a compelling setting from Walter Ostlie. This is our kind of book. Really superb and already at 50% of it's goal.
Our friends at Mutant Comix talked with the artist behind Shiver Bureau. They weren't jive turkeys - they've shared it with us. We'd like to share it with you folks as well. Here's the full
interview at Mutant Comix
.
Another outstanding Kickstarter comic is only 50% through their campaign time but already 120% funded.
Wrestlers in Space
from group member
Prenzy
, written by Nathanael Hopkins-Smith with colors by Simon Wright, is an adventure/comedy themed book with many retro and classic comics references. Take a look and support it.
Let's talk about our main features. One is a gritty and gruesome series of books. The other is a very funny and well-drawn webcomic.
Genma Visage is an Adults Only horror series that scares the boogers out of even old pards like me. The second title is Grunk. Grunk is a very entertaining new webcomic that features a lone, sane creature on a planet full of militant Care Bears.
Right! Let's get to book news, then.
Genma Visage
Hellish beasts roam through the past, present and future in Tom Tuke's horrorifying Genma Visage.
There are a lot of titles that claim to be horror but are horror in title only. Tom Tuke's Genma Visage is horror and an explicitly R-rated horror book. For anyone under 18, this stuff is not for you. Trust me on this. Skip it.
18+'ers: Why is this a horror title? It's horror in the same intricately detailed way that David Cronenberg movies like Nightbreed is horror. It's detailed. No vital organs left under-ruptured. No dank tombs left unoccupied. It's also horror like Clive Barker's Hellraiser is horror. It plays by a strict set of rules no matter who the current players are. Open the box and go directly to Hell, Kirsty!
Every super-powered creature in this book is a demon. Each has a disturbing complexity. They aren't strutting, simple-minded bogeymen set up just to fall down. Like villains from slasher films they have histories of once being a human - or humanoid in some cases. It's the emotional drive in the characters that motivate them which makes them so scary as they do bloody-awful things.
Enter the "hero" of the title - who is also a demon. Ryuken Kage describes himself as a "psychic Frankenstein monster" who drifts across central England interrupting the murderous hijinks of demons and human criminals. His own demonic possession can be traced to the efforts of the Genma Visage Project - an underground cult engaged in endless amounts of research in demonology. Kage's particular demon descends from a line of wrathful war demons known as Shuromij.
The devils of Genma Visage have human appetites on an exponentially gross level. It makes seeing them explode in a cloud of guts fairly satisfying.
Over the course of the three current books Tuke's story takes his hero through a strange history of death cults and demon resurrections in ancient Egypt, immortal (but not altogether bright) nymphomaniacs, deserted country graveyards in sleepy rural England and even through the remainders of a to-the-death wrestling circuit. All of this is extremely satisfying to read.
The art develops in this series but is sometimes hobbled by a combination of new and old techniques. These techniques are combined within the same chapters. It seems that Tuke is continuously developing a combination of his strong set of traditional art skills with digital editing. As an example: there will be amazingly detailed panels that audiences will be thrilled by - including a scene of a young woman, fully-possessed, whose head shoots off like a rocket followed closely by a fleshy stream of her vital organs and spinal column. The problem is that once this high standard is set - as an audience when we want to see it upheld for the rest of the 70+ pages in the each book and that is not always the case.
Keeping an incredibly high art standard page-for-page is not an easy task! Yet, there are panels in this book that put entire teams of artists to shame for lack of imagination and guts...
One of the reasons this book is featured is because it seems destined to be in Heavy Metal magazine. All of the elements are currently being refined and crafted into a very strong title. For more information on this book, please stop by the
artist's site
to download PDFs and order the books directly from the publisher.
Grunk
In a world of militant Care Bears and square robots - a cranky experimental lifeform gets jiggy with it.
Grunk is a brand, spanking new comedy/adventure webcomic from Italian artist
Matteo Guarise
. We are pointing it out, at this clearly early stage, because it stands out as very funny and well drawn. In the opening chapter, we are treated with a partial look at Grunk's origin as a genetically engineered being. Before we can get more information on how he came into being the lab that produced Grunkis promptly raided... by militant Care Bears.
A roaring angry squad of furry, furious commandos proceeds to destroy everything in sight beginning with Grunk's robotic creator! The furry commandos rip through the high tech facility with a ferocity that can only be described as rabid. Grunk, already displaying his strong character traits of extreme crankiness and recklessness, makes a hasty escape while under heavy fire. He slams through a plate glass window where he finds himself flying hundreds of feet above the ground below.
Look out, Grunk! The Bipolar Bears are here to deal with your uncooperative behavior!
When we look at the elements in place so far - we like this title even more. There are two facts of life for webcomics and cartoonists on Deviant Art. Number One, the over-proliferation of bad Antho. Not good Antho - we love that stuff because of it's originality and wit. In this context, we are talking about the badly drawn, badly cloned melodramatic fluff that over-proliferates on dA and Smack Jeeves. Whether that's a Sonic or My Little Pony fan fic comic there are thousands of these poorly made webcomics launched everyday.
Now, you say: "Harsh, bro! These are mainly kids or newbie artists." I agree only in the
smallest
part. Why? Because of fact Number Two. Number Two is artist
Andrew Dobson
who is in fact: a thirty-something-old man engaged in bad Anthro. Dobson makes his own version of under-developed Antho comics. He's most definitely not a kid. Although he did pose as one for awhile ("CattyN" see Encylopedia Dramatica) to explain why his art seemed "raw". His audience are now young kids who aren't savvy enough to realize that what they are looking at isn't good art or story-telling. When adult or more savvy readers have pointed this out to him - Dobson freaks out like a wet weasel with it's tail in a power transformer. Keep that mental picture in mind.
When a book like Grunk comes along it, intentionally or not, it continues a storyline that we are already familiar with. The Care Bear commandos in the book easily work as a substitute for angry, overly confrontational readers and writers of infantile dreck. I have seen dozens of angry "furries" or "bronies" declaring total war on society which apparently means donning a hairy, colorful costume. Then, these types have a totally transformed attitude. Minutes after foaming at the mouth, and now in costume, they insist how much they respect people and want respect themselves. It's one of the clearest forms of organized, bipolar activity that I've seen yet.
This hypocrisy between "total war" and "peace, love and respect" needs addressed. What better place then in the medium that it sprouted from? Comics. Comics are fantasies. They are a playground where we can leap over tall buildings in a single bound. We can see justice done where it is so elusive in the real world. With this in mind, Grunk allows us to explore the toxic nature of badly conceived ideas as our hero fights against legions of bipolar bears.
I could be wrong. That is my take on it. Now that this book is gearing up I suggest you subscribe to
Grunk at Taptastic
. Decide for yourself. See where it goes.
New Features
We've add a new folder this summer. The
Environment Design
folder is strictly for scenery, backdrops, weapons, items, trees and other components that make up the background of our comics. It goes w/out saying but I will say it here: please do not add characters or turn-arounds to this folder.
Affiliates
Indie Graphic Novels is affiliated with over 50+ different comic groups! Did you know that? We have affiliations with artist groups from Chile, Brazil and Russia. This month we are focusing in on two more affiliate groups.
Digital Artists FTW

We love detailed, rendered artwork.
Digital Artists FTW
is a group that features almost nothing but jaw-dropping digitally painted work. It's a great place to see advanced art techniques in many contexts. There is also a tutorial folder at the group to try out these methods.
:thumb345049055: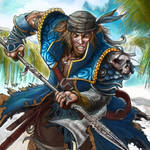 :thumb338474819:
This group has been on dA for 5 years and have 5700+ members with 96k views.
Original Characters Select

The work at
OC-Select
features original heroes, villains, concepts and characters. They are amassing
original
black characters in a way that is impressive. Their general attitude isn't "this is Black Captain America." Their position is: "This is Josura and the Black Dragons."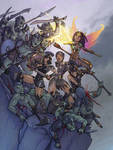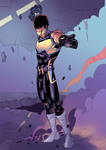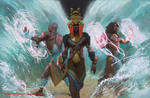 This group has been on dA for three years with 158 members and 13k views.
Comic Conventions
Where are your next appearances? New books? Tables at a new or long-running comic con or show? Add or submit your info to the
Info Folder
. Kickstarter campaigns, ads, announcements and book promotion pieces all go there!
Here's a short list of what conventions are coming up.
Fan Expo Canada
September 3-4, 2015
Toronto, Ontario, Canada
Stan Lee, Ramon Perez, a Captain Canuck comic and animated series panel and several valuable comic workshops.
Wizard World - Columbus, Ohio
Columbus, Ohio
September 18-20, 2015
William Shatner, Michael Golden (Batman, Spider-Man, Hulk), Brad Guigar (Evil, Inc.), Jeff Balke, Danny Fingeroth (classic Marvel Bullpen era editor), Kurt Lehner (Gargoyles animator), Bill Maus and many more excellent comics people.
Small Press Expo (SPX)
North Bethseda, Maryland
September 19-20 2015
Frederik Peeters
,
Noelle Stevenson
(Nimona), Michael DeForge,
C. Spike Trotman
and many more excellent indie artists.
Cincinnati Comic Expo
Cincinnati, OH
September 18-20 2015
Neal Adams, Josh Blaylock and Ashley Witter (Devils' Due - Chicago), Art Baltazar, Michael Beck (Star Wars) and Steve Frickin' Guttenberg (Mahoney From Police Academy)
Rose City Comic Con
Portland, Oregon
September 19-20, 2015
Michael and Laura Allred (Mad Man, Fantastic Four), Brooke Allen (Lumberjanes), Kevin J. Anderson ( writer of the new Dune books), Kurt Busiek (Eisner Award-winning writer) and
Jason Copland
(FUBAR, Daredevil).
Baltimore Comic-Con
Baltimore, Maryland
September 25-27, 2015
Neal Adams, Francesco Francavilla, Jimmy Palmiotti and Jim Starlin.
Alternative Comics Expo (APE)
San Jose, California
October 3-4, 2015
Jhonen Vasquez (Invader Zim), Barron Storey and many more. This year's show tables are sold out!
NYCC
New York, NY
October 8-11, 2015
Art Adams (Uncanny X-Men, Hulk, Longshot), Dan Slott (Amazing Spider-Man), Greg Capullo (Batman), legendary illustrator Basil Gogos, Bob Camp (Ren & Stimpy), and Fabio Moon (Dark Horse, Eisner winner).
ASH Con
Indianapolis, Indiana
October 25th, 2015
Great local show for area artists and dealers re-occurring 6 times each year.