May is here, people. It's been an especially hectic Spring for us. Submission numbers are way up. Quality of the submissions are extraordinary. We're constantly impressed by the originality and imagination of the work coming in on a daily basis.
This being the case, this month we've added some new leadership to help sort us out as well as to recognize their significant contributions that has made our group a success. These folks are comic creators with unique and well-crafted webcomics. They've earned a great deal of respect through their dedication to their craft and annual pilgrimages to table at comic cons locally and nationally. The first Senior Members of this group are:

Dedasaur
, the one and only Deda Daniels, is a former Disney artist and the author and illustrator of the long-running webcomic series
The Pirate Balthasar
. Her work, both stylistically and thematically, is beautiful. When we think of inspired and elegant character design we think of her work!
Chris Kohler
is an amazing artist and an edgy writer as clearly seen in his zombie/suspense series
The Portland Underground
. His traditional drawing and inking skills are some of the most formidable that we've ever seen.

Shono
, Georgia based artist Shawn McCauley is the author and artist of futuristic action comic
Shadows of Oblivion
. His work is prolific. His scenes of post-Apocalyptic destruction and the chaos encountered by cybernetic warrior Cerebus are amazing.

Eastforth
, aka Gabe Ostley, although he is our most junior of the Senior members - he clearly knows how to scratch that sweet spot of edgy adventure and bizarre humor. His work is a combination of the X-Files and Bill Plympton.  His books are incredibly funny. They include tales of fake moon landings, off-balance secret agents and of course alien abductions - which are usually badly botched by extraterrestrials.
Welcome New Members
We started out as a small comics group with a few committed members. Today, we're at 840 Members and 900 Watchers with 50+ affiliates. Of all of the groups on dA we are the
only group
specifically for dedicated indie comic artists. Thanks for making this a place for your work.
Welcome to 28 more artists since March's newsletter went out:
MadLeds, PhototropicSpaceGirl, Rosaka-Origo, Orbital-Death-Ray, zathraya, lostie815, Kilari4432, Raskop, centrifugalstories, Almatheja, CC-Sanchez, I-Am-Lord-Kira, HarajukuLolita, Konnichibot, Lairstry, erwil, ARTVARO, TitanR458, TheBlakeRunner, Tinuvialle, childersart, mrAlejoX, deadlyintrospect, troelsmahaffy, xGoshonx, flamingbubbles, MJBarts and
yosarian13
whose action title, Remurdered, has been appearing at our group since March.
Indie Comic And Book News
Before we get to our featured books there are two Indie Gogo/Kickstarter projects that we want to share. The first is a new book for the excellent
Enchantment Agency
(Agenzia Incantesim) written by member Federico Memola with incredible art from Elisa Di Virgilio. It is right on the very edge of an R rating but is also a great deal of fun.
The next is a 100 page horror comic Kickstarter project by C. Michael Forsyth called
Night Cage
. It's the story of vampires taking over a women's prison inmate by inmate. The art is traditional and the story styles itself as "Orange is the New Black meets Salem's Lot."
To our main features now. This month, we spotlight two out-standing webcomics. Each one strives to set new standards in the art and the rendering style - and they couldn't be more different thematically from one another. This month we have one sci-fi series and one auto-bio book.
Let's jump into it, then!
Tethered
A roguish heroine and a nervous robot wander the hazards of a post-Apocalyptic world in Tethered.
Natasha Dancy
draws and writes
Tethered
a quirky sci-fi webcomic featuring some dark subject matter. For instance, the world is a ruined and broken place where the air can drive you mad in a few breaths. This world has advanced enough to have sentient robots but unfortunately - they are practically hunted into extinction.
Chapter One kind of explodes outwards. The story unfolds as calamities, encounters with dead or dying survivors or run-ins with packs of thugs go down. There is little down time for the lead characters to even tell each other, or others, their names, which are Cara and Ed the medical droid respectively. The small pauses in the book to examine the scenery, which is curiously devoid of the tens of thousands of people that once lived there, are very enjoyable.
Although the art style is cartoony, the author is not afraid to push the lead characters through piles of corpses and murderous gangs. Cara seems like she has seen many of each yet the Apocalypse doesn't seem like it has happened more than just a few years ago and no more than 10. Whatever that has happened to her, which has not been thus far revealed, has made a young girl cold and gray inside.
It's not zombies that will kill you during the Apocalypse - it's shoddily built flooring!
Chapter Two picks up on a cliffhanger, where Cara was busily falling to a anonymous death in a vacant mansion. She is rescued by Ed who quickly learns that his knife-wielding patient is a hard-boiled survivor without much gratitude for him. The vacant mansion appears to be Ed's home where he served a family who presumably didn't make it through the chaos of the Apocalypse. The two decide on leaving the vacant mansion and moving out of the city - and possibly further. Although this last part is purposely left unclear.
Chapter Three opens with Cara and Ed on the road where they continue exploring creepy and abandoned homes. They run across a pile of corpses and are set upon by a deranged survivor who attempts to cave in Ed's head with a nearby shovel. Cara poises herself for a killing cut but is narrowly stopped by Ed who seems to be the only one of the two with any sense of humanity left - and he's a robot!
Chapter Four introduces two more factions of survivors in the world of Tethered. One, a ragged band of survivors of old men, women and children at the fringe of the city. Ed saves Michael, a child of 10 or 11, from members of the second faction who are busy trying to bludgeon him to death. It isn't long after before Cara slashes one of the attackers across the belly with her trusty knife.
This second faction are a pack of violent thieves. They seek out robots for their energy packs. They correctly deduce that the stranger who saved Michael is a robot. Since they are nearly out of energy it seems like a good time to organize a robot hunting expedition.
This is an interesting webcomic that is getting more interesting with each chapter. The art goes over and above any basic requirements by adding painted in scenery, toxic clouds and attention to rendering the characters. The story is edgy with more than enough tension! As the plot begins to intertwine for Chapter Five it seems like a great time to subscribe to
Tethered
.
Rock On, Rocket Llama
A very funny and sometimes awkward auto-bio comic about a woman's hiking adventures.
Rock On, Rocket Llama
is modern adventure webcomic by member
Alejandra Wilson
. It's something unique and interesting. Very accessible. It follows the annual hikes that the lead character takes on as a matter of spiritual commune with nature.
Instead of going the strictly earnest Thoreau-like route in approaching the vast expanse of nature, Alejandra notes all the little things that really define long-distance hikes like trail rash, scratches, evaporation of hygiene standards and the sudden awkwardness of social interactions with people in the immensity of nature.
To say that this is an enjoyable approach is an understatement. Examining each of the realities, however small, of the experience actually makes for a more worthwhile reading. The layer of physical realities and psychological dissonance in gradually becoming blissful and alone versus suddenly having to share space within a group or with another person make this book really appealing. We take this stuff for granted but Alejandra bravely provides short looks at what happens to herself in these situations.
The scenery has to be seen to be believed in this book. The art details and the color choices are each excellent.

How good is the art? You are gonna be impressed at some of the depictions. Even in short panels, we can see small ecosystems at work at the Pacific Northlands Trail through deserts and seemingly barren scrublands. Some of the vistas are over-powering in their views and some reflect a great amount of balance and serenity.

It seems like these images are part of the deep respect the author and artist has for nature.

This book has that rare quality of being fascinating and fun. We highly recommend that you read and subscribe to Rock On, Rocket Llama.


New Features

Are we a perfect group? Do we have everything that an artist could want? The answer seems to be "AW! HELL YES, DAWG.".
Seriously, every other month we ask what you folks would like. And, no one has made a single suggestion yet. Are we just that perfect? Would you like to see the group mascot changed to Tony Danza? How about folders for WIP or video? Leave your comments below.
Affiliates
Indie Graphic Novels is affiliated with over 50+ different comic groups! Did you know that? We have affiliations with artist groups from Chile, Brazil and Russia.
This month we are focusing in on two more affiliate groups.
Ink And Watercolor

Ink And Watercolor
is a group dedicated to those who create, appreciate, or want to learn more about the versatile mediums of ink and watercolor. As comic artists, many of us under-utilize the many lessons learned from watercolor painting in terms of values and methodology!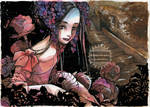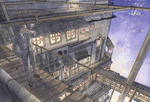 This group currently is up to 499 members and has been on dA for two years.
Italia Comics

Italia Comics
is an Italian comic artist and illustrators group that is informal and inclusive of many types of artists. There is a wide range of art and styles incorporated into this group.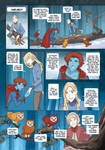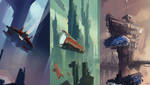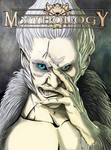 Italia Comics has been on dA for five years and has grown to 809 members.
Comic Conventions
Where are your next appearances? New books? Tables at a new or long-running comic con or show? Add or submit your info to the
Info Folder
. Kickstarter campaigns, ads, announcements and book promotion pieces all go there!
Here's a short list of what comic conventions are coming up.
AniMinneapolis
Minneapolis, Minnesota
May 8-10, 2015
Motor City Comic Con
Detroit, Michigan
May 15th-17th, 2015
MSP Comicon
St. Paul, Minnesota
May 16-17, 2015
Wizard World St. Louis
St. Louis, Missouri
May 22-24, 2015
Phoenix ComiCon
Phoenix, Arizona
May 28-31, 2015
Dallas FanExpo
Dallas, Texas
May 29-31, 2015
Midwest Toy Fest
Indianapolis, Indiana
June 6-7, 2015
Florida Supercon
Miami, Florida
June 25-28, 2015
ASH Con
Indianapolis, Indiana
June 28th, 2015