What a winter! After the coldest February on record for much of America, this March starts out frozen and icy. Something called a Polar Vortex dominates the USA. From radar images, it looks like a deep blue spiral of arctic weather pushing down from Canada and spreading east of the Mississippi to New England.
Enough of that, then. Next up, a reminder:
M.O.D.O.K. Madness
, hosted off-site at Blogspot by another group, is an annual event open to all artists. Illustrators and cartoonists regularly contribute dozens of original interpretations of the classic Marvel A.I.M. villain. We watch this event each year!
Welcome New Members
We started out as a small comics group with a few committed members. Today, we're at 815+ Members and 875+ Watchers with 50+ affiliates. Of all of the groups on dA we are the
only group
specifically for dedicated indie comic artists. Thanks for making this a place for your work.
Welcome to 30 more artists since the first of the year when January's newsletter went out including: GoodGuyRychard, masscomics, non-nobis-domine, Wolven-Sister, AtlasArtifex, FireMice, bigwillymac, spacerocketbunny, nezure, MarsRedrust, Musashden, Inside-Anas-Mind, mlappas, Black-lnk, CrimsonMagpie, Martin-Krieger, blattanzi, Tanmoyart, gafanha, Brunomarkes, Motise, lukesparrow, ronyworo18, Akaikane, lordbinah, Goat13, LuisPerez-Banus, Algoran and GN-GR.
New Indie Comic And Book News
To our main features now. This month, we spotlight two out-standing webcomics. The creators are both artist and writers for their own titles and have produced some imaginative comics. There is a high level of art skill and rendering in the artwork in both The God Stone and Gimkhana. Let's take a look!
The God Stone
The God Stone is a funny, irreverent and impressive webcomic about mysteries and magic.
Jessica Byrne aka
Evil Dragon Queen
writes and draws
The God Stone
. This ongoing fantasy webcomic is nearing the 100 page mark. The first 25 pages of Chapter One move quickly and seamlessly. The action is subdued and restrained but moves with enthusiasm through a hostile, dangerous wilderness.
Chapter One's early pacing introduces travelers within a murky, magical world. This comic looks like it takes place somewhere in our own Medieval era in northern Europe or Scotland. Here, it's not unusual for hungry, giant monsters to overtake unwary groups along the roadside. The rogue hero, Steel, nearly finds himself in the jaws of these creatures right at the beginning of this book.
The action runs parallel to character development so there aren't any hang-ups for readers. In fact, this webcomic has a really smooth presentation! It's easy to read with crispy art. The sound effects start out raw but they get refined as the book continues. This seems to happen when Byrne decides to let some of the SFX break through frames and panels more wildly.
Magic runs through The God Stone as wolves and spirits get super-charged with mystic energy.
The main, Steel, speaks (and also shouts) with a Scottish brogue accent. His reactions are great. There's a slice-of-life wryness that pervades the opening chapter such as: Steel fleeing instead of fighting monsters while also forgetting his magical stones. These "mistakes" that the hero makes are meant to cause face palms but are enjoyable to read.
Chapter Two introduces and develops Ry'Kauza - a cruel young man who wants to rule the world. His development from ambitious prince to would-be sorcerer king is interesting to follow. The 30 pages in Chapter Two provides background for the under-lying principles and backgrounds that drive the characters.
Chapter Three is going to be a very interesting read. Now that the heroes and villains are firmly entrenched, things look like they could get explosive soon. We will all find out later this year on
Smack Jeeves
. Now is the perfect time to subscribe to this book.
Gimkhana
A fantasy-action webcomic with great looking characters.
Gimkhana
is an all-ages adventure webcomic by member Wild Ellie. The book has been updating since Summer of 2014. It's up to nine chapters and a total of
200
pages. Note that this comic updates up to three times a month with as many as eight pages at a time. This is actually a good approach. The release schedule is great for readers who want more than a gag-a-day or a page-a-week book to get into.
Let's first talk about imagination in the art style for Gimkhana. It is "iced in" with extra attention to both the character art and the
rendering style
for the magical events. That's all one artist. That is pretty impressive, eh?
Next, there are slight story element similarities to
Dark White by Lily Aquilar
and the above feature from Jessica Bryne's God Stone. All three feature magical beasts and human/humanoid interaction with them - yet they each do it very differently! And
superbly
, we may note.
Elemental spirits, wolves and large carnivorous mountain cats roam! Some even inside of the heroes!
So just how good is the character art? Very good! The line art and expressions each look like Disney's Pocahontas or maybe even Mulan - like mid to late 90's Disney seems like a good comparison. The art can also be compared to the work from senior member
Dedesaur
and her Pirate Balthasar series. Like Balthasar, Gimkhana's characters each walk and talk with surprising grace.
The book's current subject matter has shifted to a more mature level of reader. Chapter IX is entitled "Indelible Scars" which contains some nudity and adult themes. However, this is at heart a PG-13 book. It is not sex-crazy but more of an attempt at realism with cartoon characters.
Please subscribe to
Gimkhana
and enjoy this unusual and well-drawn tale.
New Features
This month we want to talk more about art techniques. Since we are heavy into webcomics this month we want to spotlight a methodology from a webcomic colorist whose rendering has set a new standard.
Nimesh Moraji
uses strongly defined highlights on skin tone and objects to create a signature art technique. I am giving credit for it to Nimesh due to the consistancy and numerous times I have poured over his work studying it. We can see it in the multiple webcomics that he's colored for
Isle Square Comics
and others.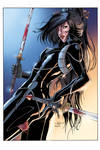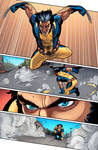 Isle Squared Comics' Pale Dark colorist
Nimesh Moraji
has set a tone for webcomic artists to live up to. His light rendering technique covers all arms, legs and facial expressions. It is done by highlighting, with an almost unadulterated white air brush. I have come to use it myself - it is the "Nimeshi Style" of rendering.
Affiliates
Did you know that Indie Graphic Novels has 50+ affiliations with other comic, art and design groups on Deviant Art? We are always looking to collaborate with like-minded Founders and Contributors. Please send us your Affiliation requests!