It's been raining like holy schnikeys since May in most of America. The early summer is here and it is here by the bucket full. Lucky for us we have some hot new webcomics to read as it pours down cats and dogs. More on this a little later.
The lead art for this issue was created by a collaboration with Senior Member
Dalgoda7
aka Mr. Chris Kohler - the brilliant indie artist and inker behind the survival horror comic
The Portland Underground
and his new series the quirky, Tarantino-esque crime story American Made.
Last month, we added the first Senior Members to this group to recognize the
hundreds
of pages of work that they have contributed to our group. Seriously, without these guys there wouldn't be a group. We ran short last time before we could mention that we've added one more Senior Member. His webcomics and his work on Comixology are each incredibly well drawn with a lot of appeal. It's frickin' Tom Rogers!

Mister Muck
is Tom Rogers - an SCAD grad, artist/writer for
Detective Scratch
and penciler for the innovative webcomic series
Herald: Lovecraft & Tesla
. Together with writer Tom Reilly and inker/colorist Dexter Weeks they've a great deal of fun with historical characters in this
one-of-a-kind title
.
Welcome New Members
Welcome to 26 more artists since the first of the year when May's newsletter went out including:
AtlasIsComing, LordMars, DarKHunTeR89, JoeyJulian, threepointcomics, Choclette-Dreamer, luciferlive, NorethNo, manikangludz, zombieandrobot, Icecreammouth, USURPseries, yellingatconcrete, Kyulein93, miitoons, Nastikter, Matnam, Ellie53711, Fherot, ADE-doodles, JNRedmon, MushiMorrison, HeartandVoice, TomKellyART, BrownElfMedia and AnnaSpath.
New Indie Comic And Book News
Before we get to our featured books we would like to point everyone towards one of the dreamiest (

), most talented and definitely most under-appreciated artists in our 900 member group. It's Melissa Hudson, aka
MMHudson
. She just started a
Patreon
with detailed comics rendering tutorials
and
webcomic series. Go there. Get to know her. Subscribe for chump change and jack-up your comics chops.
Let's talk about our main features. Each one is an incredibly well-crafted webcomic. The Silver Eye has slowly evolved into a fully rendered and very entertaining title. But it wasn't always so... The second title is Retro Blade - also hugely entertaining with layered art packed in by the truck load. Let's get to it, then.
The Silver Eye
Laura Hollingsworth's development as an artist is like a rocket launch stretched out over 13 chapters.
Laura Hollingsworth
draws and writes
The Silver Eye
an adventure webcomic begun in 2013 that currently runs into 13 chapters. I really love it when there is this much to delve into with a title. Hollingsworth begins where many of us do - trying to tell a complex story in the best way she knows how. In Chapter One, it's obvious that she has some painterly chops to her credit but there is a struggle with some of the poses and framing. There is a stiffness in the characters and a tendency to draw in strict profile in the beginning of the story.
Now, many of us would have thrown in the towel after a few chapters but Hollingsworth did not. This is something I have learned to look for in artists: someone doing something different, re-assessing results and then doing it again until he or she succeeds. I love this aspect of webcomics. Through dedication and hard work in four chapters of refinement we get wowed by some impressive panels by Chapter Five. Halfway through Chapter Five, beginning at
page 18
, her characters start coming to life on a regular basis. She takes what was working in previous panels and then does it much more consistently.
It's a perfect example of dedication. As the chapters unfold, art details like garments, hair and light get fully rendered, the poses become more fluid, the panel presentation gets much more appealing and then the entire thing lifts off of the ground.
Velvare Bamidele develops from left to right. Chapter Two, Chapter Four and Chapter Seven show a clear progression of art technique.
Now that we've covered the development of the art style let's introduce the characters. The story revolves around the orphan, Enel and his shaky status as a ward of the mysterious and masked Velvare Bamidele. Saying Enel is clumsy or klutzy is a real understatement. Add a magical and strangely destructive object known as the Silver Eye and you can see that everyone is going have their hands full picking up the pieces.
Chapter One introduces the framework of the story with Velvare's castellan (a kind of administrator for a castle and it's grounds) named Marcus who is reluctantly placing a rare manuscript in the hands of Enel. Great idea, right? No, not so much. Enel almost immediately has the first rare book put into his hands shredded into pieces while defending himself from a rogue prince. This rogue prince introduces himself by trying to drive a short sword through Enel's stomach in what he later calls a case of "mistaken identity".
The foiled attack introduces us to Apen Sheppard, an angry rogue who was expelled from a distant kingdom. We learn this, as we do many important things, through brief flashbacks. Apen's road has made him a bitter thief where Enel's has been fortunate enough to have been saved from abject poverty. The contrasts are interesting and continue to be developed.
Flashbacks continue through each chapter to show us limited character histories including that of Enel's mask wearing guardian Velvare.
We quickly learn that Velvare is a mercurial type. He shifts from an absent lord to a fuming foster-father and then to a warm and caring friend in fairly short order. 15 years prior to the opening of the comic, Velvare originally donned his patented mask to protect the identity of his family while settling a contentious peace treaty between two warring kingdoms. His masks eventually became permanent when he became the de facto ruler of the country of Gallitan (one of the warring kingdoms) after it's king died in battle.
Valare then became the legal guardian of the king's son in order to raise him to become the next king of Gallitan. What I still don't understand (because this seems to be left purposely unclear) is why Enel, Velare's ward by proxy, is shown to have been taken from a local orphanage making him an common born orphan and not the Prince of Gallitan. Was the King's son put into an orphanage and rescued by Velvare?
Next, we meet Indony. Idony, is a charming but kind of mixed-up young lady, who appears to be descended from the Gallitan royal family and lives in a nearby section of the castle. She even refers to another royal looking young man only few years older than Enel, the irritated, embittered Avidan, and another grouchy man, a sailor named Noah - as her cousins. Does that make her the former king's niece and Noah and Avidan the dead king's nephews? Is one of them the prince?
There are a lot of questions to be answered. Fortunately, Hollingsworth has a
Q+A section
at her site where she draws characters responding to readers' questions. As the story moves into it's 13th chapter the art and story are humming along. Now is a great time to
subscribe
to The Silver Eye.
Retro Blade
High fantasy meets high tech as two explorers become pawns in a galactic game of chess.
Next, we take a look at the fascinating fantasy webcomic
Retro Blade
by Freya Horn aka
Vermin Star
. The book just started this year but there is a lot of ground to cover. A cosmic force is gradually breaking down, namely time itself.
The galaxy of Retro Blade is a mystical one. In it, eight powerful magic forces run in degrees of good and evil that presumably govern the fate of humanity. Each of these forces have a corresponding female guardian - a kind of demi-godess that embodies each value. Each force gives it's guardian a specific power such as the ability to create life or the ability whither it away.
Realizing that these forces were more than any living beings could handle the guardians worked together to open a gate to store the excess energy. They chose to place the extra energy with an otherworldly super-being known as The Universal Guardian.
As an otherworldly being, and subject to violent forces beyond comprehension, The Universal Guardian is kind of an high-strung tool bag. When it learns that one of the guardians has given birth it the punishes her for breaking her vow of celibacy (a big no no)
and giving birth to a son (males are frowned upon in this dimension) with a lightning fast death.
His natural mother being killed, and the balance of the eight now out of whack, the boy child was given to another guardian as a foster-child. To make matters worse, the immortality that he inherited from his mother would eventually be removed at his 15th birthday by order of the Universal Guardian so that it could be given to a more "suitable" recipient. After which, he would remain a prisoner for the rest of his life.
Instead of meekly going to a powerless life sentence in a other-dimensional prison the child, now a rebellious teen named Magus, fashions a sword from the Universal Guardian's sacrificial stone - the very same one meant to remove his power. This rock becomes The Ultimate Sword. Right before his powerless life sentence begins, Magus flees through a magical portal and into another plane leaving a dumbfounded group of out-of-balance guardians and one pissed off super-being in his immediate wake.
Before we get further let's look at the concepts. This parallel dimension business is not just a pale construction. Horn goes so far as to explore a 4D or four dimensional concept here.
To be clear, the first three dimensions are height, width and depth. They define space. The fourth is time - a power all of it's own. With this concept fixed in our minds, we can try to interpret these lines of narration.
"As he approached his perception changed; And for the first time he was able to see in four dimensions. Space and time merged."
This is a very Frank Herbert (Dune) type of situation. We actually see a portion of this way in our own lives. Memory effects everything we do. We are able to see backwards in time (however murkily) through own individual pasts. In Retro Blade (and Dune) a hero type can do the same
looking forward
into the future.
This notion is actually confirmed when the Universal Guardian is forbade from entering the portal that Magus makes good his escape within due to:
"The Universal Guardian also sees in 4D... She could not pursue the boy beyond the gateway."
Aside from her tremendous size barring her way into Magus's escape portal The Universal Guardian could've seen along a strand of future-time where she did not survive the trip. So this gives us an idea of how this 4D stuff works. It's like looking down a highway for oncoming traffic or road hazards.
The structure of time is falling apart. Lucky there's an unreliable narrator, who happens to look like a devil, to explain...
Now that the magic angle and the 4D element are each set-up we are abruptly introduced to a strange and devilish fellow (no really he looks like the Devil). This chap is busily talking directly to us the reader. His facial expressions as he speaks are very engaging very much like Beast from Beauty and the Beast. He tries to explain to us a bit further about what is going on at this point in the story. Soon it's revealed that this creature is not talking to us the viewers but to another character. Everything we've seen is via a POV shot from within a dream.
At page 16, we meet two explorers Alexis and Alex who have evidently discovered a piece of the sacrificial stone, the Universal Guardian or the Ultimate Sword. We are too early into the story to know just yet.
The art for the devil character is some of the best I've ever had the pleasure of reading - indie or pro level. There's some Disney and even some Jeff Smith (Bone) at work here. The carefully crafted nature of the artwork is layered in such a way that it makes the 4D concept work. This style is repeated with graphics and special attention to atmospheric lighting on the characters.
As this fully rendered title begins to take shape it seems like a great time to
subscribe
and see where it all goes.
New Features
We've add a new folder this month. The
Environment Design
folder is strictly for scenery, backdrops, weapons, items, trees and other components that make up the background of our comics. It goes w/out saying but I will say it here: please do not add characters or turn-arounds to this folder.
Affiliates
Indie Graphic Novels is affiliated with over 50+ different comic groups! Did you know that? We have affiliations with artist groups from Chile, Brazil and Russia. This month we are focusing in on two more affiliate groups.
Shonen Punk

Shonen Punk
is a one of the many comics written, drawn and designed by member Andeh Pinkard. Teh Andeh is a very funny indie comics guy who lives in L.A. His books, into five volumes for Shonen Punk, revolve around hyper, attractive women who enjoy wearing eye patches and having violent meltdowns on a cartoon version of Andeh. His work has been at this group since Day One and we are frickin' proud to have him aboard.
:thumb413203744: :thumb444168683: :thumb440831916:
This group has only 27 members but 55,000+ views!
Ladies Make Comics

Ladies Make Comics
. No doy, right? Unfortunately not everyone shares the opinion that women can rock just as hard as dudes with comics. I don't know where this idea came from exactly.
Trina Robbins
was making superb underground comics as far back as the 1960's right alongside Robert Crumb. If that wasn't enough, if you folks haven't noticed yet, the last 6 featured titles in this newsletter were made by women. That includes the two from this issue as well.
:thumb537066612: :thumb537066579: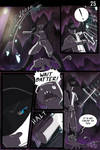 Ladies Make Comics has been on dA for two years with 137 members and growing.
Comic Conventions
Where are your next appearances? New books? Tables at a new or long-running comic con or show? Add or submit your info to the
Info Folder
. Kickstarter campaigns, ads, announcements and book promotion pieces all go there!
Here's a short list of what conventions are coming up.
San Diego Comic-Con
San Diego, California
July 9-12, 2015
What can I say? Nearly all of the GoT cast is going to be there and the official site is down-playing this fact like crazy.
London Film And Comic Con
London, England UK
July 17-19, 2015
Bill "Game Over" Paxton (Alien), Kevin Eastman (TNMT), Angel Hernandez and Roger Langridge (Popeye, Muppets).
Heroes Online
Charlotte, North Carolina
June 19-21, 2015
Art Adams (!),
Kris Anka
(X-Men, X-Force, Wolverine), Jason Copland (Dark Horse's POP) and many, many more.
Tampa Bay Comic Con
Tampa, Florida
July 31-August 2, 2015
Carrie Fisher (Star Wars), Iain Glen (Ser Friend Zone aka GoT's Jorah Mormont) Billy West (Ren & Stimpy, Futurama) and George Howe (Space Ghost).
Boston Comic Con
Boston, Massachusetts
July 31-August 2, 2015
Stan Lee is the guest of honor. Pray for no cancellations, true believer.
Texas ComiCon
San Antonio, Texas
August 7-9, 2015
Larry Hama (GI JOE) will be in Artist Alley! Marvel inker
Mr. Bob McLeod
(New Mutants, Conan, Teen Titans), too.
Wizard World Chicago
Rosemont, Illinois
August 20-23, 2015
Bruce "Hail To The King" Campbell. The Undertaker (WWF/WWE), Burt Reynolds, Lou Ferrigno (Hulk) and wait for it... Art Adams (everything you ever heard of plus some).
Liberty City Anime Con
White Plains, New York
August 28-30, 2015
This isn't a comics show but has a guest list that includes animators, sci-fi authors, a Japanese
moe singer
and quite a few actors.

Long-time TSE fan here~

Avidan is the Prince of Gallitan. This isn't made extremely clear until Chapter 8, and I think this was sort of on purpose because part of Avidan's character is that despite being the prince, he is overshadowed and forgotten in the wake of Velvare's awesomeness. So, yeah, Enel isn't the Prince of Gallitan, he was just a kid Velvare arranged to play with Avidan so he could have friends, although they have drifted apart over the years and now hate each other, which is mostly because Velvare actually likes Enel more than his adopted son. Idony and Noah are indeed the former King's neice and nephew.

Anyways, the story can be a little confusing on the first read-through so I just thought I'd clear a few things up. It's nice to see The Silver Eye getting some well-deserved attention!