I am in need of money to help my family pay for bills, food and necessities for my parents and secondly to pay an overdraft on my bank account.
So I will be accepting commissions and will be making several adoptables to sell. Will be primarily accepting paypal (i can accept points but the transaction to my paypal then to my bank account is a long process).
If you can't buy a commission or adoptable then please spread the word. TYVM.
Comission
$5 --bust
$10 ---Half body
$15 ---Full body


additional fees
background +$5
detailed background +$10
additional characters +$10 each
Send a note if anyone is interested in a commission or adopt

Adoptables
New adopts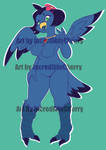 The adoptables below will be
$5 each
adopt character (only to those that are not taken)