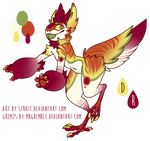 Just going to try this out. I love this design to bits, but wanted to spruce him up to suit me more. I can not seem to tweek their design for the life of me.
Kind of hoping someone will want him as is... or near as-is. But he is overhaul-able if that is his draw for anyone.
Will provide proof upon offer of interest.
I'm not huge on "value". I have traded an overhaul Chyperus for a regular Grem before.
It's all about the design for me. If I adore the design and know it will have a forever home with me then that's what matters most.
But!
I will be very tempted to auto-trade for any Grem + a mutation ticket of any kind.
An
Extra Terrestrial ticket. Even though this is the guy I would of liked to use that on. XD So I guess for a Grem already with it.
Or a mutation Grem. Or for more than one normal Grem regardless of design if I can work with redesigning them.
I will also consider other overhauls if this guy won't be overhauled much or snows. I love fluffy feet. ;~;
Actually I just love fluff in general. XD
Remember that's more for offers with Grems I might not particularly like though...
My favorite Grems should give an idea of aesthetics I like:
www.deviantart.com/incompletes…
Basically throw whatever at me so long as it's a Grem. XD
No Growls or Mantas though.
Notes are fine.