I want to talk about some simple things that even professional photomanipulators don't give enough attention sometimes.
It's the reason why our work can be perceived as wrong a bit , especially by traditional artists. People who are not artists usually say "something's wrong"
Our theme for today is colour of light and shadow.
I want to point out – there are many colour schemes and rules for that (it would be better to write an individual tutorial on that),
some are better for realistic works, some for surrealism, some for abstraction etc. It depends on your idea.
However, today we'll talk about the basic rule that must be followed in any professional work, no matter what your idea is.
The first very common mistake is gray shadows, or shadows with the same color like lighting (light and shadows are warm, light and shadow are cold) -
Why is this mistake is so common in the modern world ?- both photomanipulators and some artists use photo references, the problems come from photos.
Unfortunately photography cannot reproduce real colours of life around us – the colours of shadows especially! In the photos all shadows lose natural colours and become grey or turn same color like common lighting (pictures only in warm color scheme or only in cold scheme). Also if the shadows are grey we often tone them the same colour we tone the lighting by mistake.
It doesn't matter how many colours you've added to the picture later, if colors of light and shadow are not opposed, your work will make a weird impression.
about the colour – main mistakes are using black or grey colour for shadows, same color tones for light and shadow, and missing reflected light in the shadow area of the object.
Colour of shadow is formed from
the colour of surface + opposite colour to light colour + original object colour. (the last element was discovered by impressionists and used for that technique)
Color of the shadow should be opposite to color of the light

I suppose everyone of you is familiar with the colour wheel. Johannes Itten's colour wheel mostly used by traditional artists, rgb colour wheel suits us better.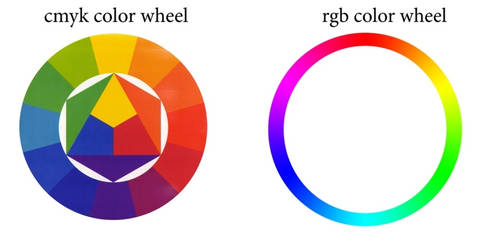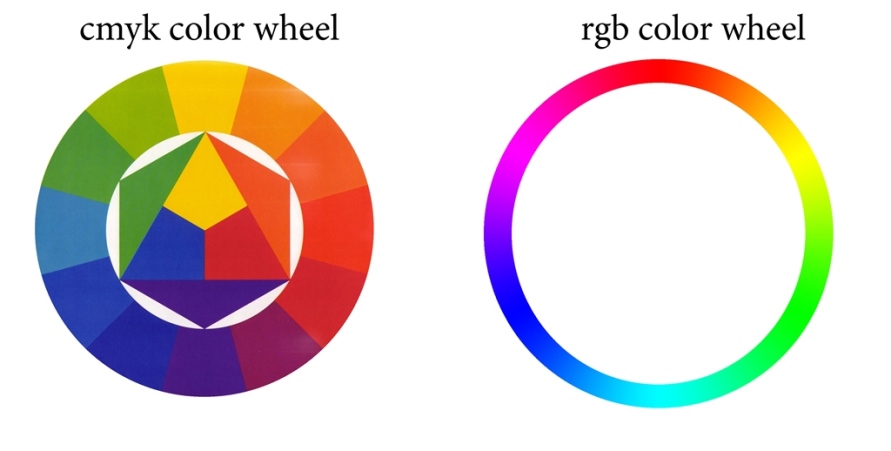 Generally, in the case of "light and shadow colour" everything is pretty easy:
Complementary colours harmonize,
So, if the lighting is warm: yellow, orange, red, - the shadows should be cold: blue, purple or cyan.

On the contrary, if the lighting is cold: cyan, blue etc,- the shadow should be yellow, orange etc.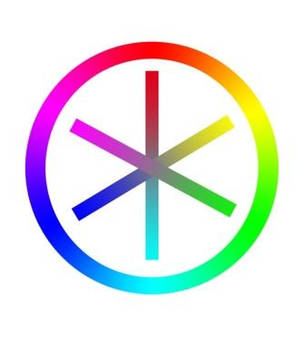 In the picture you may see examples of complementary combinations of light and shadow: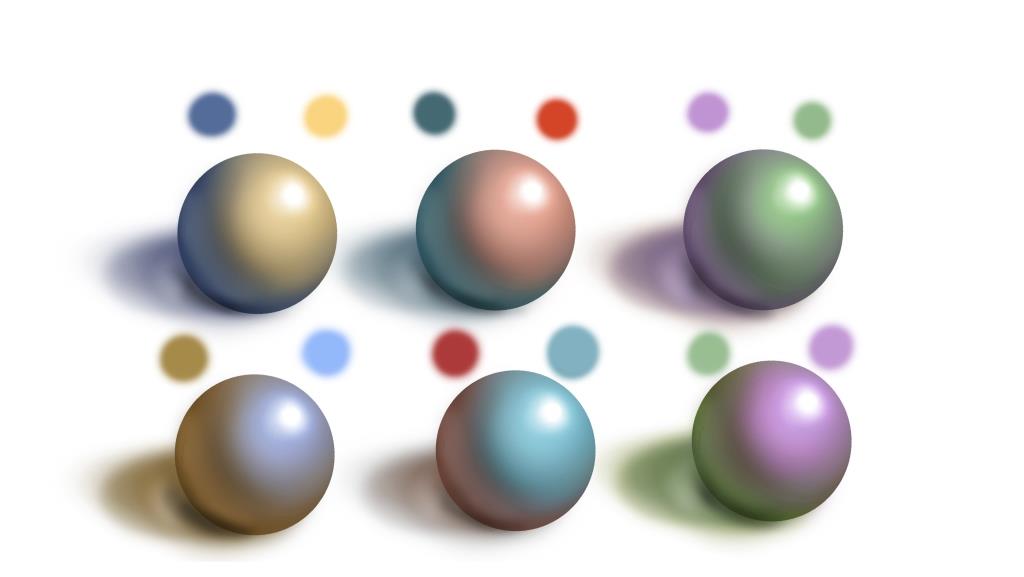 Options here are (so you can find not only correct color for shadow and light, but also additional colors for your scheme):

1 "tetrad harmony" and most convenient (as it also helps to define suitable colors for reflected light and additional colours),
2 "equalaterial triangle harmony",
3. 4. The other two schemes show alternative and split harmonies, where one colour is used against several contrasting colours. This combination gives a lot of contrast to the image but it's less intense than a complementary scheme or may be achieved by using oppositional colour and (or) closest colours to it, they complement each other. This combination is a bit less intense. There are some other schemes (but these are more convenient to use for light/shadow colour)
The second very common mistake is missing reflected light in the area of shadows in works
In the picture – a sketch of a ball, we are already familiar with, where we can find the positions of shadows and reflections.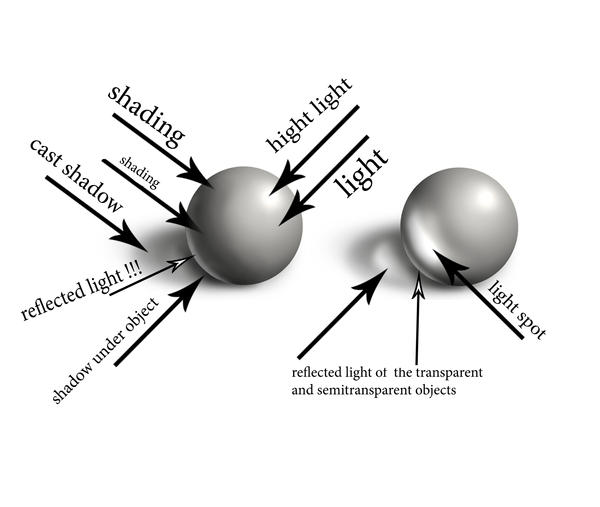 Reflected colour (colour reflection) and reflected light without expressed colour characteristics are called reflection.
If the reflection falls onto the dark area of the object, it will become a part of a chiaroscuro. In this case the reflection will look like a not intense light spot in the shadow area,
formed by the rays of light reflected from surrounding objects. Drawing reflection as part of chiaroscuro is most important for traditional art.
An examples of reflected light: cyan, red and purple surfaces may give cyan, reddish and purple reflections to the sphere in the aria of shadow
In the picture a b c you may see the same complementary combinations but taking into account the colour of the surface – as you can see, light reflected from the surface was added to the picture. The colour of reflected light consists of the colour of the surface and color of the surrounding objects. (But keep in mind – black colour devours almost all light, on the contrary white colour reflects)

Reflections on transparent objects have more contrast and a reflection on the surface. The colour of reflected light on transparent objects also consists of original object colour (intensity of native object colour depends on transparency of the object)
In the picture a and b you can see a smoky semi-transparent green gem, lying on the coloured surface.
a) is a wonderful gem, but it's incorrect as reflected light from the surface is missing and no contrast lighting scheme is applied to light-shadow. In the picture b) you can see another one that is more correct.
Example

1. gray image base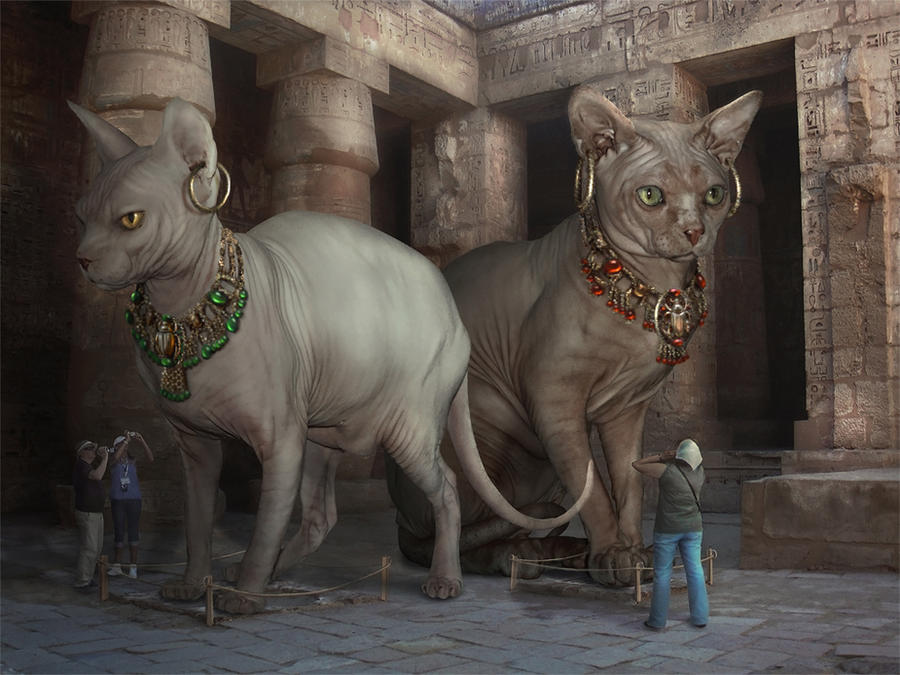 2. wrong scheme. cold lighting source and wrong blue-cian shadows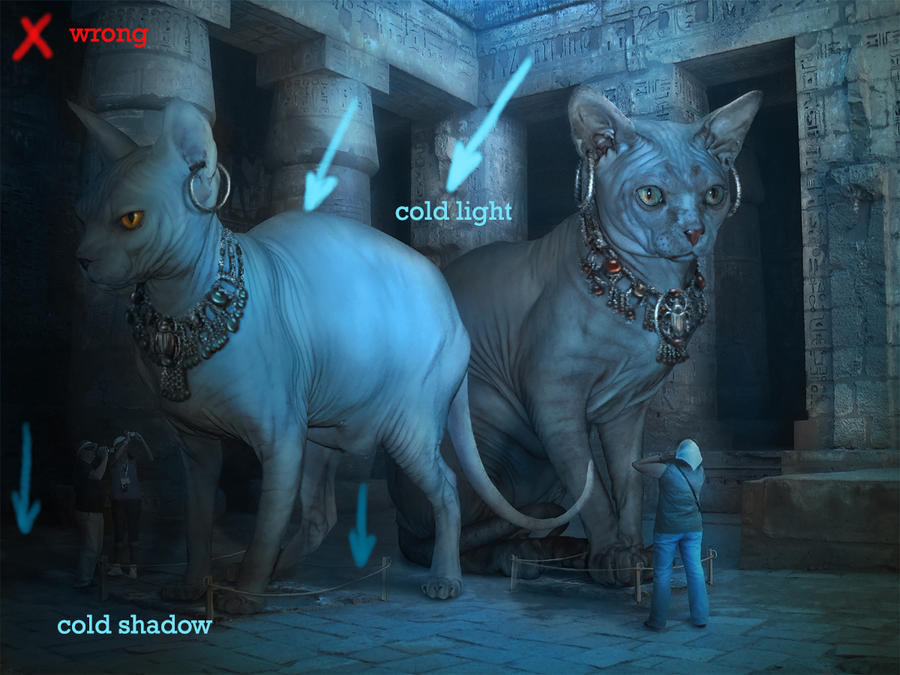 3. Correct scheme: cold source of light and warm yellow shadows. reflected light from walls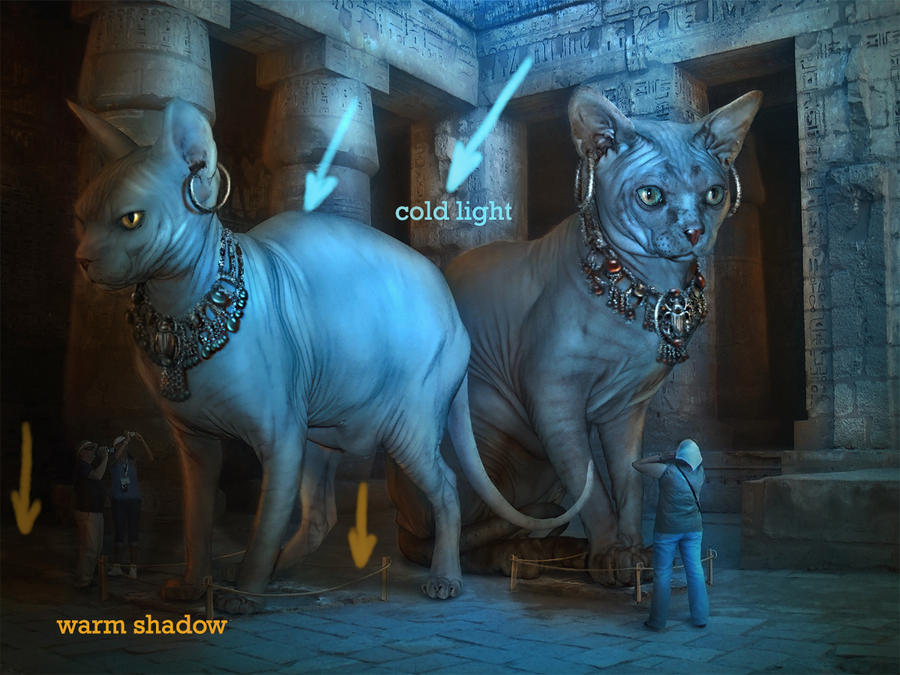 4. wrong scheme. warm lighting source and wrong warm (yellow-orange) shadows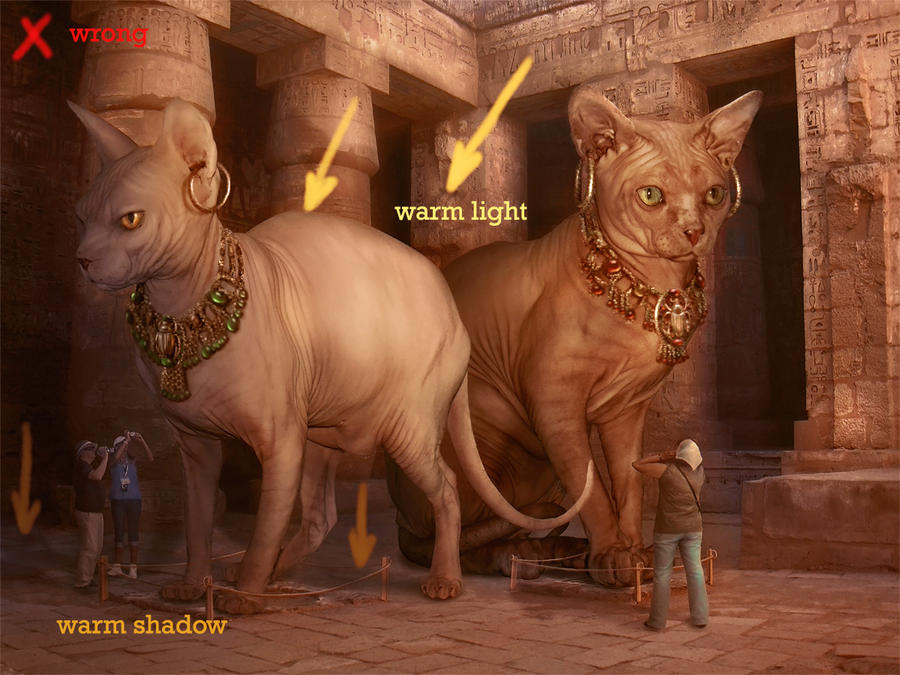 5. Correct scheme: warm source of light and cold blue shadows. also reflected light from walls