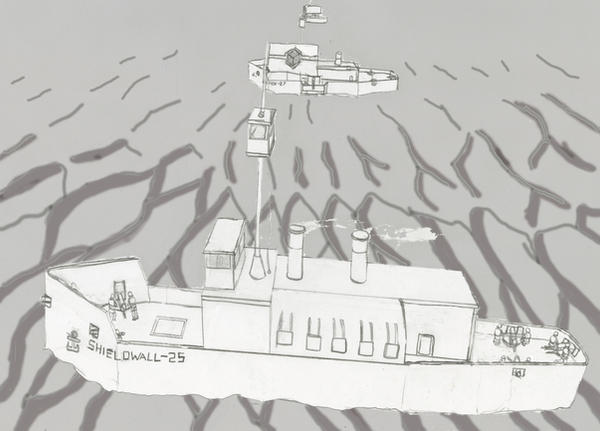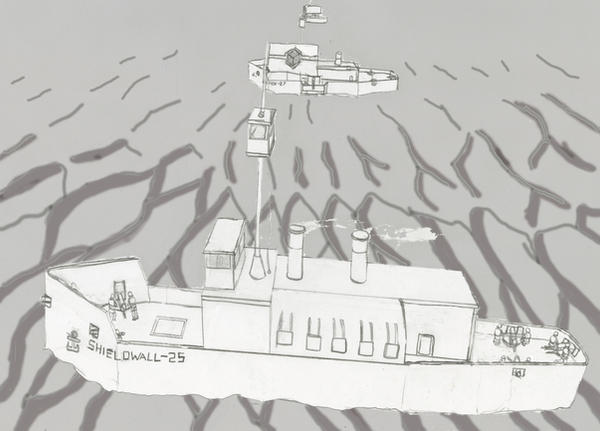 As the Drow army press it's attack, a small fleet waited just out of the harbor. It had five ironclads (three Ironsides class and two Vanguard class) and two dozen Shchuka boats behind them. Leaving aside a few Shchuka Boats and the Ironclad
Vigilance
which were undergoing repairs (and despite round the clock efforts to get them up and working), represented the entirety of the Infrastructural Navy's forces in port at Daagsrad that had been scrambled when the Drow Armada approached to form their blockade of the city.
They had been out at sea for three days, if only a kilometer from the actual shore. So far the usual shortcomings of sea life had been absent. They received loafs of fresh bread from shore every day and the weather had not been so bad. Even so, everyone aboard this small armada was on edge. On the horizon they could see the Drow squadrons and above them their thunderheads. They had counted a hundred and twenty six of them. More worrying was that some of them apparently had steam engines. They had been keeping their distance, from both the infrastructural fleet and the city's coastal guns. Even so, no ship had been able to get in or out for four days.
They had received word that the Dark Elves had begun their advance on the city, but there was not a thing they could do to stop it. The threat at sea was every bit as real as the one on land and they were doing. As such they waited for an order to be given or the Drow to make a move. They hoped that some relief would come soon but each of the ship's captains dreaded an order that might be given any minute now: Move to Engage the Drow Fleet and sink as many as you can.
Previous-
Infrastructure: Part Two Hundred
Next-
Infrastructure: Part Two Hundred and Two