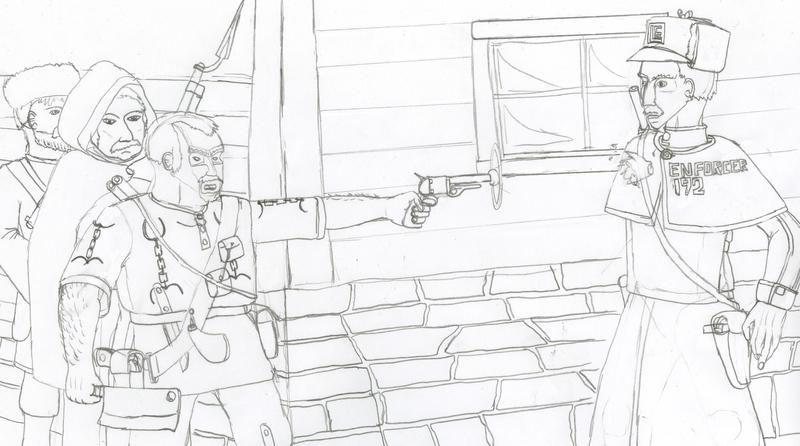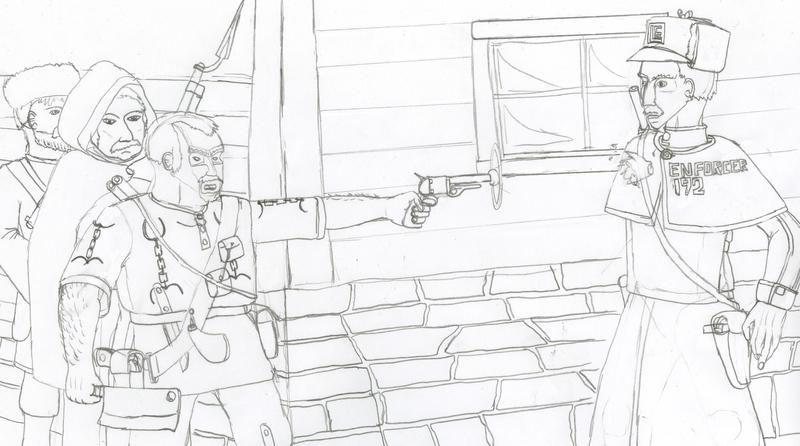 For fifty one days, Janob had been caught in suspense as the final preparations were made. They had enough guns and ammo, so they worked out where and how to strike. In his contribution to the project, he got all the credits he had saved and could get his fellows to pitch in and spent them on a plot of land to build a new tenement. It would not be much, a basic two story affair, but the way he figured it people would stop pretending that the committee's scraps of paper and steel disks were worth something once they had won. So far, the basement and foundations had been completed, but that was enough for a few boxes to be stashed under some floorboards. There were other tasks, low key and easy to hide, but never the less necessary for the final hour. Now that had come.
They had assembled into small groups around the old city when the battle begun. There was gunfire in the distance as well as the shriek of dragons. The suited up and armed themselves for the coming battle. Janob put on a special shirt, one with the city's true symbols drawn on it in charcoal, others did the same.
His party got out through his back door into one of the winding alleys and made his way to the street and lurked by a corner. The city was full of refugees who fled the surrounding farmlands, among them were a few of his comrades in arms. He sent Gawel, his youngest son ahead as a look out/scout. Soon he saw a pair of Enforcers on patrol waking down the street. There was a curfew in effect and they soon noticed him.
"Hey kid! Enforcement! Stop!" One of them yelled as they ran after him by the alley's mouth. As the first one passed, Janob shot him with a revolver. He then swung out and shot the other one before he could respond. Each of them had a rifle and a revolver. Two down and enough weapons for four more people.
"Get some guns and people out here to see this." He barked to his companions.
"SONS AND DAUGHTERS OF DAAGSGRAD!" Janob bellowed "TODAY WE CAST OFF DALATYR'S CHAINS AND RETAKE OUR CITY!" It had been worth the wait.
Previous-
Infrastructure: Part One Hundred and Ninety Four
Next-
Infrastructure: Part One Hundred and Ninety Six