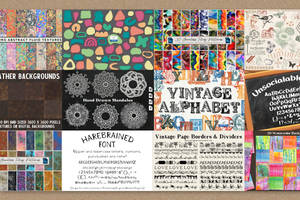 HG Designs Subscriber Area
Lots of high resolution goodies for graphic design including textures, photoshop brushes, seamless patterns and more.
---

Brush Pack - Victorian Floral
Description
Unrestricted Stock
Thank you for your DONATION: iMouritsa

If you download these brushes I would appreciate if you

this file.

Tools:
a. Photoshop CS2, b. Illustrator CS2

Time:
About 5 hours
Scanning my personal projects while I was studying fashion design, conbined with reference scans I have collected all these years. I do think this pack will be useful.
----------
Copyright © 2008 - Marielle P. Kokosidou | All Rights Reserved |
COPYRIGHT NOTICE