As of July 15, 2017 and

has added his entry to the art jam, awesome so as of right now I have 3 entries so keep em' coming everybody.
HERE'S THE 2018 SEXY AEROBICS ART JAM!!!
So last year's Aerobics Art Jam was my most successful art jam I ever had and I still have to thank everybody who participated in 2017 and in 2014 when I originally did this but this year I think this might become a annual jam now all I need is a official date from here on out so i'm open for suggestions on that but for now here are those beautiful rules...
The rules are as followed all you have to do is create a or some pics of any style of your own female O.C.(s) or fan art female(s) wearing an 80's style aerobics outfit which is a leotard, spandex which is optional, wristbands (optional), leggings socks, tennis shoes, and a headband (optional). Where you place them is also optional it can be anywhere if you choose to. You have the option of giving your O.C.s or Fan Art Characters & 1 or 2 piece aerobics outfit & your choice of background so it doesn't have to relegated to just the gym. You can also enter as many pics as many times as you like and no nudity unless the situation suits it like a "wardrobe malfunction" but that's it. All forms of art styles are acceptable traditional, 2D or 3D artstyles & finally the
pic(s) must also have this logo on your entry so it's in PNG format so it should be easy to use...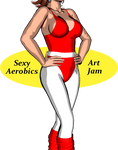 So the rules are the same as last year so not much has changed if anything except the jam is starting on a later date so if it ain't broke don't fix it as they say. So the Sexy Aerobics Art Jam is going to run though the entire summer and will come to an end on September 24 so take your time but don't wait too soon because even if I might extend the AJ there's no guarantees on that.
So that's about it so either if you want to participate in this jam leave me your comments either here or in the note and also help me spread the word about this Sexy Aerobics Art Jam again because I feel like we need some fun in our lives again as artist and art fans so we can take a break from what the outside world is offering us.
Good luck to all of you and I can't wait to see what you come up with.
Current Entries: