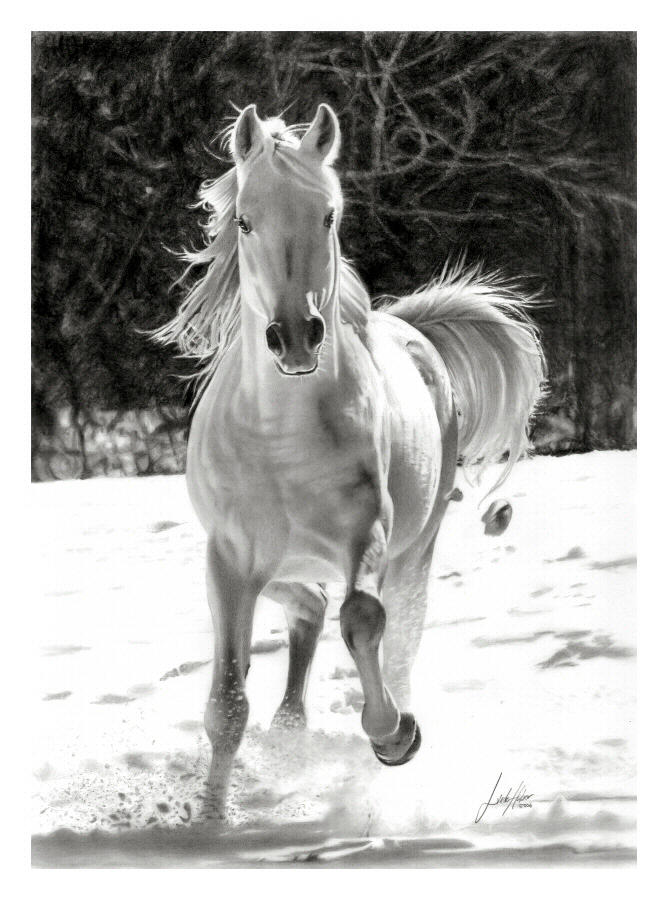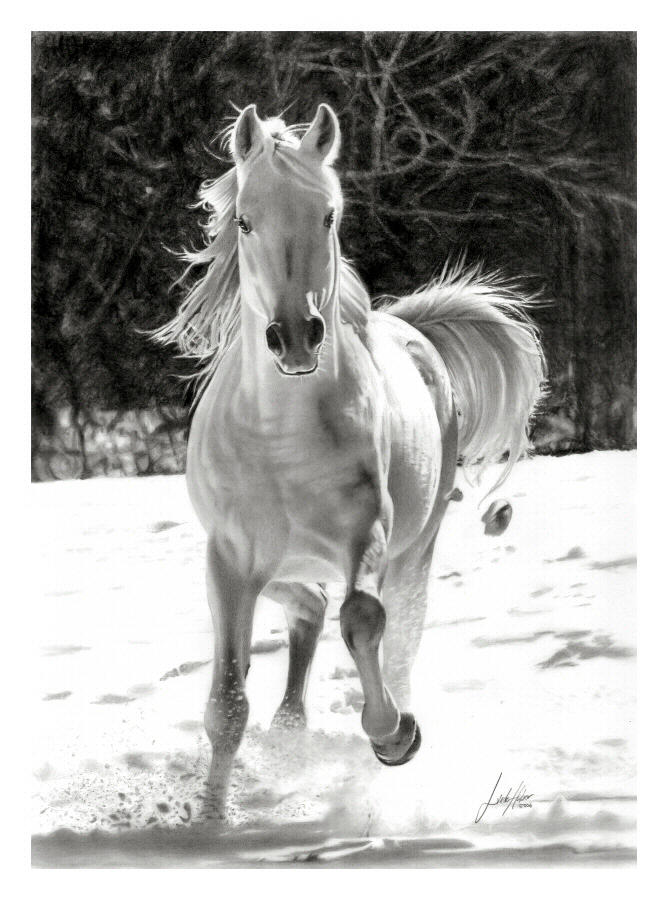 Hi there, this is the second horse I have drawn, I have to say it's a personal favorite! I loved drawing this one very much and feel it came out good. Since the horse is all white I drew in a medium to dark toned background...I needed to use negative drawing for the mane and tail, this is done by leaving the white of the paper behind and drawing the darker tones around the area...you need to work a tiny area at a time very slowly. I had fun drawing in a background to look like trees in a forest, the reference photo had a nice DOF and was a pleasure to work from.
Smooth Bristol
19 x 24 inches
B, 3b wood, 2b mech
blending stumps and plain tissue
35+ hrs
Thanks for looking and take care my friends ~Linda
EDIT:
Thank you so much for the DD dholms, I was to say the least shocked just now when I signed on to DA! Thank you for suggesting my drawing gramarye!

. Drawing is such a great love of mine. I have to tell you, when I was a child I had a friend named Jeanna Pace, she could draw horses better then anyone, she didn't use a reference either, she was an extremely talented artist. I would practice and practice all the time and only wished I could draw as good, how I admired my friend. I'm very happy with this new horse drawing and feel I've come close to what I envisioned as a child for myself.

Many many thanks for all the comments and favorites my DA friends!!

Daily Deviation
Given 2006-09-15
So recently I had a bit of a fall from grace whereas awarding daily deviations are concerned. After a bit of a pep talk from my mentor
moonbeam13
I decided to pick myself up, dust myself off and get back on the,...uhm,...horse. No pun intended. Ironically the incident had to do with another wildlife piece. Subsequently I swore never to award a daily deviation to a wildlife piece again. Well, what can I tell you? Never say never. Along comes my longtime friend
gramarye
who nudges me towards my longtime friend
imaginee
and,...well,...here I am,...I'm back in the saddle again. Erhm,...nevermind. An extraordinary piece by one of deviantART's elite graphite artists,...
Windswept
by *
imaginee
. (
Suggested by gramarye and Featured by dholms
)