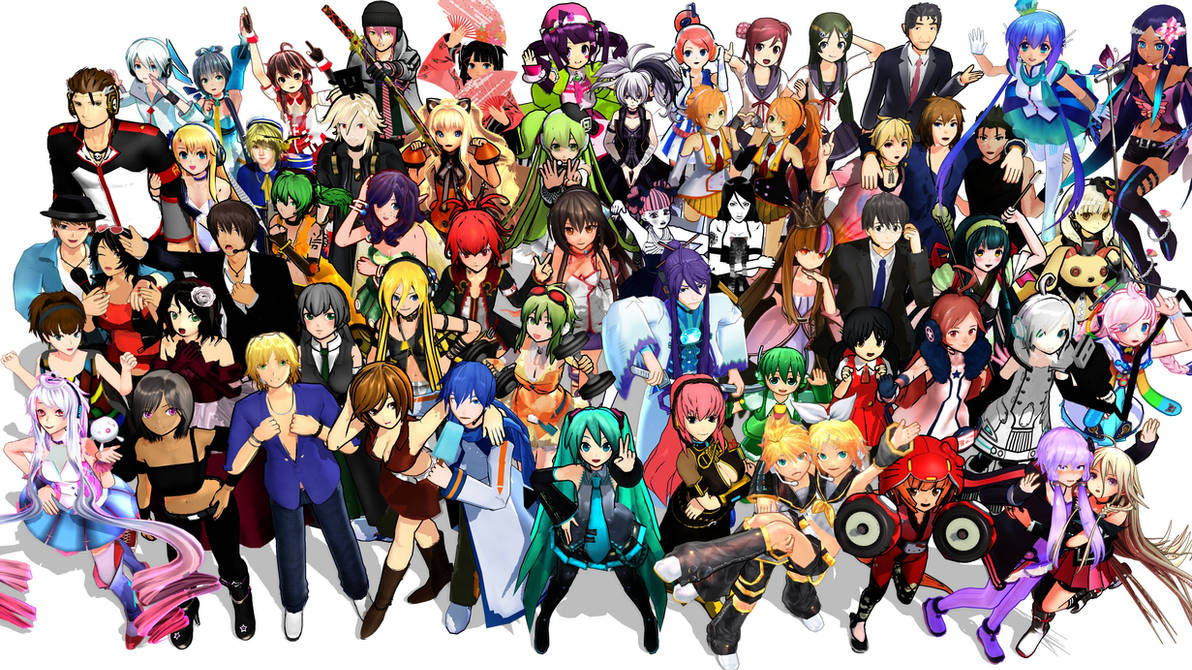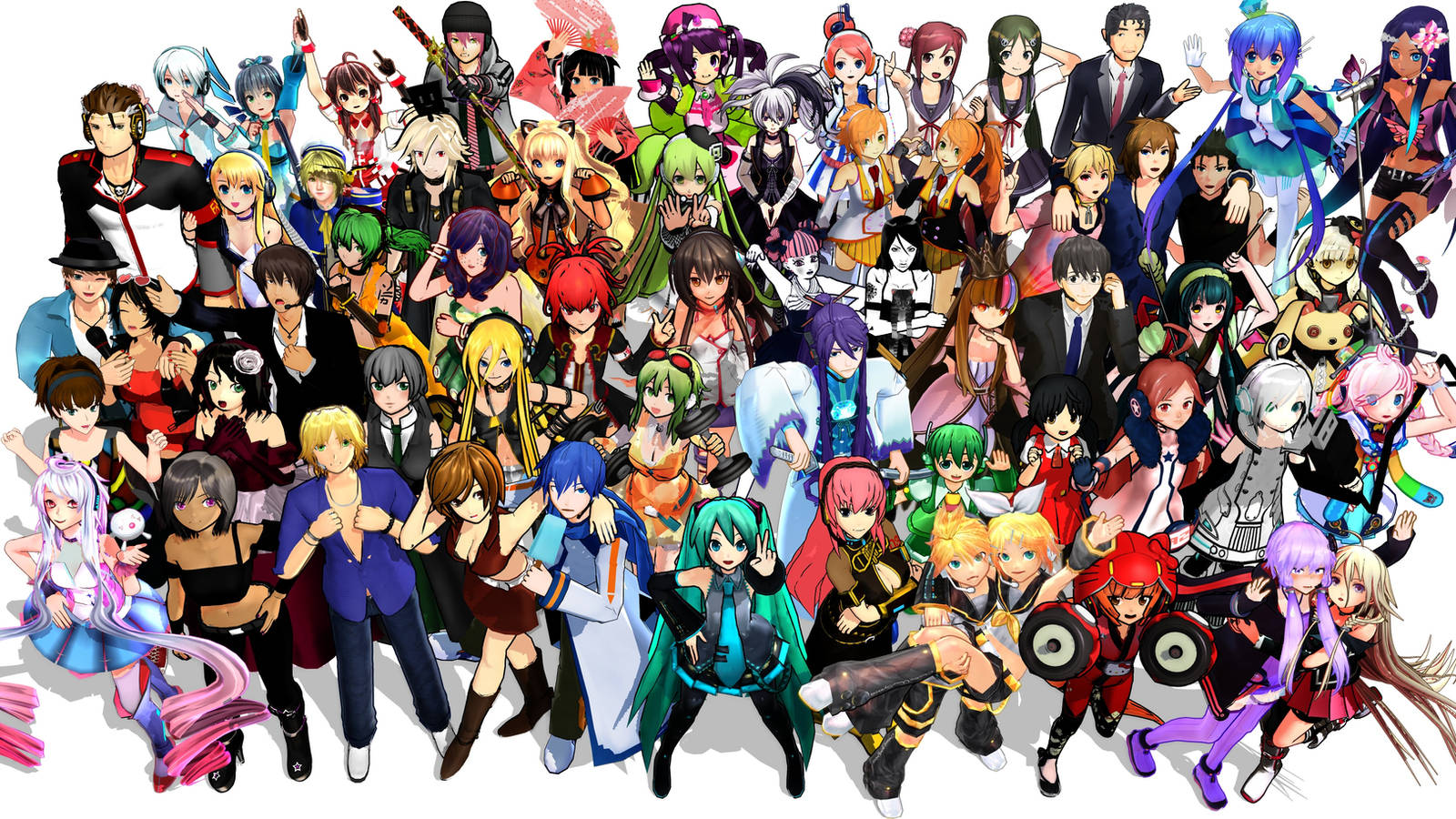 Watch
Of course I was gonna do an all VOCALOIDs pic after I'd done a Top 60 (or less) UTAU pic, right?

This had taken so much of my time to finish setting 'em all up (about 3 weeks) so it'd be really appreciated if people commented more instead of just faving (you still don't have to but still...).

My choice of MMD models is my personal preference for each Vocaloid but I do use different models for different circumstances such as Animasa's Crypton Vocaloid models (excluding Luka) for funny MMD comics.
Some notes on my pic before going on to the credits:
-If you wanted to see updated VOCALOID appearances, go look at Pokeluver223's big VOCALOID pic.
fav.me/d7nfgr0
I'm not one to keep up with latest appearances because I'm perfectly content with using their first appearances. After all, we shouldn't forget what they looked like when they first came out.
-If you hadn't noticed, I resized Kakomiki's Aoki Lapis and Kio's Merli close to Saboten's smaller sized Aoki Lapis model. They're just that much closer to the camera than the rest of the Vocaloids (they're also floating in the air because they're fairies, I mean, what fairy can't fly?).
-I don't actively do shippings/pairings but I do like some more than others.
-Kagamine Rin & Len's pose can be taken as romantic or not (RinxLen is undoubtedly the most popular Vocaloid pairing). Like any true Vocaloid fan would tell you, Rin and Len are NOT officially siblings even though they have the same last name!! Although, I commend those who ship them and keep them related, such brave souls.

-For anon & kanon, their pose is based on
Anon and Kanon
by KatarinaNoNeko
-Currently released VOCALOIDs not here are CYBER DIVA, Xin Hua, Sachiko, ARSLOID and Ruby.
-Currently unreleased VOCALOIDs not here are Zhanyin Lorra, Stardust, Dex, Daina, Yuezheng Longya, UNI, Otori Kohaku and Fukase.
-Private VOCALOIDs not here are hide and Anri Rune (I seriously wish that piron model was released... T_T).
CREDITS:
LEON -

LOLA -

MIRIAM -

MEIKO - Nagala (edited some parts out to look more like V1 MEIKO)
KAITO - YM
Sweet ANN - Saboten
Hatsune Miku -

Kagamine Rin & Len - Ginjishi
Prima -

Camui Gackpo - YM
Megurine Luka - Nakao
GUMI -

SONiKA -

SF-A2 miki Windows100% - Kio
Kaai Yuki - Nakao
Hiyama Kiyoteru - YM
BIG AL - OrangeBox
Tonio -

Lily - Kio
VY1 (MIZKI) -

Ryuto - Tatsuike Aoi
Nekomura Iroha Windows100% - ISAO
Utatane Piko -

VY2 (YUMA) -

Mew -

SeeU Windows100% -

Tone Rion -

OLIVER -

CUL - Kio
Yuzuki Yukari - Kuma
Bruno -

Clara -

IA - mqdl
Aoki Lapis Windows100% - Kakomiki
Luo Tianyi - YYB
galaco NEO - Pulse Maker
MAYU - Saboten
AVANNA -

&

KYO, WIL & YUU - MapleSalt
YANHE - CML
YOHIOloid -

MAIKA -

Merli Windows100% - Kio
Macne Nana -

kokone - Kuu Wanko
anon & kanon - ISAO
flower - mqdl
Tohoku Zunko Windows100% - Kakomiki
Rana 45110 - Ginjishi
Chika -

Yuezheng Ling - NIT
Akikoloid-chan - Saboten
Ueki-loid -

Kobayashi Matcha Windows100% - Kio
Masaoka Azuki Windows100% - Kio
ONA -

Others:
Sea-Salt Ice Cream -

VY2v3 sword - enjyu1vo (炎守)
James -

Mic (w/Clara) -

Merli's Mic & Stand - Kio
CUBI -

NOVA -

Dumbells (w/GUMI) - ????
bowlroll.net/file/1444
Cat (w/Mew it's not Sabami) - 闇雨。
Shader used:
-SSAO
Afterthought: I wouldn't recommend enlarging this pic too much because some of them will look really ugly...
ATTENTION: Guys, please stop asking me where NIT's Yuezheng Ling model is. I forgot the download link. I just happened to come across it randomly and it even has an unzip pass that I also forgot. Stop asking, plz.
EDIT: Pokeluver223's Ginjishi Zhanyin Lorra edit has already come out but I probably won't be updating this picture to include her because I'm planning on getting other vocal synthesizers besides the VOCALOIDs into the picture. Yes, I'm crazy.