Hello there!
I'm Cookie and I like playing video games, animals and making 'art' and videos
I also just post a lot of random stuff on here lol
What kind of art do I make:
Digital
Film/Animation
Literature
Photography
Thanks for the watchers and the llamas!
Random stuff below: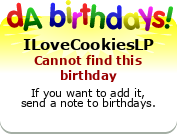 Get a FREE visitor map for your site!
Favourite Visual Artist
Tammyfrog <3
Favourite Movies
The Lion King?
Favourite TV Shows
I like youtube videos more...
Favourite Bands / Musical Artists
The weather girls (IT'S RAINING MEN)
Favourite Books
The treehouse series
Favourite Games
Splatoon, Pokemon, Sims 2 and 3, Nintendogs, Go Vacation, Mario Kart Games, Dog's Life, The Simpsons Hit and Run and many more games
Favourite Gaming Platform
PC, DS, PS2, Wii U and Nintendo Switch
Tools of the Trade
2 Mac Computers, imovie and my brain
Other Interests
Cookies and Cola >:)