Support Me on Ko-fi


<---make me change my mind dA please!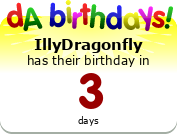 I offer CHEAP COMMISSIONS (you can use the widget or better the Donate button, but I accept also payment through Paypal or Ko-fi), check the box 'Commissions' below in my profile!!!!





Enjoy yourself with my gallery: it's plenty of various photos and drawings and if you like aliens and love just check the comics and the stories!


And if you like my works, please comment and fav!