S-E-G-A Sega's what I wanna play
M-E-G-A Mega Drivin' every day
I'm from the Streets of Rage
Blast my Process in your face
I'll be Ridin' Mega Drive up until the day I die!
S-E-G-A Sega's what I wanna play
M-E-G-A Mega Drivin' every day
D-R-I-V-E Genesis is gaming bliss
I'll be Ridin' Mega Drive up until the day I die!






:thumb290185564:










:thumb244198447: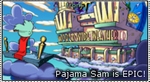 :thumb246536754: :thumb289904303:




:thumb491688696:











:thumb273209079:


:thumb269946914:


































Favourite Visual Artist
None at the moment
Favourite Movies
Battleship, Romeo + Juliet (1996), Bionicle: The Legend Reborn and Ironclad
Favourite TV Shows
Blackadder, Red Dwarf, Wipeout and Kamen Rider
Favourite Bands / Musical Artists
MegaDeth, Cryoshell, GWAR, KMFDM and Weird Al Yankovic
Favourite Books
Three Samurai Cats
Favourite Writers
William Shakespeare
Favourite Games
Astal, Vectorman, Alex Kidd, Columns, Giana Sisters, Sonic The Hedgehog Team Fortress 2, Chivalry, Minecraft, Roblox, Battleship and You Don't Know Jack
Favourite Gaming Platform
Varies depending on game, but I love Sega consoles.
Tools of the Trade
at the moment, Inconclusive
Other Interests
Naturist Art, Red Vs. Blue type conflicts, Bionicle, Sega mascots and Lego products