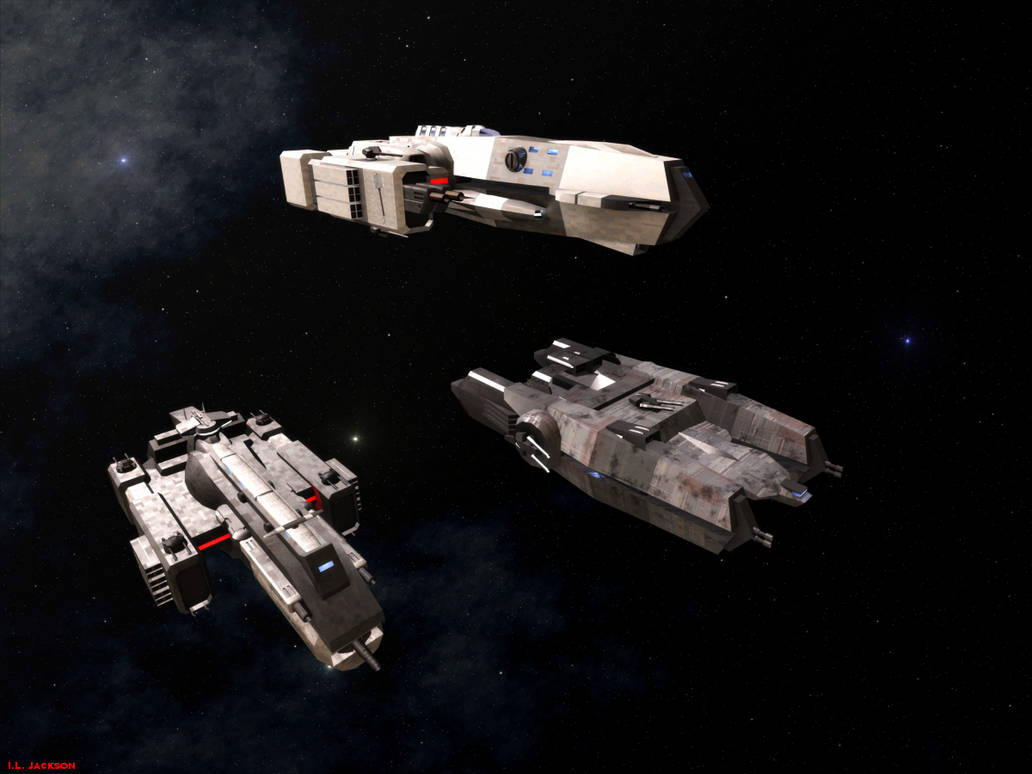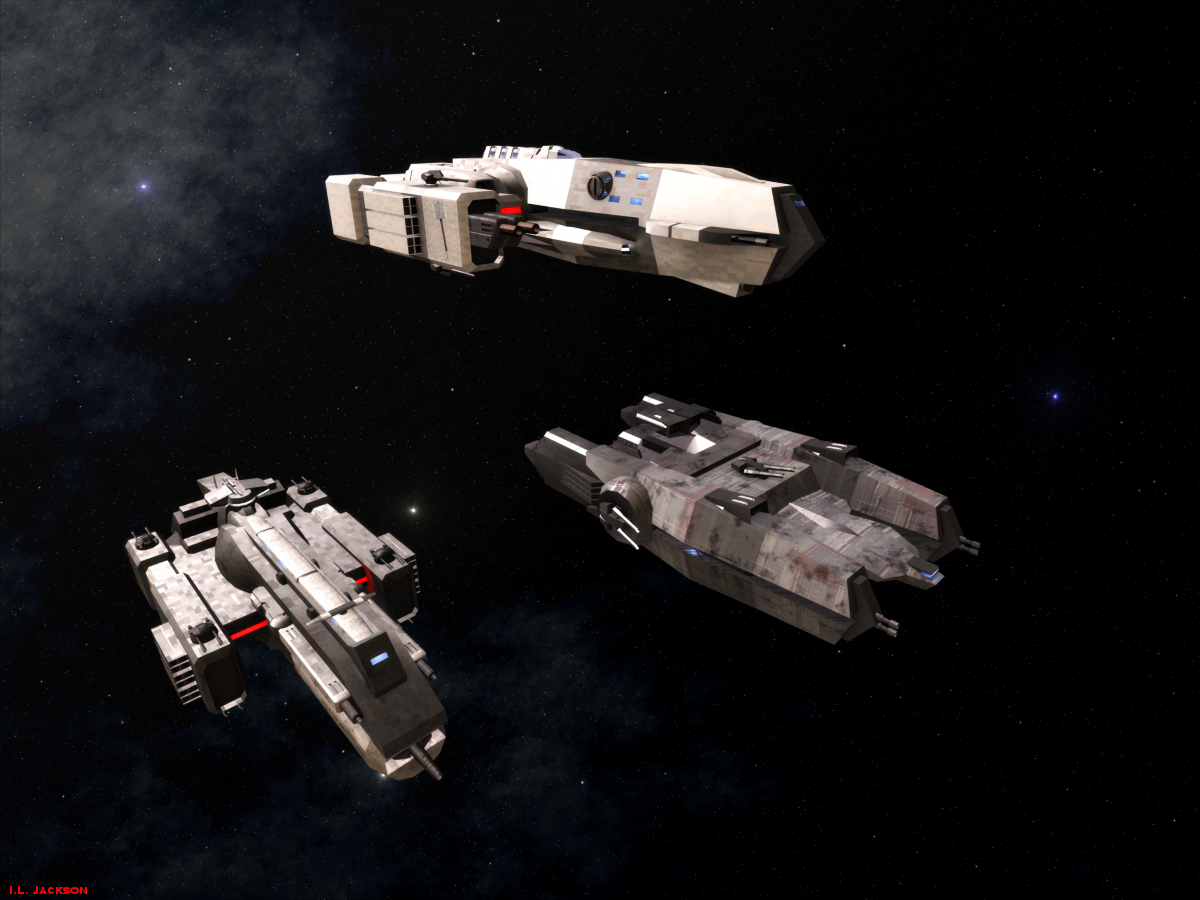 Watch
In space-faring terms, frigates are small warships that have faster-than-light capabilities and are generally the largest warships capable of regular planetary take-offs and landings. During wartime they are generally escort, patrol and picket vessels. Frigates generally come in five classifications: Destroyers, Destroyer Escorts, Frigates, Escort Frigates and Corvettes. The Terran Protectorate Stellar Navy currently uses destroyers and escort frigates.
Frigates are generally heavily armed, but armor can vary greatly, are fast enough to keep up with most capitol ships and lack command and control functions that would allow them to coordinate fleet actions. Most are commanded by a senior Commander or junior Captain. They are generally deployed in squadrons of six to 12.

Mjolnir-Class Destroyer (top) -- The newest frigate class vessel deployed by the Stellar Navy, it is a multi-role starship designed to escort capitol ships deep into enemy territory. It is highly maneuverable, faster than its predecessors with medium armor. It is also capable of independent operations and a number of them have been assigned to special forces as long-range insertion vessels capable of delivering up to four platoons of special forces teams into enemy territory far beyond the range of pinnaces. But like all destroyers its first mission is to protect carriers, battleships and battlecruisers from enemy fighters and missiles, and to coordinate fire with other ships to put enemy ships out of commission.

Firestorm-Class Escort Frigate (middle) -- put into service several years before the outbreak of hostilities between the Terran Protectorate and the Imperial Consortium that led to the second war, the Firestorm was meant to replace the Rama-Class Destroyer (below). But at the time, the government was optimistic about peace, so the Firestorm is less of a dedicated warship. It is still a very capable combatant, but its weapons are light to medium, meant to protect shipping lanes and take on pirates and raiders, not enemy battleships. It is a highly effective anti-starfighter screening vessel. Its most unique feature is the modular dorsal weapons array, which can be swapped out at any anchorage in less than day. Modules include missile batteries, long-range laser cannons, enhanced sensors and electro countermeasure arrays.

Rama-Class Ballistic Destroyer (bottom) -- No Stellar Navy warship has been in service longer than the Rama destroyers, and only the Holstein-Class pinnace has been produced in greater numbers. The Rama first went into action during the First Protectorate-Consortium Interstellar War more than 60 years ago. They were the first human ships to use gauss cannons as main weapons. Their no-nonsense construction means they are easy to produce and hard to put out of commission. Some battle records report Rama destroyers blown in half still trying to take part in battle, with gun crews firing away due to independent power supplies and triple-redundancy systems. However, these ships are as no-frills as it gets. They completely lack advanced long-range sensors, or any systems other than fighting. The accommodations are spartan, and historians compare serving on a Rama to serving on an early 20th century submarine. All available space is used for weapon systems and ammunition, with bunks for the crew shoved in anywhere possible. It's not unusual for Rama crewmen to draw straws to see who gets the rack over the warhead storage unit. The Rama's have two very telling records. First, no other Terran Protectorate class of ship has been responsible for more enemy kills. However, more Rama-class destroyers have been destroyed in battle than any other Terran Protectorate warship. For three generations, all Stellar Navy capitol ship captains threatened by enemy ships have been trained to ask "where are the Ramas?"

Note: The term "warship" in interstellar warfare refers to any independently operated, crewed vessel designed primarily for combat and capable of faster-than-light travel. This excludes fighters, shuttles and most bombers, which are generally not capable of FTL travel and must rely on carriers or be based out of space stations or planetside facilities.