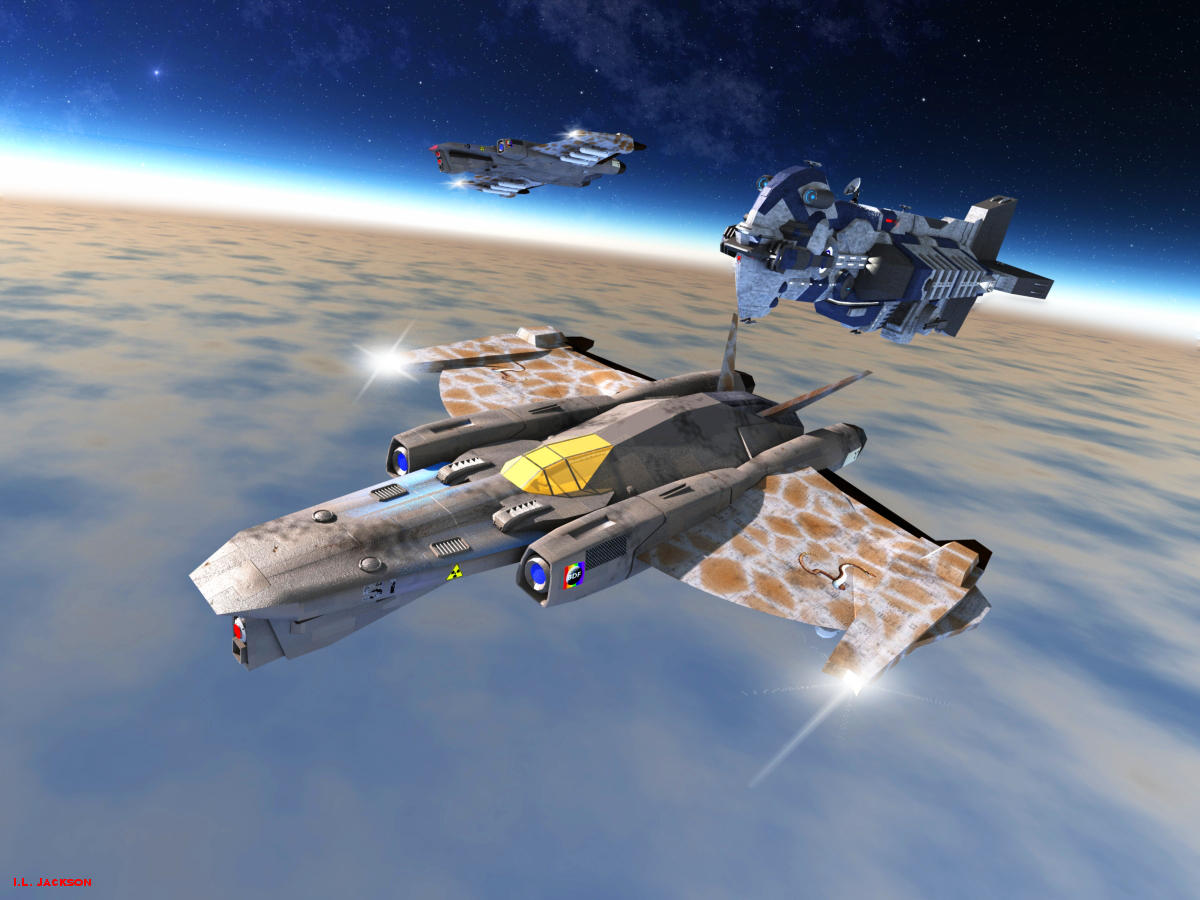 Watch
The SF-200 Spectre Space Superiority Fighter was designed by Hashimaru Aerospace Industries and The Bifrost Armory, the state-owned arms manufacturer for the planet Bifrost, the most powerful of the Free Colonies. While it is currently used exclusively by the Bifrost Defense Fleet (BDF) it is slated for future sales to "trusted partners" like the Guardsman Interstellar Security Service (G.I.S.S.).
This two-man fighter is fast and agile, and can perform a variety of missions, though it is designed primarily for fighter and sub-capital ship intercepts, meaning it is meant to take on frigates, transports, and other fighters...essentially it's meant to hunt pirates.
The fighter has two extended-range particle beam cannons, six external mounts for anti-ship missiles, and an internal bay with six anti-starfighter short-range missiles. However, it's most impressive features are its drive system and its sensor package. The sensor package is one of the best ever placed on a fighter, giving it the sensor capabilities of a much larger vessel, thus the need for a radar intercept officer (RIO) in addition to a pilot. It even has hull-penetrating molecular sniffers, designed to analyze a transport's cargo from ten miles out.
But the most advanced feature, and the one that gives the ship its name, is its short-range negative mass drives. These are the smallest known FTL engines ever built. However, the ship is not designed to travel between star systems. Whereas a standard FTL allows a ship to attain 365 negative masses (about a light year per day in travel), the Spectre only achieves 10 negative masses, going only 10 times the speed of light. This is designed to allow the fighter fast transport inside a solar system. In fact, it is so fast that for a time, depending on the distance, an enemy will detect the fighter in two places at once because all sensors work at a maximum of light speed. A squadron of Spectres launched from a carrier will arrive within a couple minutes or hours anywhere inside of a star system, a capability no other fighter has.
Since Bifrost is not actively at war it may be some time before observers determine if the mini-jump drives, as they are known, are worth the cost.
The fighters shown above belong to the Rattlesnake Squadron, which is quickly becoming the best known pirate-hunter fighter squadron in the Free Colonies. They are reserved for the escort of high-value cargo to and from Bifrost and for attacks on known and dangerous pirate forces.

I like the camoflage pattern on the wings. nice touch.
Reply

Your idea of the mini jump is fantastic. I got the feeling that at least this coptick is based on Vipers from battlestar Galactica, the original series.
Reply

actually, it came from looking at a lot of the jet-age experimental planes. So many of those planes were so cool looking and never made it to the production line. There were some serious futurists among the fuselage designers back then.
Reply

I agree with you. The flying wing, the pogo and many others. Let's not forget the grandpa of the space shuttles. The famous X-15. Wonder if you are going to use it? it would look cool.
Reply

Reply

thanks! This one just kind of came out of nowhere. This is one where I didn't have the finished product in my head except that I wanted the drop-jaw front and the setback cockpit. The rest of it just kind of emerged as I modeled. Usually I have a mental image first. It was originally just a little minor background ship, but I like it so much I think I will end up giving it a larger role.
Reply

Similar to when i made the "Lancer". All i knew is i wanted a fighter that could get about similarly to the Vipers from BSG.
The rest just kind of happened.
Here lately i've been planning my designs more and actually putting lots of thought into the ways they function, instead of just winging it.
I will say though sometimes a simple idea ends up becoming an awesome starship lol
Reply

I like the "somewhat like a manta ray" design.
Reply

The fuselage and engines do look cool, but the wings would be pointless in space, and probably only serve to increase its sensory cross-section. Not to mention that their shape wouldn't provide lift in atmosphere. It would make more sense for it to have simple reaction engines or delta-v thrusters at symmetric points on the hull.
Reply

Actually wings serve as waste heat collectors in space and the wings would provide as much lift as most modern fighters. Airflow surfaces on fighters are often more for manueverability than raw lift. The engines provide most of that. That's why fighters like the F-4 Phantom only have a 1:1 glide ration (for every foot it moves forward without power, it falls one foot...pretty close to the airlift capabilities of your garden variety rock). I took airframe mechanics for three years.
Reply

The cross-section of the wings are wedges. Wings don't just provide lift by reducing air pressure over the top surface. The aft edge is sloped to create aerodynamic thrust with Newtonian physics from the air moving back and down. Wedges don't do that.
Reply

after a certain power level, all you need is a broad surface to catch the wind for manuevering. You flip down an aileron on a surface like that while its at speed and that sucker's going to flip like a flapjack. Meaning the engines do less work. It also gives you surface area to mount more weapons.
Reply

that's only near the body where the wings are mounted. The main surface is more of a classic airfoil shape, ending in thin ailerons on each wing. Granted I wouldn't put money on it holding up in a wind tunnel, but if
can bop around with wings in atmosphere and space, I think my design's pretty safe from the sci-fi standpoint.
Reply

Well, from a sci-fi standpoint, anything goes.
Reply

These designs are for a science fiction universe involving aliens, FTL travel, and metaphysics, just as a frame of reference. They aren't concept craft I think would ever happen.
Reply

I would argue that as soon as you write something off as being impossible, it turns out that you're creating Fantasy instead of Sci-Fi. But sadly, the distinctions between the two genre have been so maligned and forgotten by the general public that it is usually pointless.
One thing I always like to point out is that FTL travel probably isn't impossible.
www.space.com/17628-warp-drive…
And by extension, humanity's chances of encountering extraterrestrials is probably likely at some point.
Reply

Also, the wings are convenient places to hang missiles from, which are always nice to have when hunting pirates.
Reply