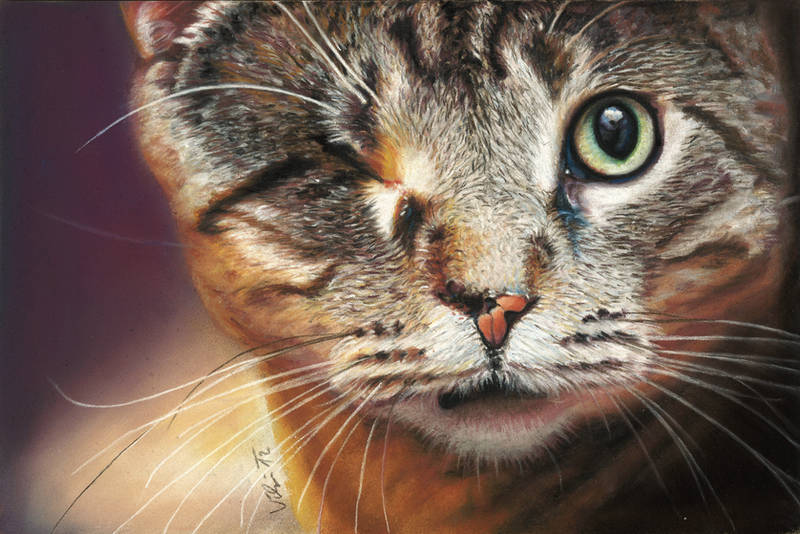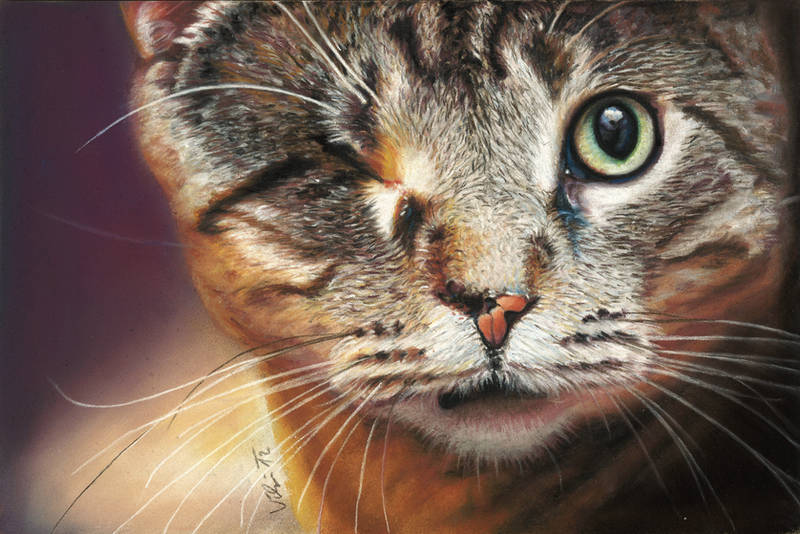 Watch
May 25 2012: OMG I got my first DD!!! I still can't believe it!!

I finally did it!

This beauty is Odin. In his younger life he had to go through a lot of abuse which reached a sad height when his eye was shot out with a pellet gun.
Now he is with

and enjoys his new life!

Things I used:
Sennelier Pastel Card 24x16cm
Jaxell soft pastels
Stabilo CarbOthello pastelpencils
11 hours work

The absolutely amazing ref: :thumb114556285:
****
EDIT: Thanks a lot for all your lovely comments, favs and watches!! I read and appreciate every single one of them!!

I also added a WIP now
ileina.deviantart.com/art/I-m-…
****

I'm participating

's
Contest: Arts for Animal Rights!
If anyone is interested too, be quick, deadline is March 15th!

Overall, I believe this is an extremely well done work, not only because of its quality and realism, but also for the theme used.
I'm really impressed because this is hand-made, which it's perfect for transmitting those feelings and everything that little Odin has been through (when I saw this, I went "awww"

) and it's as well very touching because he looks so real!
From all the comments I've read, you surely have made an impact on everybody; you don't see this kind of art everyday, and it also makes you think about animals and the rights they also have.
Finally, it gives a very deep vision that certainly goes beyond art, and makes you be aware of this awful scenes such as animal cruelty.
Nothing further to say, just keep up your excellent work!

The Artist thought this was FAIR
302 out of 309 deviants thought this was fair.
This is a magnificent piece of art, the technique is perfectly done. So much so that I thought it was a photograph at first! It looks incredibly realistic which helps to portray the true harshness of animal cruelty. The title fits perfectly with the picture as well. As soon as I saw this picture I felt a deep sorrow for the animal and the horror it has had to go through in its life. After reading the description I felt a deep anger towards animal abusers, which was surely the purpose of your work. You have achieved your goal of opening people's eyes to the horror of animal cruelty and for that I gave you your score.
The Artist thought this was FAIR
198 out of 202 deviants thought this was fair.