In our continuous effort to improve the deviantART experience, we're publishing weekly Site Updates to keep members informed and to gather feedback. Below is a list of recent changes to the site, bug fixes, and feedback that was brought up by members in the
last Site Update
.
What's New
More Like This (Beta)
DeviantART is proud to announce More Like This - a new way to explore deviantART. When you find a piece of artwork that you love, More Like This surfaces related artwork, artists, and Collections. With More Like This and our other new browse upgrades
, deep-diving through the deviantART community's diverse collection of over 200 million deviations just got better.
Enhanced Browsing
We've improved the left-hand navigation bar to include Popular and Newest options! For deviants who like their art to be larger than life, the new Full View mode allows deviations to be browsed through at a larger scale. Full View mode also provides the ability to favourite, collect, view comments, and participate in the discussion right from the browse page.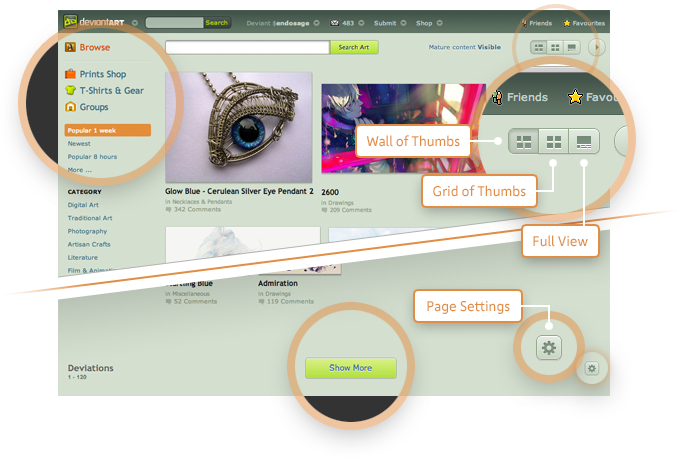 In addition, our new
Show More
button allows you to scroll endlessly while browsing More Like This results. For those that prefer the original pagination interface, we've added a Page Settings option to toggle between both modes. Your setting will be preserved as you browse.
Selection Tools in deviantART muro
In addition to some behind the scenes changes made to make
deviantART muro
to make it more stable, we've added several new selection tools!
Elliptical selection options and a magic wand tool have been added to the marquee tool. Once the marquee menu button has been selected, the new options will appear in the bottom bar.
Deviants can now create a selection based on the transparency of a layer by command/ctrl+clicking on that layer.
Autosave will trigger more frequently, to ensure that your hard work is retained.
Some behind the scenes changes were made to make deviantART muro more stable.
In addition to the options added to the marquee menu, "select by color", "expand selection", and "contract selection" tools have been added to the Edit menu.
Blockquote Tool in Sta.sh Writer
You can now easily add quotes to your literature and Journals using the brand new blockquote button on the
Sta.sh Writer
toolbar!
Change Log
Stacks shared with other deviants wouldn't display file descriptions. Fixed by drommk

While renaming a stack, clicking on the title of another one to rename it would cause an error. Fixed by kouiskas

Editing Journals submitted to the Journal Portal would send new notifications to the Message Center, even when the "This is a minor edit" option was selected. Fixed by drommk
Literature thumbnails wouldn't stop scrolling when they reached the end of the excerpt. Fixed by kemayo

It was possible to break elements out of journal entries with advanced CSS. Fixed by kemayo

Your Feedback
Thank you for the feedback left on
last week's update
! Here's some of the feedback you left for us:
Many users made suggestions for improvements to the mobile site that they'd like to see implemented.
The most common suggestion we received regarding the new mobile site was for an easy way to submit art from mobile devices.
Deviants would like to add thumbnails to their comments. Suggested by Magical525

Some members would like to be able to apply the same keywords and descriptions to multiple files at once. Suggested by frisbii
Discuss!
Browse Enhancements
How do you feel about the new
browse enhancements
? Do you prefer endless scrolling or the traditional page browsing, or do you swap between both? Which thumb view do you prefer to use: wall of thumbs, grid of thumbs, or full view?
Have a suggestion, idea, or feedback? Leave a comment on this article!
Want to keep track of known issues? Check out our Status Forum!
Find a bug? Report it to the Help Desk! (Be as detailed as possible!)