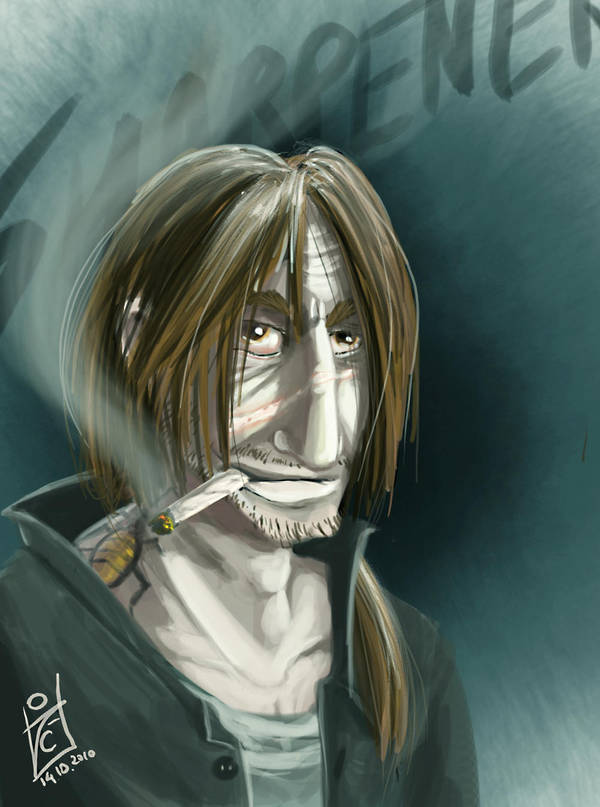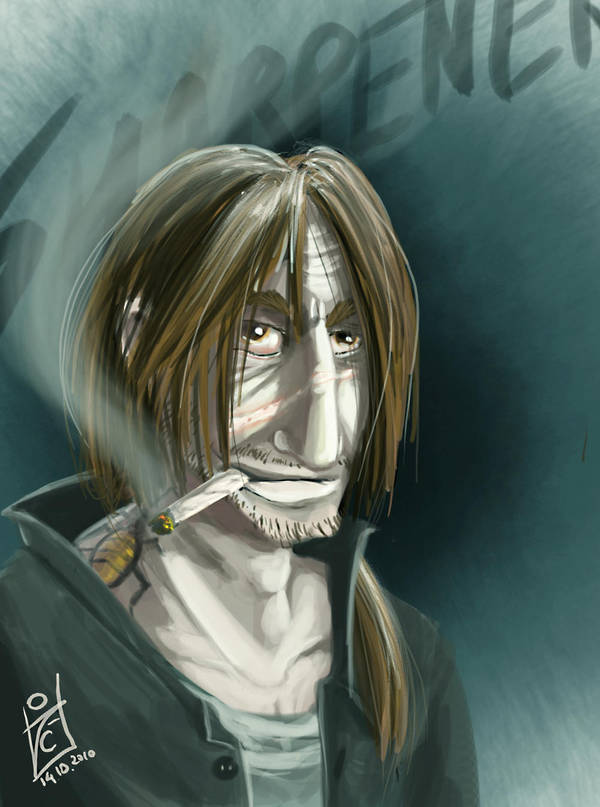 Watch
I was drawing something else and than I opened a new file on impulse and revisited 'Sharpener' Bruno - the boss of a gang that Iisjah belonges to - the Golden Cockroaches.
I'm quite happy with the result - I managed to draw it in approx. two hours - and I always liked coarser shading

What do you guys think of it?
I redone his facial features and made him more substantial than the last drawing I had of him
[link]
I wanted to give him more varied features. On the last one (it's two years already? D: ) he looked not life worn enough for a guy who lives of crime and is after his 40s. I also gave him a bit of a lazy eye (the left one if your interested - he's a little walleyed and his eyelid drops a bit). I also added the gold cockroach tattoo and some nasty scar - every badass should have scars D:
He's great with daggers and though Iisjah how to use them properly. Even though he can be pretty unpleasant and coarse and you wouldn't want to get on his bad (or annoyed) side he's wants what is best for his companions and wouldn't leave anyone behind if there's a slight chance of rescuing them.
Ok I'm hoping to draw more of the Golden Cockroaches guys in the (near) future - I need to get to know them better

Art and Sharpener Bruno © Natalia Komuniewska
I don't understand the intent of your aesthetic. What are you trying to convey to the viewer - not just with this illustration, but with the entire style? I get the idea that this is supposed to be a pretty rough-and-tumble guy, but beyond that, I can't tell how much of the way he looks is a result of intent, and how much of it is a result of gaps in understanding of color, structure, and many of the other tools we use to communicate ideas to the viewer.
Who are your favorite illustrators? What do you like about their work? It's difficult to critique this in comparison to other pieces I've come across, because you can usually tell what aesthetic qualities a person values, and build a dialogue on that. I can't really tell here. I can't tell if the long faces are on purpose or on accident, or if the sallow colors are intentional, or if you highlighted everything with white (washing the illustration out further) on purpose. I can't tell if the character's face lacks structure on purpose.
Some of your other illustrations also seem to have this problem; you attempt to render things in 3D space, but the structure of your subjects becomes very confusing when it reads as 'three-dimensional' - the structure isn't something that
works
in 3D, because they aren't functional structures. >
This picture
< is one of the clearest examples in your gallery; you squared off his mouth and jaw in a way that isn't
great
in 2D, but at least reads adequately - but in 3D, you really come to understand that his top and bottom row of teeth are, in fact, squared off at right angles in the mouth, which is... pretty bizarre for a humanoid, but not pushed enough to look like an intentional exaggeration. It becomes an >
Uncanny Valley
< problem.
I am sincerely sorry if the critique seems rough. I've been wondering how to best get this across; I think you have a unique message, and I'm glad you're sharing it with us. I'm glad you engage in the kind of forward-thinking that allows you to redesign and mature characters. But - as a random viewer - I'm concerned that your message is getting lost in a sea of aesthetic confusion. I don't really like to tell people, 'study from life!', yada yada blah etc., but I think it could be
really
helpful here. Not because you need to be less of a cartoonist, but because a fresh perspective on the features you're abstracting in your illustrations could be very helpful.
Best of luck.
The Artist thought this was FAIR
88 out of 90 deviants thought this was fair.

this guy looks like my uncle Bill in so many ways....ie the nose, the long hair and the long thin face LOL
Reply

woah kolorystykę mu naprawdę karaluchowato szumowinową dałaś xDD myślę że naprawdę teraz lepiej oddaje postać sądząc z opisu.

chociaż z twarzy przypomina mi trochę samego iisjaha O3o
Reply

Abo i Iisjah i Bruno zyciowo dosc sprani sa

(plus mam tendencje do duzych nosow a Isiajh to protoplasta jest xD )
Reply

The palate makes him look like the kind of guy you wouldn't want to trust. The creases in his face are really fun and I really enjoy the discoloration in his eyes.
Definitely looks like it matches the description.

The highlights on his hair make it seem as though the light source is very high and harsh, that's not quite repeated anywhere else so it seems a little odd.
Reply

Yup - the highlights don't match which I totally blame on the hour I did it and how fast I did it XD *blame blame blame*

I'm glad that the washed up whitish palette works here - it was a bit of an experiment :3
Reply

pretty cool work, that expression is reall nice

Reply

He looks a bit like Robert Carlyle
Reply