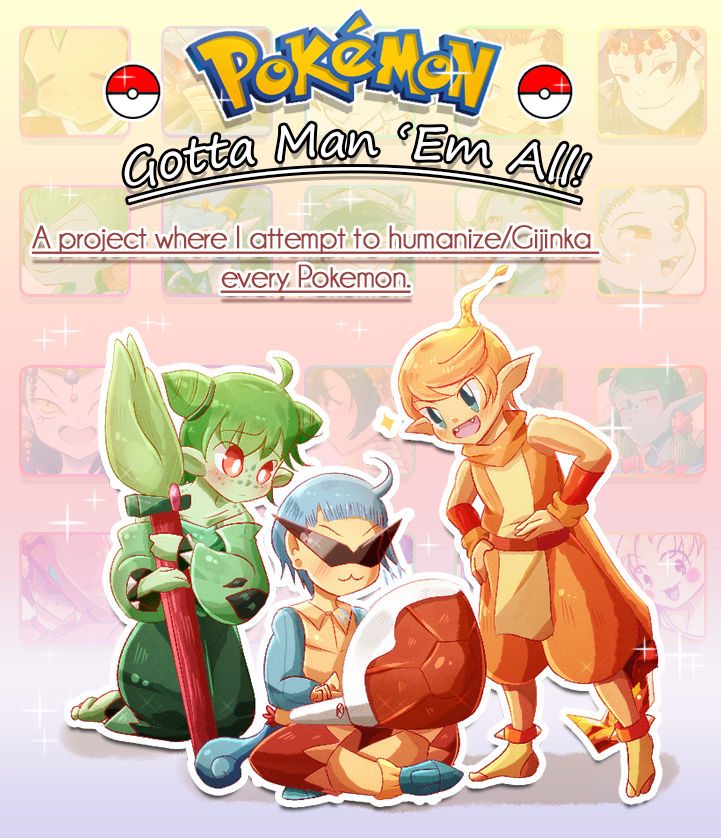 This project is something I've been wanting to do since 2013 and now I'm finally doing this. This project is also a test to see how far I can take myself when it comes to my work. It's like a discovery project for me as well, and I will do my best for it.
I'm going to attempt to draw every single Pokémon humanized. That's what gijinka means.
My goals for this project:
Draw every Pokémon as a gijinka
Be versatile and unique with the designs
Have fun
My Personal Preference:
Some designs might be out there because I want to go outside the box while some will be generic. But it's the fun in designing.
If a Pokémon starts as a boy then the chain somehow becomes a girl, it's because I want to design with different ideas meaning they're not always the same person. All of my Pokémon Humanizations have names. Some even stories I made up for them. Some Pokémon that evolve might be the same person, but most of the time they won't be.
I will also be adding Mega Evolutions along with this and not wait for Gen 6 to just do them.
Alolan versions of Pokémon will come when I get to Gen 7
Sometimes if they have a gender differences, I will draw two in the same picture.
Wish me luck.
-Frosty

I've had a similar idea. I also liked the human-pokemon hybrid. And there was one other I had written down somewhere.